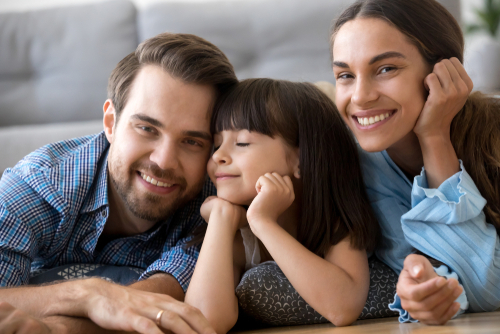 Agape Villages Foster Family Agency is not your usual sort of foster placement agency. For one thing, the main goal isn't placing the kids with the right foster parents, though this is critical. Rather, Agape Villages stays with kids and families, making sure the children have the same enrichment activities that other children have and that foster kids sometimes miss out on. For another thing, Agape Villages teaches kids independent living skill offering resources the children will need as they age out of the system. Agape Villages also works to reunite children with their biological families.
We love this holistic approach to the children and their families. It's exactly what we strive for in our own programming: working with the whole family, instead of focusing solely on the children. Whole families make whole children, in our humble opinion, and so we were pleased to award Agape Villages one of our small grants.
We spoke with Agape Villages Community Engagement Director Jennifer (Jen) Oxe, to learn more about this work:
Kars4Kids: One of the ways Agape Villages is different than other foster placement agencies is that there's a strong effort to reunite children with their biological families. Why is this important?
Jen Oxe: This is so critical and always the goal. Many of the kids parents are in jail and/or in a rehab facility for alcohol or drugs but a lot of them complete their programs and come out better parents. Reunification does not happen overnight, but everyone agrees that the first goal is to reunite children and youth with their families as soon as possible and about 60% of kids are eventually reunited and living with their biological families.
Kars4Kids: What are some of the reasons a child may need to be temporarily placed in foster care?
Jen Oxe: Most of the time it is due to abuse, neglect, and/or drug/alcohol problems. A majority of the cases are identified at school and are then called into the Department of Children and Family Health.
Kars4Kids: According to your website, "foster parent" has been replaced with "resource parent." Why?
Jen Oxe: Here in California, "Resource Parent" and "Resource Family" became the official nomenclature in 2013, after the passing of SB 1013. According to the California Department of Social Services (CDSS), the change to the Resource Family Approval Program (RFA) was designed to more holistically account for the varying needs of youth and to ensure permanent, stable solutions for them were more readily available and prioritized. In short, a Resource Parent is someone who is trained and certified to be both a foster parent and an adoptive parent. Instead of having someone be just one or the other, resource parents can fulfill both roles should the need or desire arise.
Kars4Kids: Can you describe a typical "Needs and Services Plan?"
Jen Oxe: The social worker, who visits each child once per week, develops a plan for each child based on that specific foster child's needs. A typical "needs and services" plan could include the following:
Counseling: Many kids come to us with severe emotional and psychological issues
Enrichment: This program lets our kids participate in extracurricular activities such as playing a sport, taking a music/dance class, etc.
Independent Living Skills (for teens): Teaches the kids how to live successful lives outside the foster care system. It provides nutrition/finance/legal classes, Resume writing/job placement, SAT classes, Junior college tours, and much more.
Tutoring: many kids that come to us have issues in school. We provide tutors to identify potential learning disabilities and/or just provide help with daily homework and tests.
Kars4Kids: Isn't it risky returning a child to a family situation that may revert to dysfunction?
Jen Oxe: It can be, but most of the time it turns out favorable. The parents really try hard to get their lives together because they love their kids and want to be with them.
Kars4Kids: You have monthly support groups for foster families. What kinds of issues come up during these gatherings?
Jen Oxe: The issues really vary and obviously depend on the child. Each situation is different. Some common issues are: typical defiant teen issues; not following rules; mental health issues related to attachment issues in early childhood; having a hard time adjusting to their new school; making friends; and etc.
Kars4Kids: Can you tell us about the enrichment activities you offer to the children you serve? Why are these activities important?
Jen Oxe: I love this program for our kids! Many of our kids come from lower socioeconomic households and/or dysfunctional homes therefore playing a sport or taking a class was never an option. The kids can join a sports team or take a class such as: football, baseball, soccer, music, karate, etc. We give the kids this option and it really helps them learn how to work with other kids, build trusting relationships, self-esteem, friendships, and ultimately explore a side of themselves they were never able to before.
Kars4Kids: What is the purpose of your independent Living Skills program?
Jen Oxe: The goal is to set the children up for success as they age out of the system. The classes we provide in independent living skills allow our kids to gain the skills and knowledge that they need to live outside the foster care system and ultimately become successful adults in our communities.
Kars4Kids: What do you wish people knew about the experience of being a foster child? What can society do to make things better for these children?
Jen Oxe: I think the kids always say that they just want to be accepted and treated like the other kids, especially at school. They certainly don't want to be known as "the foster kid" in classes and in their neighborhoods. I think we can teach our kids to be more kind and accepting of everyone, no matter their background or childhood experiences.
Kars4Kids: What's next for Agape Villages?
Jen Oxe: We continue to recruit and train foster parents although COVID-19 has made that a little more challenging these days. However, with kids not being in school, and many abuse cases not identified, we fear for the children stuck in these situations. When COVID-19 is "over" we expect an influx of kids into the system and we are just trying to be as prepared as we can so that we have enough loving foster homes for each child that comes to us. On the fundraising side, many of our events have been cancelled due to COVID-19 so we are trying to get creative in that department as we still need to raise funds to support the critical foster care programs that are so important to our kids. Thank you so much I enjoyed answering these questions – and thank you again for the grant to Agape Villages! We are so grateful.