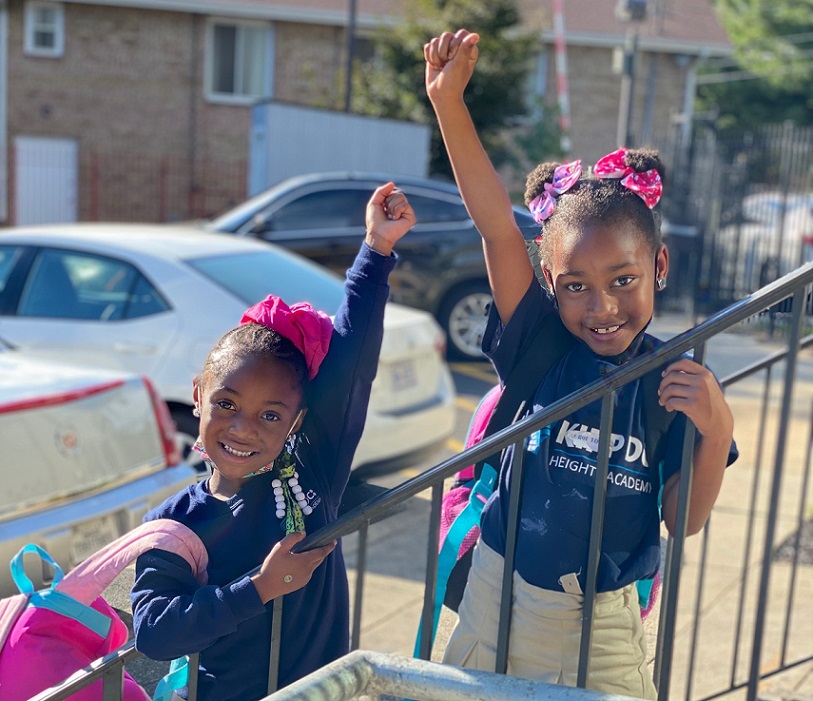 Horton's Kids came to our attention when we asked our followers for charity referrals for our small grant program. We figured they might like to tell us about charities that are doing great work for the children in their communities. Well, tell us they did, and a referral from follower Carmen Romero on behalf of Horton's Kids struck a chord with us.
Horton's Kids operates in some of the toughest neighborhoods in Washington, D.C. This is an organization that is completely dedicated to narrowing the gap for underserved children. But it's not just about the children. The centers make sure to include their families, making it a holistic experience that has the best chance of helping children be the best they can be.
We spoke with Horton's Kids Executive Director Erica Ahdoot to learn more about the work of this organization:
Kars4Kids: Can you tell us a bit about your demographic—the kids you serve?
Erica Ahdoot: Horton's Kids serves children and families living in Wellington Park and Stanton Oaks – two communities located in the Anacostia neighborhood of southeast DC. These communities have endured decades of systemic racism and disinvestment, depriving them of essentials like affordable housing, quality education, healthy meals, and basic safety. The children we serve have big dreams and the potential needed to achieve them – our goal is to remove barriers and provide them with the resources and services needed to achieve those dreams.
Kars4Kids: How long have you been in operation? How many children have you served over the years?
Erica Ahdoot: We have a 32-year history of being a supportive and guiding presence in Anacostia, with volunteers and staff who have been part of the organization for decades. The trusting relationships built by them with community members over many years has led to a deep understanding of the daily, and now generational, challenges families face. We serve over 500 children and their families annually.
Kars4Kids: Children in Horton's Kids are more than twice as likely to graduate from high school, according to your website. What is Horton's Kids doing right?
Erica Ahdoot: Horton's Kids' place-based model embeds us directly in the communities we serve. This allows us to evaluate and customize the services we're providing, ensuring that we're effectively meeting the needs of community members. Our holistic approach provides wraparound academic, youth development, family engagement, and health & wellness services. Because we personalize supports to the individual, we're able to monitor progress and assess what supports need to be modified or included so that academic, social-emotional, and development milestones are met.
Additionally, our organization is made up of people who are fiercely dedicated to improving outcomes for children in underserved communities. It's the volunteer who spends every Thursday night tutoring a child in reading. It's the donor who commits a monthly gift to help sustain our programs. It's the parents and staff members working together to ensure a child has an education plan that suits their learning needs. Everybody who is a part of Horton's Kids wants and believes in the power of people to bring about change.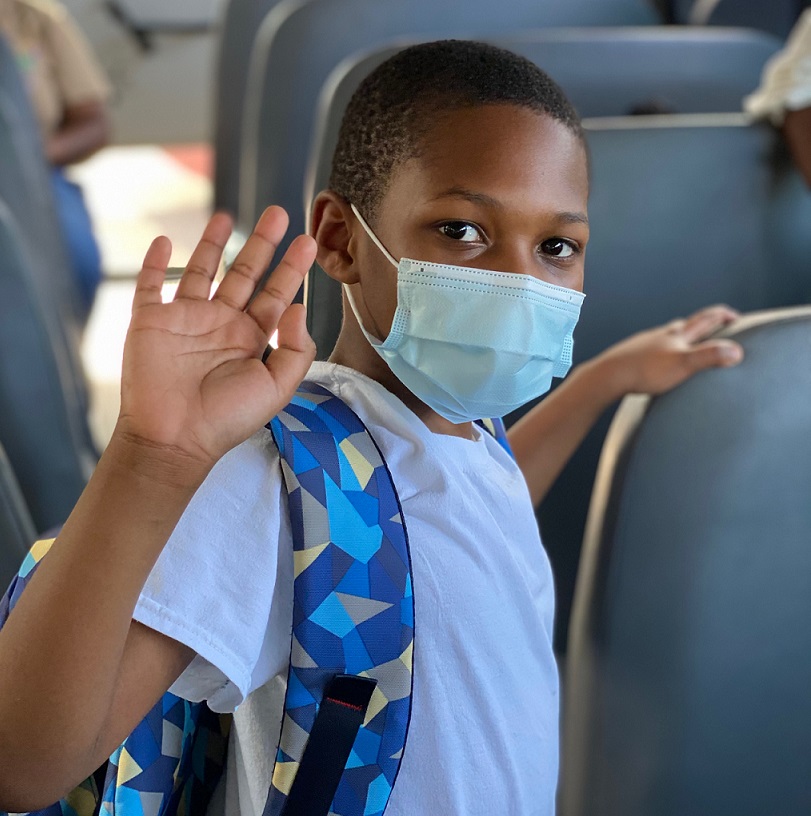 Kars4Kids: Why is there a need to supplement the education these children receive in public school? Where does Horton's Kids come in?
Erica Ahdoot: Schools in southeast DC are chronically underperforming and most students read below grade level. We seek to close the academic gap for each child by providing one-on-one tutoring, literacy intervention, homework help, and educational advocacy.
Kars4Kids: How does Horton's Kids encourage family participation in helping their children succeed, and what form does this participation take?
Erica Ahdoot: A healthy and stable household greatly contributes to a child's wellbeing and success. Horton's Kids partners closely with parents to promote their children's progress, while providing families with essential resources that reduce stress and promote stability. We conduct regular household check-ins and offer services like parent discussion groups, game nights, employment resources, and food/supply distributions. We also have 6 parents on Horton's Kids staff.
Kars4Kids: We hear a lot about "social-emotional learning." Can you talk about that and how you help children develop their social emotional skills?
Erica Ahdoot: Social emotional learning or "youth development" as we call it, allows children to broaden their horizons, find new interests, and explore their strengths. We build on these skills by providing an impressive curriculum of enrichment programming to include cooking classes, college and career readiness programming, arts & crafts, team sports, field trips, mentoring and more. These activities also give participants the chance to enjoy their childhood.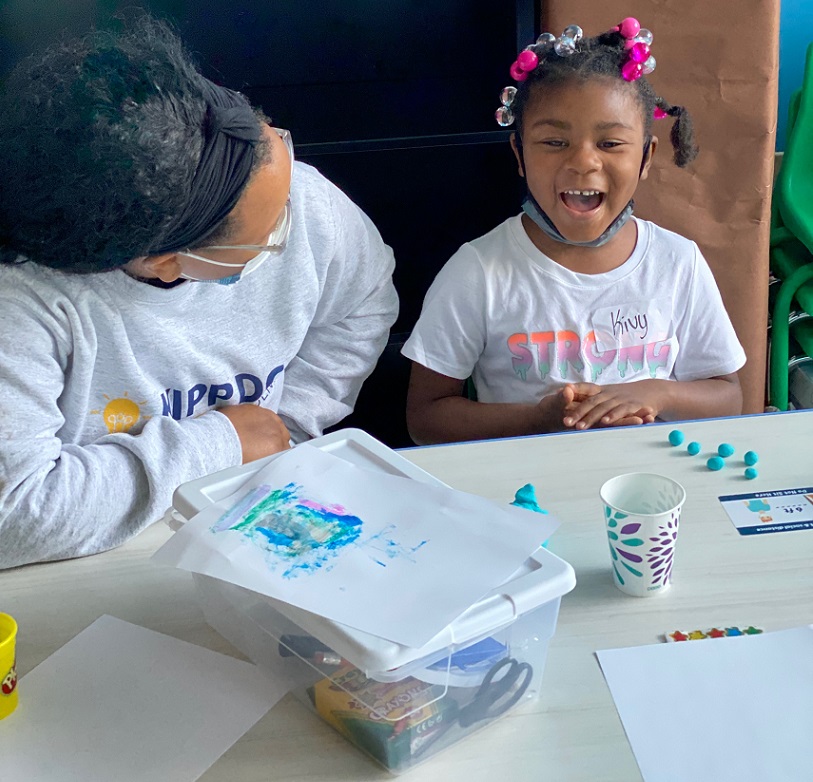 Kars4Kids: Your center is outfitted with bullet-proof glass, a sad commentary on the state of the neighborhoods in which the children you serve, live. Can you talk about the prevalence of crime in the area where your two centers are located? How does this affect the children and parents in your programs?
Erica Ahdoot: Decades of structural racism and community disinvestment has had a tremendous impact on public safety in southeast DC. Children and families often feel fear and stress just leaving their homes. While we aim to operate safe and welcoming community resource centers for children and families, we're also committed to identifying and removing additional barriers to opportunity and working to change the status quo.
Kars4Kids: You've had some pretty famous volunteers through the years. Can you do a little name-dropping for us?
Erica Ahdoot: CNN's Jake Tapper is a long-time volunteer of Horton's Kids. To this day, he and his son join us every Christmas to wrap gifts for participants in our programs. A few years back, we were featured in an episode of "Restaurant Impossible", where Robert Irwin did a complete makeover of our Wellington Park Community Center. Michelle Obama even dropped by and helped us plant a community garden!
Kars4Kids: How has the pandemic affected the work you do?
Erica Ahdoot: The COVID-19 pandemic further highlighted the inequalities experienced by residents living in Wellington Park and Stanton Oaks, where access to quality housing, educational opportunities, or a clean environment are already limited. We rapidly shifted our services to ensure that families had meals, cleaning supplies and PPE. We also provided Wi-Fi hotspots and tablets so that children could engage in virtual learning. We built stronger relationships with local schools so that we could help students stay on top of their schoolwork and stay engaged. With kids returning to the classroom this fall, we've ramped up our academic supports, offering high-intensity tutoring across 3 different sites in DC to help students recover the learning lost during the pandemic.
Kars4Kids: What's next for Horton's Kids?
Erica Ahdoot: Last year, we opened a Community Resource Center in a brand-new neighborhood in Southeast DC. In just one year, we've been able to establish close relationships and enroll many new children and families in our programs. Knowing that this model works, we are looking to expand our reach even further. We have exciting news on this front, and we'll share more information about that in the coming months!