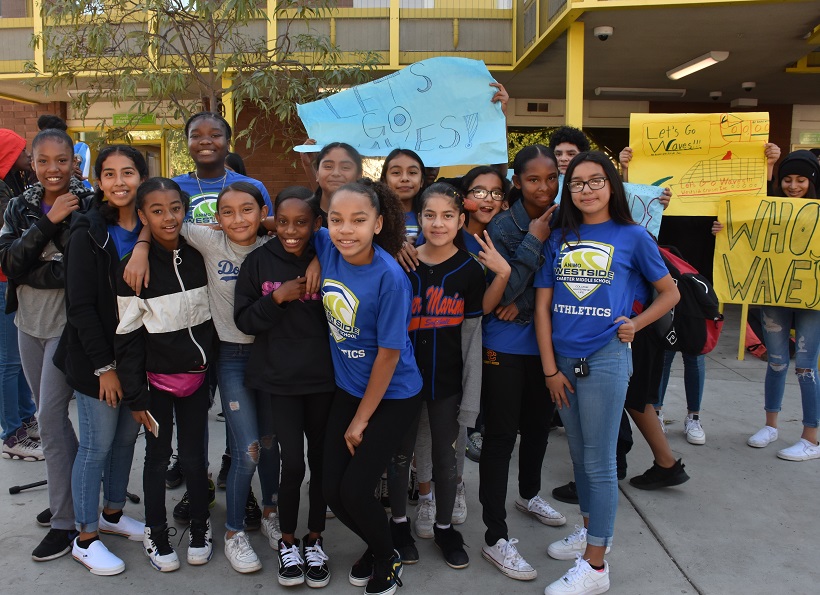 Ánimo Westside Charter Middle School has opened a college center to inspire students to pursue a higher education. The spirit of this effort is one that permeates school culture, so that kids can't seem to help but see college as the focus of their future. This is an idea and a culture that deserves our support, so that even children from low-income families know they have a chance to get ahead and succeed in life. We believe that.
That is why, when we received the application for a small grant  via VISTA volunteer Stephanie Liu, we were pleased to say yes. We spoke to Stephanie to learn more about the mission of Ánimo Westside and its college center:
Kars4Kids: Can you tell us a bit about Ánimo Westside Charter Middle School? What makes it different? What makes it special?
Stephanie Liu: Ánimo Westside Charter Middle School is a small school in Los Angeles with a majority low-income student body: 80% of our students are on free or reduced lunch. The school is a safe haven for students to learn, grow, and access resources unavailable to them in their communities. We have a variety of school clubs (music, Girl's Build LA, etc.) and sports teams (football, volleyball, basketball, and soccer), as well as a Leadership Team and Yearbook Committee, that cater to the interests of our multi-talented student body.
At Ánimo Westside, our motto is "college, leadership, and life." The teachers and administration strongly emphasize the importance of college preparation. This translates to weekly distribution of report cards, parent conferences, and periodic 1:1 academic advising. Our school also takes a very hands-on approach towards developing leaders. Any disrespectful student behavior is not tolerated and responded to immediately by the campus security officers, counselor, and principals.
Most importantly, I believe what makes Ánimo Westside truly unique is that we're like a family. We promote and practice inclusive leadership. Our students design, organize, and lead a variety of school activities with an eye towards bringing students closer to each other. The administration also cares deeply for the well-being of its students and school personnel; any issues that arise are addressed immediately.
Kars4Kids: Why is the College Center necessary? What services will it provide?
Stephanie Liu: The College Center is necessary as a visual reminder to students of the ultimate goal they are working towards: college acceptance and attendance. It is an open and inclusive site on campus where students are welcomed to ask questions about what college entails and learn about specific steps they should take to prepare themselves for college.
The College Center is also my workplace. I use this area to create enrichment field trips, seek funding, counsel students, and coordinate school-wide events. In addition to the principal and counselor, I collaborate with teachers, coaches, and the front office to create educational activities for our students.
Kars4Kids: What gets in the way of kids going to college?
Stephanie Liu: There are many factors. Many students, especially low-income students, may not understand that college is a good investment in their earning potential. They may think that because their parents did fine without attending a higher institution of learning, college is not necessary. Also, because many students lack understanding of financial aid options, they may think that college is unaffordable.
Students also lack the motivation and guidance necessary from parents to push them towards college-readiness. The challenges low-income students face towards their path to college is many times harder than those students whose parents understand the value of higher education and have experience preparing for and applying to college.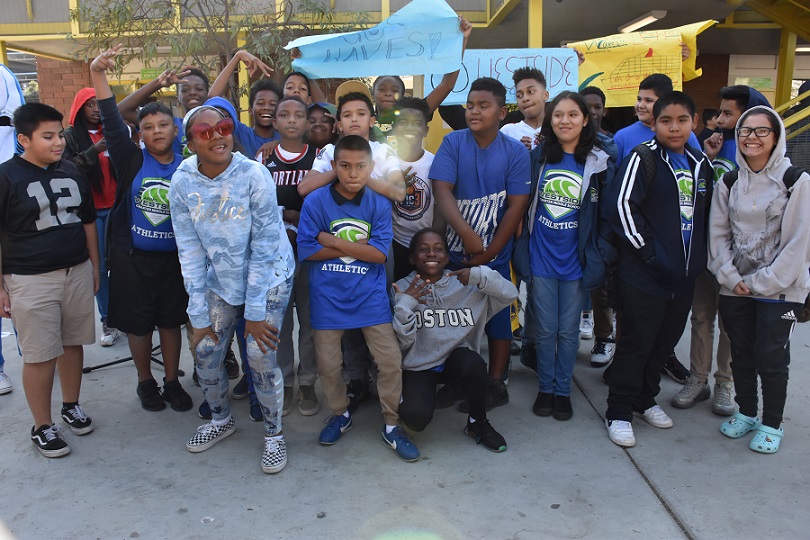 Kars4Kids: What are some of the things that parents and teachers can do to ensure that more kids want to go to college?
Stephanie Liu: Parents and teachers should instill in kids the importance of education as a gateway towards greater opportunity. Many kids just want to have fun with their friends, but academics should be taken seriously. It is difficult for students to understand by themselves, especially young kids, that how they prepare now determines their future. That is why it is important for adults to explain this concept to kids.
I also believe exposure to college is a great way to motivate students to pursue a college education. Many students may have the misconception that college is simply a continuation of school after high school. This idea may not sound appealing to students. A great way to "sell" college to students is to show them, via collegiate campus visits, college student interviews, etc., that college is a place for fun, socializing, and exploration of interests.
Kars4Kids: Isn't middle school a little bit early to begin preparing children to go on to college?
Stephanie Liu: Middle school is the ripest time to start preparing kids for college. It is the time when children's minds have reached a better capacity to understand and make important life choices. It is also a time when students begin to learn how to develop college-ready study habits and skills. Therefore, it is important to catch students at this time in their lives to start guiding them in the direction of college.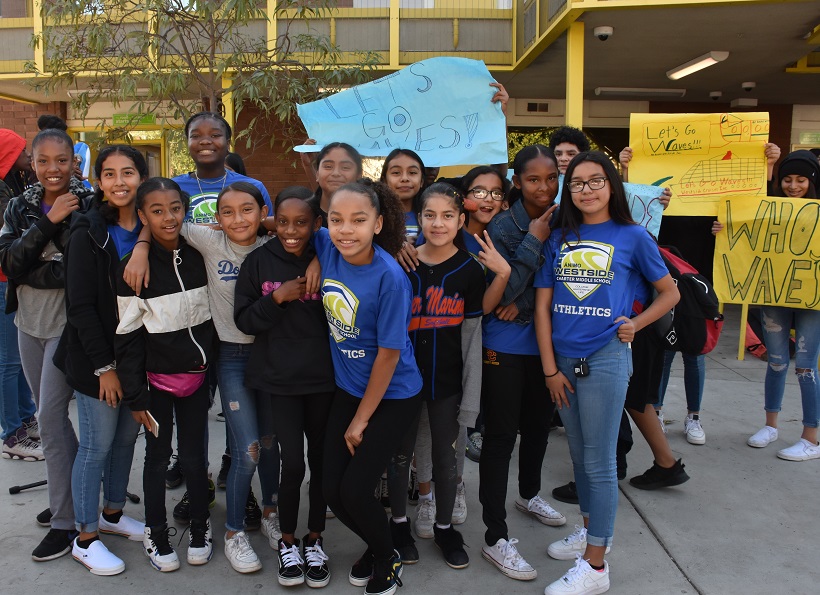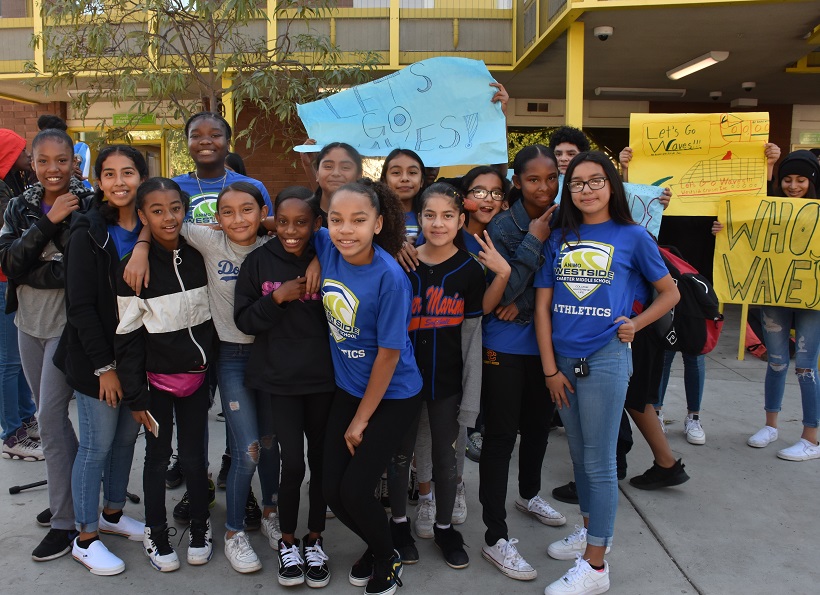 Kars4Kids: Tell us a bit about you. In what capacity did you come to be tasked with starting a college center at Ánimo Westside?
Stephanie Liu: I am a recent UCLA alumna who holds a degree in biology. After graduation, I decided to join UCLA BruinCorps, a program launched in 1997 under the national community service program AmeriCorps. BruinCorps' mission is to further educational opportunities for underserved students in under-resourced schools. BruinCorps consists of two programs: Tutoring and VISTA (Volunteer in Service to America) Project. I applied for the VISTA Project because I wanted to gain counseling and leadership skills and an opportunity to help youth. After my acceptance into the program, I have been tasked as a VISTA to maintain a College Center at Ánimo Westside for a one-year service term.
Kars4Kids: What do you like about working with the students at Ánimo Westside?
Stephanie Liu: I just really love making positive things possible for the school. For example, I have coordinated a UCLA Volleyball Game/Meet and Greet the Players trip, High School Fair, and Fall Sports Banquet. Currently, I am working on creating four field trips, three of which are visits to college campuses. I also enjoy interacting with the students and have made some really close "student friends" at Ánimo Westside. Most importantly, I enjoy working with the teachers and administrators at the school in a united effort to do what is best for the students.