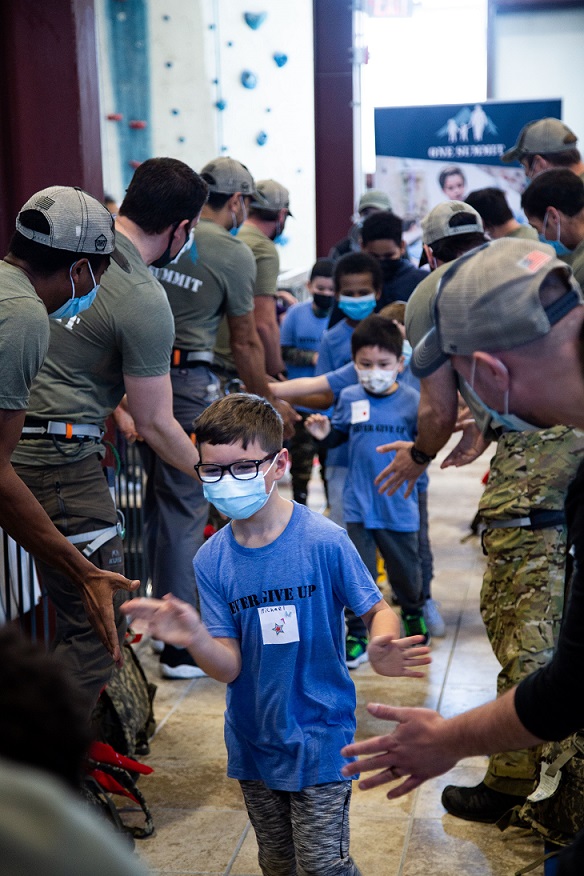 One Summit has a unique program to help pediatric cancer patients fight back against the disease. The program involves having Navy SEALs mentor children with cancer. It's a novel idea and yet it makes sense: Who better than a Navy SEAL to illustrate how to battle adversity, push past obstacles, and win?  The One Summit method inspires children suffering this devastating disease to never give up.
Children affected by cancer need extra support to cope with the disease. One Summit offers them just that. We can see that the novel approach of our latest small grant recipient is having a significant and positive impact on kids with cancer. One Summit staff members Ali Lamson (Manager, Development & Communications) and Max Svec (Manager, Strategic Programs & Events) gave us an exclusive inside view of this much-needed initiative for youngsters battling childhood cancer:
Kars4Kids: Tell us about the kids you serve at One Summit? What are their ages; how many of them are there; and what do they have in common?
Ali Lamson: One Summit works with about 400 kids per year, ranging from ages 5-18. Our mission is to build resilience and facilitate growth in pediatric cancer patients and their siblings through mentorship, experiential learning, storytelling, and community engagement with U.S. Navy SEALs. Experiential learning takes place in the form of indoor rock climbing at Climb for Courage (CFC) and Climb Higher (CH). Through this adventure, we introduce challenges that empower children to achieve growth through conquering adversity. The long-lasting relationship they form with their Navy SEAL mentor inspires the hope and resilience each little warrior needs to continue in their fight.
Kars4Kids: Why Navy SEALs?
Ali Lamson: SEAL training pushes candidates to the limit and beyond to ensure they have the core values necessary to succeed in the most demanding conditions and against all odds. Approximately 80% will quit during training. The few candidates who can overcome these challenges and become Navy SEALs understand how to persevere and keep fighting, even after their bodies and minds tell them to stop. The characteristics and values the Navy SEALs embody make them the ideal mentors to help guide children through their fight against cancer. Through this safe and controlled indoor rock-climbing environment, we can induce individual challenges that allow children to grow by overcoming adversity and forming life-long relationships. The children are encouraged and led to reflect on the challenges they have overcome on the rock wall and apply them to the everyday challenges of fighting cancer.
Kars4Kids: Tell us about Climb for Courage, if you will.
Ali Lamson: Through Climb for Courage, patients and their siblings are matched individually with a U.S. Navy SEAL and are guided through a series of rock-climbing challenges derived from a curriculum based on the theory of Posttraumatic Growth, defined as positive psychological changes experienced due to the struggle with traumatic or highly challenging life circumstances. Currently, One Summit is the only organization in our community aiding healing and trauma through this approach.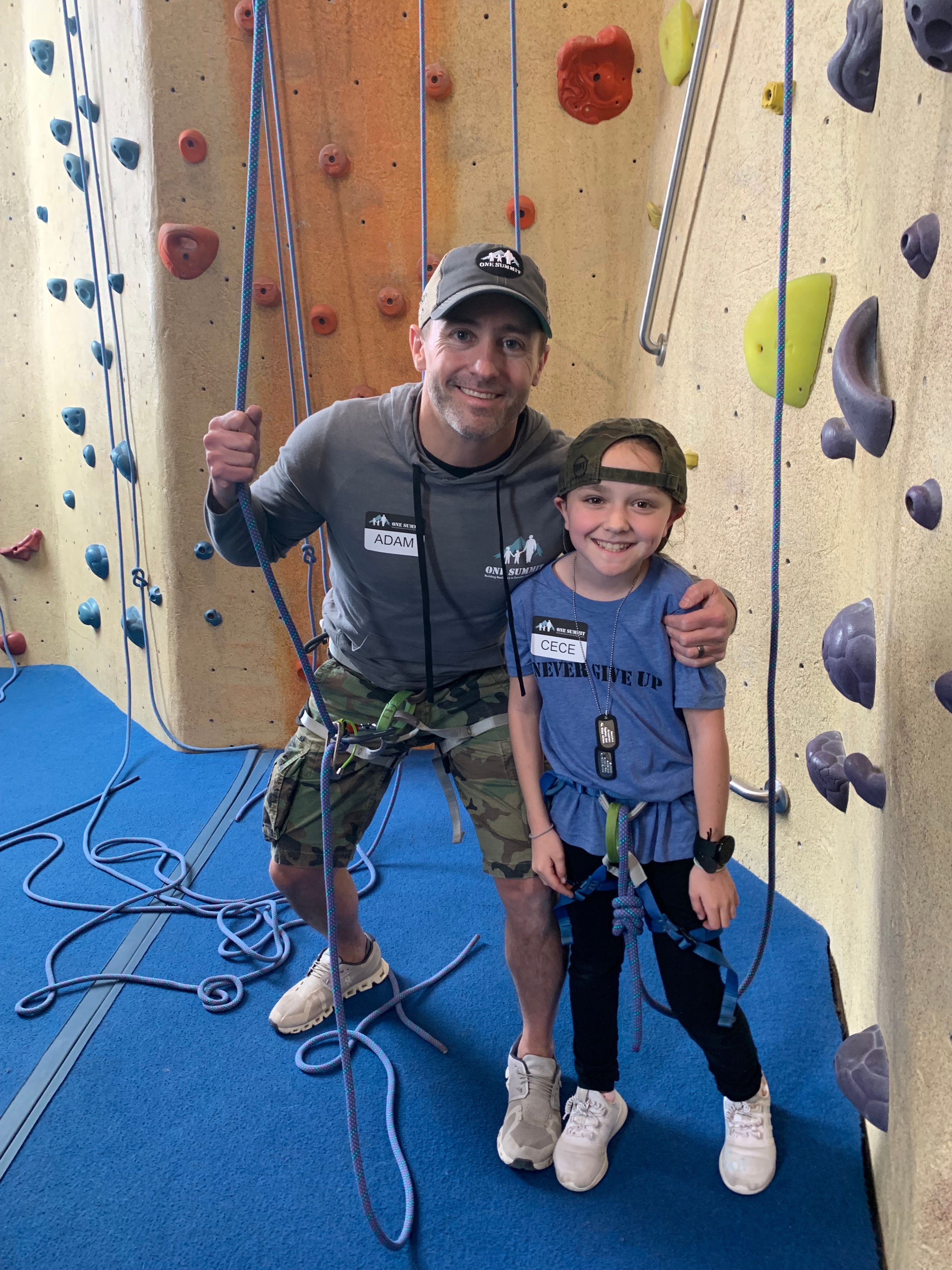 Kars4Kids: How did One Summit come to be? We'd love to hear your founder's story.
Ali Lamson: One Summit was founded by Adam La Reau in 2013. Adam's inspiration stemmed from his Navy SEAL experience and his mother's fight against breast cancer. Adam began volunteering with various cancer-related organizations after losing his mother to cancer in 2004. During this time, he met many women just like his mother that were incredibly tough, mentally and physically. Their strength inspired others.
However, he also saw a lot of young kids battling cancer that didn't necessarily have the skills to conquer this disease on their own. He thought it was an unfair fight and wanted to even the odds. His experience in the military led him to believe there was an opportunity for Navy SEALs to help. Adam recalls: "I served with a lot of amazing men who were incredibly heroic, courageous and resilient." He recognized that the skills embedded in the SEALs were the skills kids battling cancer needed the most. He decided to bring these two worlds together and create One Summit.
Kars4Kids: What are the impacts of pediatric cancer on the children, in the short and long term?
Ali Lamson: According to The National Cancer Institute, it was estimated that 15,590 children and adolescents ages 0 to 19 were diagnosed with cancer in 2021. Approximately 1,780 died of the disease in the United States that same year. After accidents, cancer is the second leading cause of death in children ages 1 to 14. Childhood cancer rates have been rising slightly for the past few decades. Because of significant treatment advances in recent decades, 84% of children with cancer now survive five years or more. Of the survivors, 60% will suffer drastic long-term side effects, including amputation and secondary cancer that reignites the child's fight once again. The psychological stress of having cancer can affect a person's overall health and ability to cope with the disease.
One Summit is designed to provide these children with the skills necessary to face the emotional distress of this disease, inspire hope, and empower a persevering mindset. Resilience, a person's ability to bounce back when stricken with hardship, is fundamental during a life-altering challenge such as cancer. According to the American Physiological Association, resilience is a trait that can be learned and developed through behaviors, thoughts, and actions. Significant components of building resilience include connections, moving toward your goals, nurturing a positive view of yourself, maintaining a hopeful outlook, and the ability to avoid seeing a crisis as an insurmountable problem.
Kars4Kids: How are you using storytelling to help the children at One Summit?
Max Svec: To reinforce learnings from our experiential learning programs and build connections, we provide our community of like-minded warriors with the opportunity to share their own stories of resilience. We document these stories as part of our Profiles in Resilience initiative, helping to inspire pediatric cancer patients, caregivers, Navy SEALs—and their families— to continue in their fight one hand and foothold at a time.
Storytelling is an essential tool at One Summit because it helps children understand they are not alone in their cancer journey or in the experience of facing complex challenges and unimaginable hardships. Storytelling is also critical to posttraumatic growth (PTG), the theory on which One Summit's programs are built. For a person to benefit from PTG, sharing and acknowledging their story of trauma is critical. Our storytelling initiatives serve to reduce feelings of isolation and help build a supportive community for the children (and adults) who participate in our programs.
Life, striving for the highs while navigating the lows – Joe Andruzzi
Kars4Kids: What part does community engagement play in the work you do with the kids?
Max Svec: One Summit strives to create a supportive, welcoming community for all participating in its experiential learning programs—but those programs are not one-offs. Our community engagement events exist to allow relationships to grow outside of the Climb for Courage events by creating fun and engaging touchpoints for One Summit community members. Our community engagement opportunities enable our participants to connect, enjoy a bit of normalcy out in the community, and build stronger relationships with like-minded people.
At these events, connections look like:
Mentors spending time with their little warriors
Parents and caregivers on similar cancer journeys being able to talk with each other and offer support and understanding (COVID protocols took away a lot of the connections that would happen in clinics, waiting rooms, and inpatient units)
Sometimes, it's simply kids getting to socialize with other kids going through a similar cancer experience and getting to do it while doing a normal activity
Kars4Kids: You have a speaker series, "Stories from the Summit." How does this work?
Max Svec: Stories from the Summit (SFTS) is a virtual, live-speaker series that allows One Summit community members from our four markets and beyond to come together in one place to share in our storytelling initiative. Each hour-long community enrichment program is led by One Summit staff and features a special guest speaker who shares their unique experiences and perspectives on many topics with the audience. The program is designed to inspire, educate, and entertain through the blending of personal stories, practical insights, and application of resilience in our daily lives.
Beginning with a brief introduction, each SFTS guest shares their story in their own words, describing key life experiences, challenges, and accomplishments. This is followed by guided questions presented and moderated by One Summit staff. The final portion of the program is an open Q&A that empowers the audience of OS community members to ask the guest their own questions. We also now include a short rapid-fire question segment with the guest led by either OS staff or one of the kids on the call. We ask the guest a short series of light, entertaining questions (e.g., if you could only eat one meal for the rest of your life, what would it be?) to add a little extra fun to the program. Finally, we wrap up by asking the guest to impart a final piece of advice or closing sentiment.
We ensure the recording of the program is made widely available to give those unable to attend to give them the opportunity to watch and experience the program after the fact.
Kars4Kids: What's next for One Summit?
Ali Lamson: One Summit is prioritizing reinforcing CFC through critical year-round community events and storytelling initiatives that give each little warrior the additional strength and encouragement they need in their fight. During the pandemic, One Summit self-published a book, An Unexpected Warrior, which reinforces the idea that teamwork and community can inspire resilience. An Unexpected Warrior is about Sue, a middle school girl who faces a life-threatening disease who quickly learns that she can accomplish anything with the help of her new friends; a feisty 4-year-old roommate, a quirky new best friend and her own US Navy SEAL. We hope to distribute this book to a wider audience in order to inspire hope and resilience in our community.
Additionally, we are looking to host more community events and fundraisers to create a greater local support system. We are also looking to expand our private online platform The Anchor, which grants secure communication between our little warriors and caregivers with their Navy SEAL mentors, strengthening relationships through communication, education, health, entertainment, and connection.