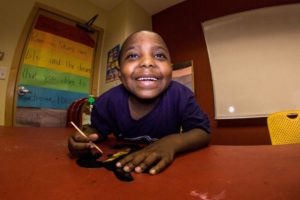 Opportunity Neighborhood is fighting crime by building a sense of community among the residents in affordable housing units in North Minnesota. Kars4Kids likes what this organization is doing. A whole lot. And that is why we just awarded this terrific org with a small grant of $200.
Making neighbors feel like neighbors sounds like something that should definitely be catching on in other places. Wouldn't it be great if no child ever had to grow up in fear? Kars4Kids spoke with Kris Ziegler, Development Officer for Opportunity Neighborhood, to learn more about this important work.
Kars4Kids: Who founded Opportunity Neighborhood and why?
Kris Ziegler: Opportunity Neighborhood was founded by Terry Troy, a principal with Real Estate Equities in the Twin Cities, in response to the instability and high crime at Polynesian Village, a 364-unit affordable housing community in New Brighton, MN. Police officers were being called to the property multiple times a day. Residents were isolating themselves in their apartments out of fear.  There were also no structured activities for youth and families—leaving kids to wander the property unsupervised and families disconnected from one another.
Kars4Kids: Tell us about "Courtesy." What is the vision of Opportunity Neighborhood regarding the concept of courtesy. Isn't this all about caring for others' feelings? Is that a key ingredient of your mission in low-income neighborhoods? Can you teach people to care for others?
Kris Ziegler: When we first began providing safety services at the affordable housing communities, we outsourced to private security companies. We quickly discovered the security officers did not possess community building skills and acted in an authoritative matter that disrespected residents and created an "us" verses "them" mentality. After finding out what didn't work, we created Courtesy—a community-based approach to neighborhood safety.
We employ staff with experience in community building and problem solving. The same staff patrol particular affordable housing communities, creating continuity and building trust with residents, management, and local law enforcement. Courtesy staff demonstrates respect, builds rapport and fosters trust in an effort to create a peaceful community by engaging residents and enforcing community standards and rules.
Kars4Kids: Tell us about the Montessori program. Is it a charter school? Was it created specifically for the children in these housing projects? Who pays?
Kris Ziegler: The Birth to 5 Early Childhood Program is a weekly early childhood program for young children and their caregivers provided onsite at Ames Lake Neighborhood in St. Paul, MN. It is not a charter school.
The program is provided in partnership with the Montessori Center of Minnesota through grant funding and was created specifically for the children and families living at Ames Lake Neighborhood.   The weekly 2-hour classes are free and very popular with approximately 40 parents and children attending each class. During the class, young children have an opportunity to develop language, gross and fine motor skills and socialize with other children. Parents are able to connect and learn important developmental tips from teachers.
Most recently, the Montessori Center of Minnesota provided an 8-week parenting course called the Circle of Security. Parents and children met each week to enjoy a meal together and discuss various parenting topics and gain support from Montessori educators, while the children were supervised in another room by Opportunity Neighborhood staff.
Getting "Buy In"
Kars4Kids: What kind of activities do you have for teens? Is it difficult to get them to attend these activities? Would they rather hang out with friends or their gangs? How do you entice them to be in your programs?
Kris Ziegler: We provide an after-school program, summer youth internships, monthly teen nights and a youth council. Many of the youth we work with are eager to find a place where they belong.  We have found providing a high-quality program with caring staff, draws youth in. Many of the teens build friendships within the program and recruit friends who are not currently attending. Like all of our programs, getting buy-in comes down to relationship building. When teens develop positive relationships with staff they respect, they are more likely to be engaged in programming.
Kars4Kids: Can you explain the Family Success Program? When you help these families out of crises with rent, does Opportunity Neighborhood actually pay back rent? Or is it just an arbitration and education kind of initiative?
Kris Ziegler: The Family Success Program stops low-income tenants from losing their rental housing when they are unable to pay rent due to an unforeseen circumstance. The program provides 1 month of rental assistance and 12 months of case management services.
Many of us have experienced an emergency car repair or a sick child requiring us to miss work. For those living paycheck-to-paycheck, a large unplanned expense can place their housing in jeopardy when they are forced to use their rent money to alleviate the emergency.
We have found it is less expensive for property owners to waive one month rent than it is to evict and turnover an apartment. In one year, the owner of 2 affordable housing communities saved $19,050 in turnover costs.
Kars4Kids: The crime stats you share on the website are striking. Is there also a different feeling—a feeling of community in the areas in which you operate?
Kris Ziegler: Many times when residents experience disturbances, they do not call the police because they feel nothing will be done. Oftentimes, they are right. The police can do little about neighbors playing loud music, unsupervised children, or broken parking lot lights. That's where Courtesy comes in. Courtesy staff gets to know residents by patrolling the property during their shift and attending monthly community events. When a resident experiences a disturbance or has a need, they know they are calling a person not just a number, who can do something to remedy the situation. Courtesy staff keeps detailed reports of disruptive residents and maintenance needs that are given to property management at the end of their shift and dealt with accordingly by the property manager.
Kars4Kids: Were the people you serve wary of you at first? How do they feel now? Do some of them reject your assistance or feel insulted?
Kris Ziegler: When we start at a new site, there is always a period of developing trust and building relationships, but once residents become comfortable, attendance increases in our events and programs. The majority of our programs are welcomed by residents and are seen as an extension of our programming for youth.
Opportunity Neighborhood Referral Service
Kars4Kids: Your information and referral service is brilliant. Even if you don't know how to help, you tell people who can help them, and this is crucial. Any idea how many calls you field in a month just from people looking for information of this type? 
Kris Ziegler: During the fourth quarter at one affordable housing community, the Resident Services Coordinator helped 60 residents locate resources. Sometimes, the Resident Services Coordinator can direct the resident to an outside community agency to meet their need, like getting a coat for a child through the Coats for Kids program. Other times, the Resident Services Coordinator helps residents directly, like helping to fill out a healthcare form, opening the computer lab so a resident can search for jobs or translating a maintenance need for a Hmong speaking resident.
Kars4Kids: What is the vision of Opportunity Neighborhood going forward? Is there a possibility of expanding your services, or the territory in which you operate?
Kris Ziegler: Currently, we provide services at 6 affordable housing community throughout the Twin Cities. We serve 3,750 residents living in 1,230 rental units. Our vision is to continue to expand our service sites within the Twin Cities metro.
This year, we began a new partnership with Building Blocks, a non-profit development company that recently opened an affordable housing complex in North Minneapolis. We are just starting to provide programming there. Building Blocks is planning and building another complex in the vacant lot across the street in the next 1-2 years. Once completed, we will expand our programs and services to serve both complexes.
Kars4Kids: How do the volunteers and employees of Opportunity Neighborhood manage to separate their everyday lives from their work? Is that hard? Is the work frustrating? Gratifying?
Kris Ziegler: We have a great staff who are committed to mission of the agency. The Executive Director has been with the agency for 13 years. The Development Officer for 7 years and quite a few Courtesy staff have been with the agency for 4-5 years. As with any job, there are days that can be hard and work that is frustrating, but when we take a step back, we know our work makes a difference by creating safe and stable rental communities for families and children.