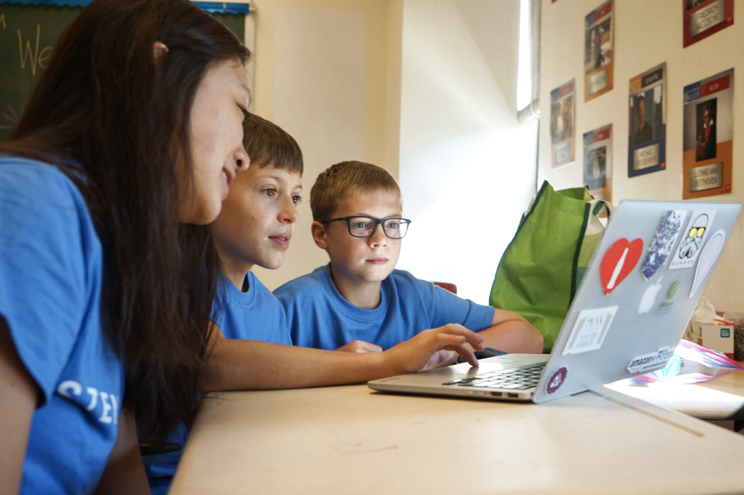 STEM & Buds was founded by two remarkable high school students who found they were impacted by having mentors in their lives. They thought that others students might also benefit from this experience and that they could put the mentoring idea together with encouraging kids to feel more confident about STEM subjects. Kars4Kids thought this an admirable idea and loved the idea of kids creating a nonprofit. And so, we were pleased to support them with a small grant. We spoke to STEM & Buds Financial Director Saachi Agarwal to learn more about the work of this youth-led organization:
Kars4Kids: Who founded STEM & Buds? When and how did it happen and how would you sum up the purpose of your organization?
Saachi Aggarwal: During August of 2018, Ashna Patel and Victoria Ren met each other at a Speech & Debate summer camp. While coaching, Ashna felt herself growing confident in her own speaking abilities as she was able to meet and teach such enthusiastic kids. When learning, Victoria saw herself improving immensely as she worked directly with a high school mentor throughout the process. Both soon realized how lucky they were to have found experiences in Speech and Debate where authentic learning, original ideas, and genuine friendships came together.
From their shared dream to find that desperately-needed community at the forefront of innovation, STEM & Buds was born. The purpose of our organization is to (1) change the narrative behind STEM to help every student feel confident in applying their skills to better their communities and effectively communicate their work; (2) establish a lasting peer network by building genuine friendships between high school mentors and elementary/middle school students; (3) and create an inclusive and accessible STEM environment through completely cost-free programs where every voice belongs.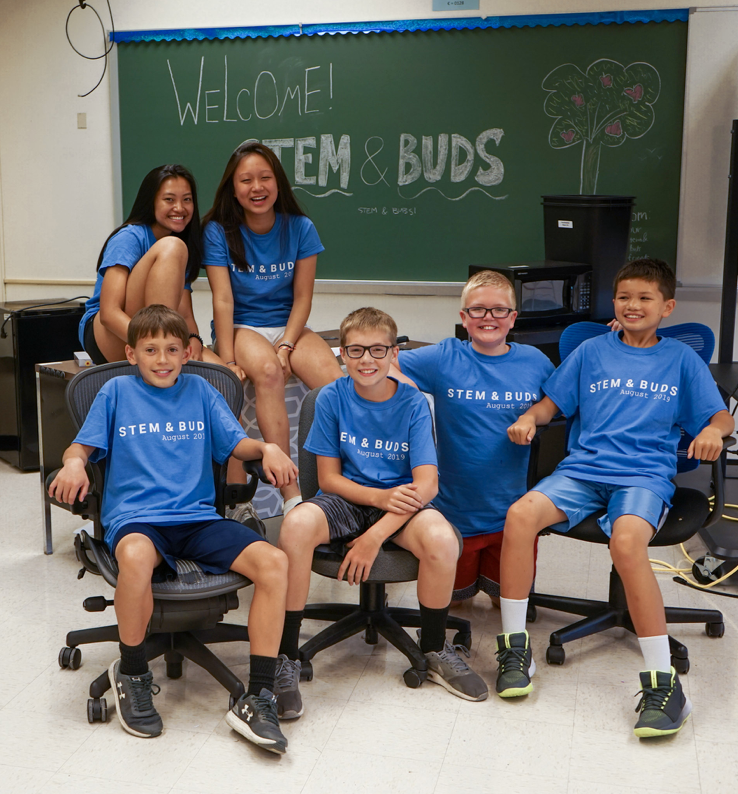 Kars4Kids: How many chapters and participants do you have, at present? How would you describe your demographic?
Saachi Aggarwal: The STEM & Buds community has impacted and brought together over 3000 students and 800 high school mentors in over 15 regions, while still in the process of reaching out to even more individuals and communities to better fulfill our mission. In the 2019-20 school year, there were 12 chapters and end-of-program fairs across the Pittsburgh region. We have grown to the point where there will be close to 62 chapters in the 2020-21 school year across the United States. For our Pittsburgh-based, virtual summer camps, last year, we served over 2000 students with 1500 mentors volunteering. In addition, our planned girls in stem initiative brought close to 150 younger female students together with 50 female high school mentors for weekly virtual activities.
As for our demographic, we hope to target students from under-resourced schools (Pittsburgh Public Schools), major refugee populations (Bhutanese and Somalian communities), transitional homes (HEARTH), and community centers such as the Wilkinsburg Team Project, and the Braddock Youth Initiative, in Pittsburgh and beyond.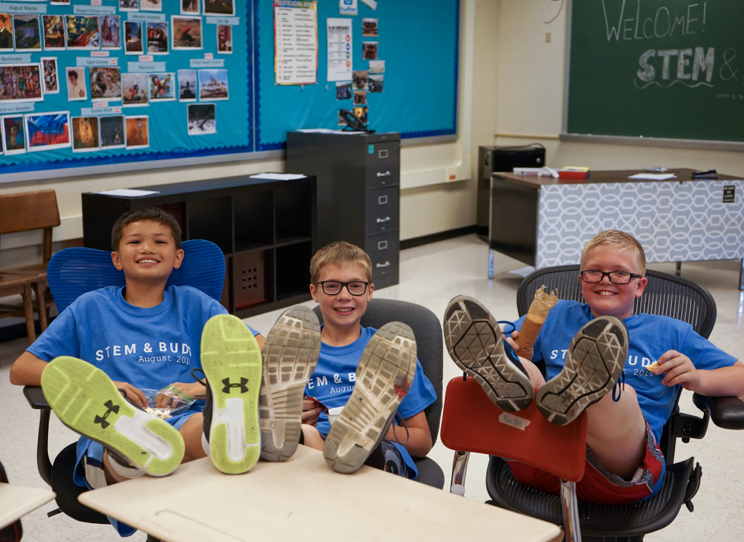 Kars4Kids: It's pretty ambitious for high school students to create a nonprofit. Did you do all the work on your own? Does the work you do to run your nonprofit ever interfere with your schoolwork?
Saachi Aggarwal: As an entirely for-youth, by-youth organization, all of our efforts are made possible by the dedicated high school volunteers we have had the pleasure of working with and the generous sponsorship/grants we have received. By building a youth-led network of individually gifted kids, STEM & Buds hopes to turn ideas into applications and leave a lasting impact on our community. Although being part of STEM & Buds is a big time commitment from spending hours designing lesson plans, sending emails, brainstorming curriculum, and networking with companies and other nonprofits, we have had the privilege of seeing incredible projects from the students who spend days researching everything from creating feasible water filtration devices to coding a studying tool for students with ADHD. Seeing STEM & Buds expand and grow has been one of the most rewarding experiences ever.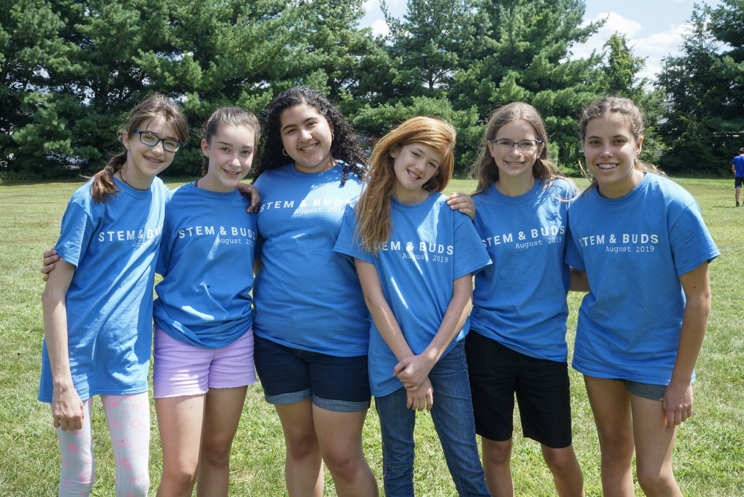 Kars4Kids: How does someone open a chapter of STEM & buds? What kinds of activities do chapters provide for their participants?
Saachi Aggarwal: Chapters are led by high schoolers and can be brought to elementary or middle schools, community centers, libraries, shelters, or any place where there are students in grades 4-8. To do so, we have opened the application process to high school students across the nation to serve as regional directors and/or chapter heads. We have compiled, moreover, an easily scalable STEM & Buds chapter and fair resource binder including everything from flyer and email templates; to step-by-step chapter organization guidelines; and all needed curriculum and funds (lesson plans, challenge resources and microgrants), in this way, we hope to maintain organization in as effective a manner as possible and make starting a region and chapter(s) as easy as can be.
At our after-school chapters, we focus on introductory STEM challenges, whether it be designing and building a sustainable house model in groups of four; or holding a class debate on a hypothetical ethical issue faced by a biotechnology company. These activities are an attempt to revitalize the hackneyed phrase of a "hands-on" setting as somewhere students can truly think and share without limit. Then, with guidance from their mentor, students brainstorm a STEM project targeted towards social betterment; design and execute their experiment; and record and present their findings at our end-of-year science fair.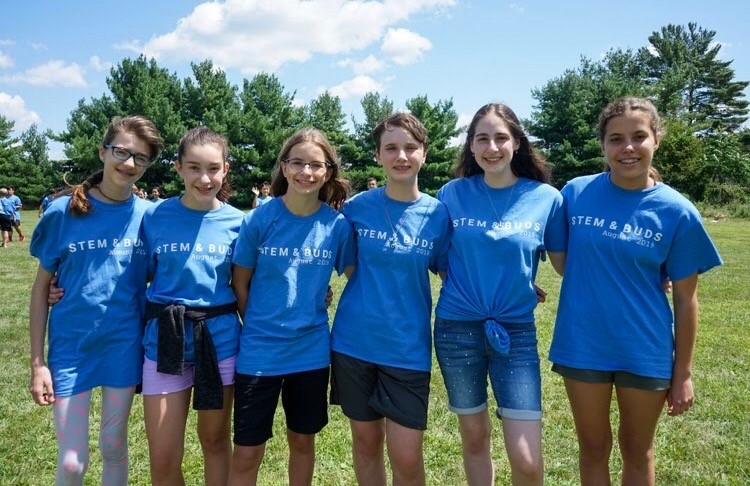 Kars4Kids: Can you give an example of some of the interactive STEM challenges that young participants and their mentors have seen to fruition?
Saachi Aggarwal: For many students, STEM has become mistakenly defined by rigid curricula, lectures, and test-taking that fail to illustrate nuance, versatility, and its interdisciplinary nature. With little room for creativity, pre-packaged labs leave students unable to explore and communicate their own ideas, thus creating an exclusionary divide between STEM research and the people. Our STEM challenges aim to combat this issue. Examples of these are talking about the importance of social science and its relation to economics or holding an engineering pitch challenge where students are tasked to create a product that merges engineering and technology together.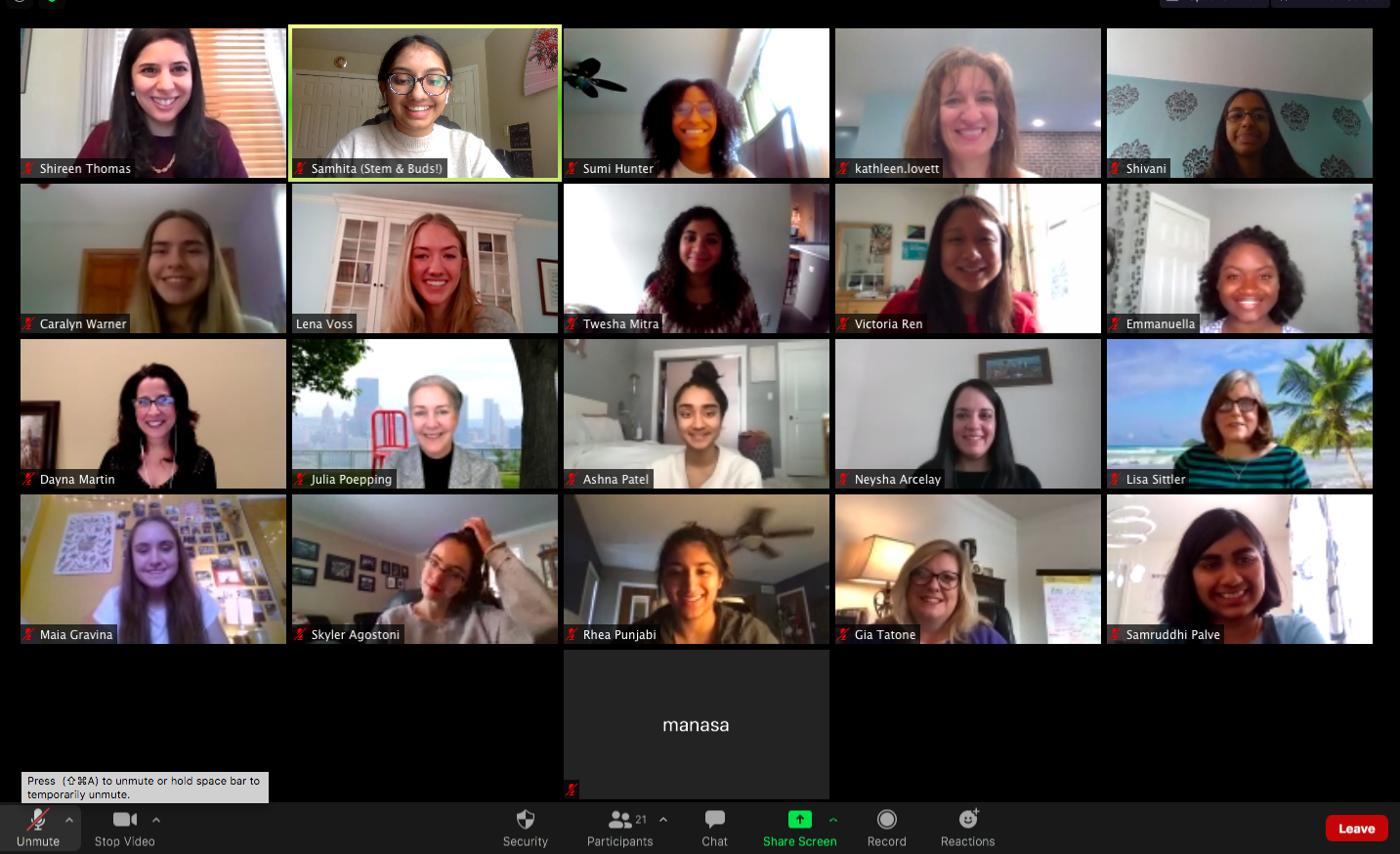 Kars4Kids: How has COVID-19 affected your work?
Saachi Aggarwal: Though the current school year is filled with uncertainty, regardless of what schools mandate (virtual or in-person), we will be hosting all of our programming virtually to mitigate risks. Thus, virtual programming will change the way we use our funds as transportation scholarships will now be laptop/internet access scholarships; and the majority of our introductory activities and discussion will be cost-free. However, we still intend to keep the STEM & Buds experience as close to in-person as possible for all students including delivery of materials for project creation and distributing t-shirts to facilitate a sense of comradery and these too, require funding.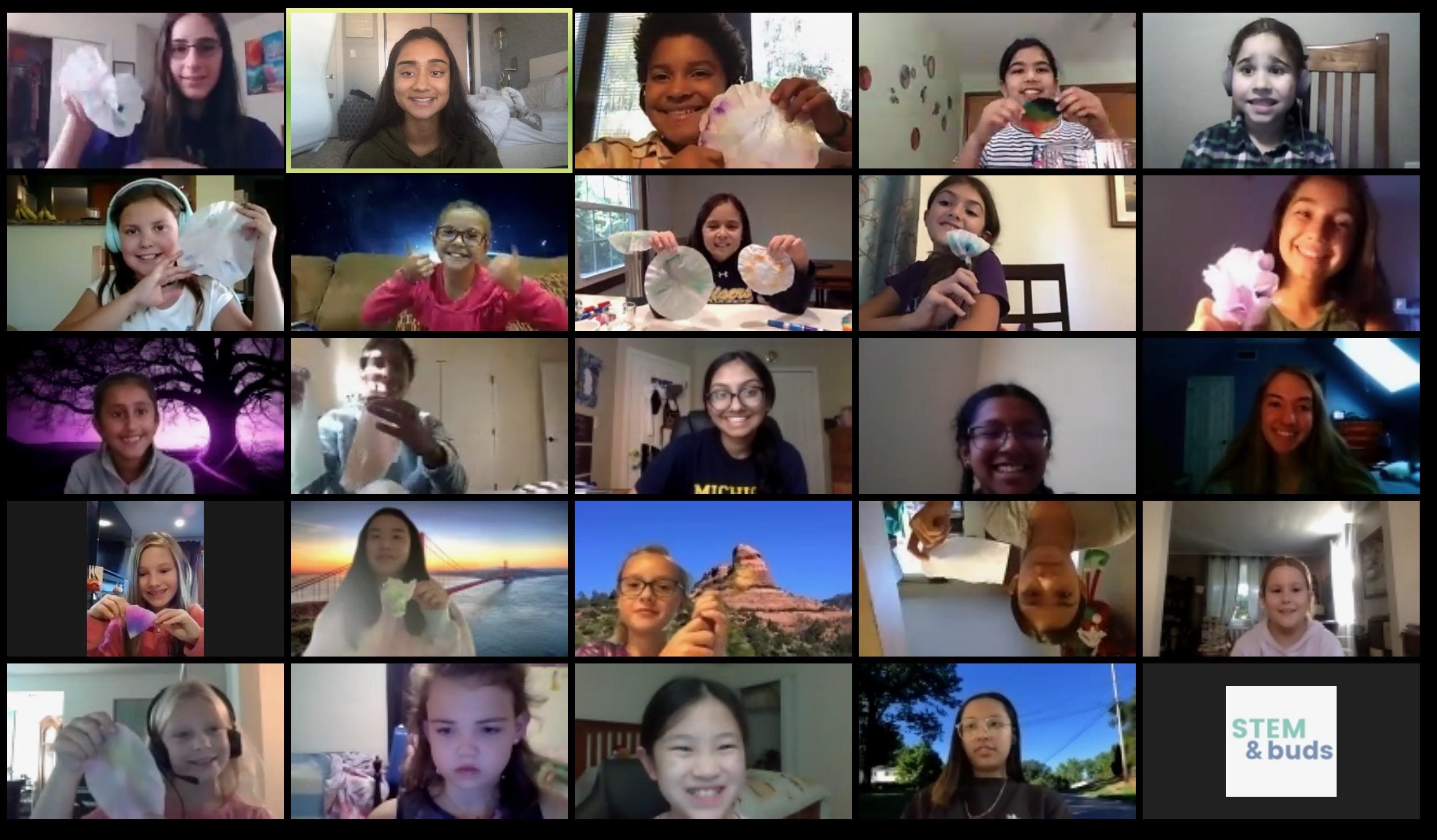 Kars4Kids: Can you give us an overview of your summer camp program?
Saachi Aggarwal: Summer camps are a 5-day long, 30-hour STEM immersion experience for middle school (grades 6-8) students. Campers are paired with high school mentors to engage in hands-on exploratory activities introducing the six basic fields; personalized feedback and guidance; workshops led by STEM leaders in the designated area; and an end-of-program science fair. Through daily challenges, group discussions, application stations, intuitive discussion panels, and project creation, our camps provide an immersive summer alternative for younger students to grow alongside high school mentors. Last year, STEM & Buds held two in-person summer camps across the Pittsburgh region with over 100 students and 50 mentors registered. This year, STEM & Buds held two virtual summer camps through Zoom with over 200 students and 60 mentors attending.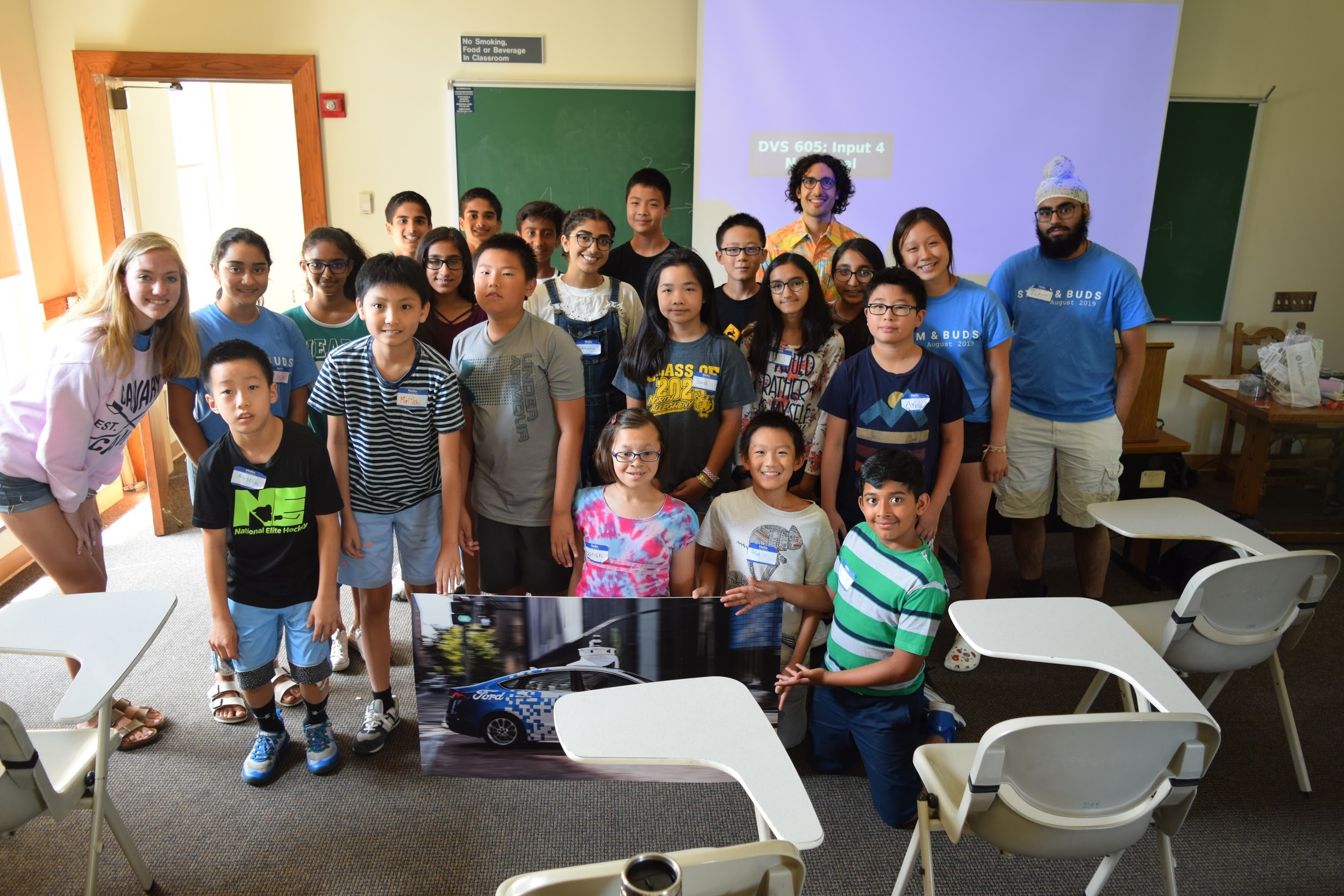 Kars4Kids: Tell us about some of your outreach programs.
Saachi Aggarwal: Outreach initiatives vary and have been launched to better fulfill our mission. Last year from March to June, in an effort to assist students as schools transitioned to remote learning due the current public health crisis, STEM & Buds launched an online, one-to-one tutoring program pairing over 100 students with 70 mentors across the Pittsburgh area. In addition, we have hosted numerous community events relevant to the current climate, such as a digital divide workshop in June featuring a panel of state representatives, CEOs, and nonprofit directors that drew an audience of over 50 students who worked towards creating a solution to combat digital inequities. Further, our Researcher-Refugee Collaboration Effort directly connects Bhutanese and Somalian refugees in high school with UPMC Magee-Women's Hospital research mentors in hopes to encourage refugee communities in Pittsburgh to experience cutting edge research and innovation.
We also hosted the STEM & Buds X RedChairPGH conference that brought over 150 female STEM professionals and high school girls together to spark discussion on closing the gender gap in Pittsburgh's technology industry. A program currently in progress is our STEM & Gems initiative, geared towards elementary school students to prevent the gender gap in STEM. This cost-free program consists of after-school, virtual, weekly, hour-long sessions, with hands-on activities and experiments, running from mid-October to the end of May.
Kars4Kids: What's next for STEM & Buds?
Saachi Aggarwal: As for now, we hope to expand the number of chapters, outreach programs, workshops, and summer camps we have to offer, while modifying them to be accessible in a virtual format. Additionally, we're looking to introduce a program in collaboration with transitional homes and a high school incubator program, to encourage high school students to brainstorm projects that could help make social change. Make sure to learn more about our programs and follow our progress through our website, @https://www.stemandbuds.org/