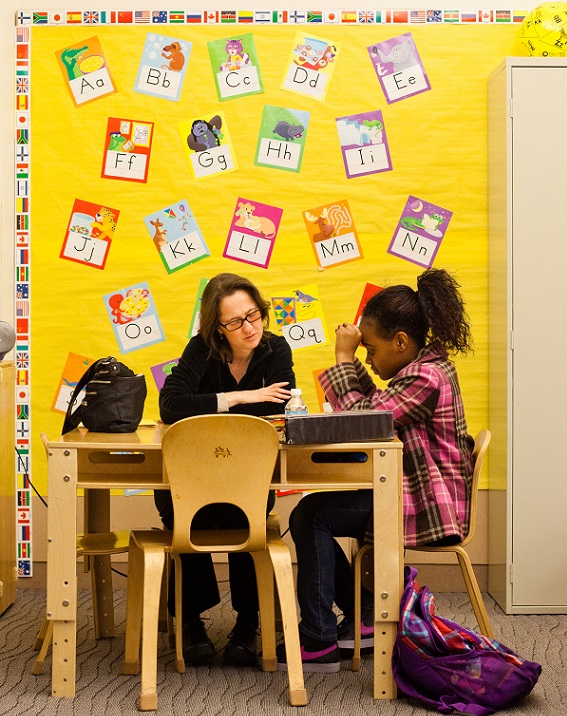 Tutoring Chicago has been working its magic for close to six decades. The organization pours all its resources into ensuring that children from low income neighborhoods get the extra help they need to ensure academic success. One-on-one tutoring is the trick to serving the needs of Chicago children facing economic barriers to a proper education.
Supporting such initiatives is the main purpose of our small grants program. We see getting an education as a means to getting ahead and ending the vicious cycle of poverty some children encounter. Tutoring Chicago is making inroads in that regard by bolstering their studies with the help of specialized tutoring from caring, consistent adults.
We put some questions to Tutoring Chicago Grant & Data Admin Manager Doug Lyons, to learn more about this work:
Kars4Kids: Tell us about your demographic? Who are the children that you serve at Tutoring Chicago?
Doug Lyons: We provide one-to-one tutoring for 1,000 Chicago students facing economic barriers. Our programs serve students in grades 1-9 from over 220 schools and over 50 zip codes.
Kars4Kids: Tutoring Chicago has an impressive history. Can you give us a summary? When were you founded? How have the organization and the need for your services changed? How close are you to your original goal?
Doug Lyons: First founded in 1965 as the Cabrini Green Tutoring Program by a group of Montgomery Ward employees, the organization has helped thousands of students grow both personally and academically through weekly one-to-one tutoring sessions with high-quality adult volunteers. In June 1990, Tutoring Chicago incorporated as a private nonprofit organization serving the youth of Cabrini Green. The organization rebranded in 2012 as Tutoring Chicago to serve the needs of children all across the city.
Through the past 57 years, our goal has remained the same – to deliver the power of education through one-to-one tutoring. Over the past decade, we expanded our reach and services to better meet the needs across the city, including the addition of high quality digital programming. We have added both a middle school tutoring program and a high school tutoring program, complementing our established tutoring programs.
Kars4Kids: You offer 1:1 tutoring with the same adult tutor for the school year. What happens after that? Do some tutors stick with their students beyond one year? Have some students returned to Tutoring Chicago as tutors?
Doug Lyons: We prioritize consistent positive relationships between students and tutors. Currently, over 50% of our student and tutor pairs have been working together for two or more years. We strive to retain student-tutor relationships year-over-year as this creates the best environment for the student's success.
We have had a number of former students return as tutors and staff. Currently, one of our program coordinators is a former student of Tutoring Chicago.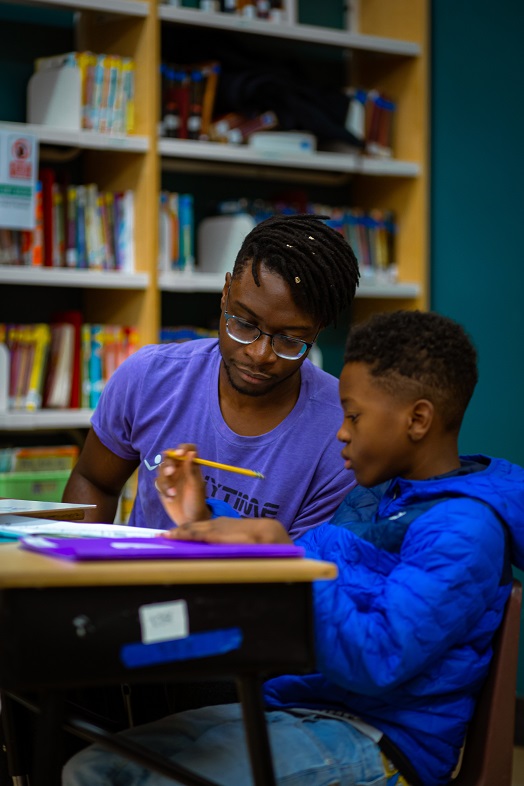 Kars4Kids: You have a program called Literacy Intensive Tutoring (LIT) for which the participants must be screened with a formal assessment by you. How do you determine eligibility for this program? What exactly is the program, and what are its specific aims?
Doug Lyons: The Literacy Intensive Tutoring (LIT) Program provides individualized literacy interventions for struggling readers as determined by assessments and parent/teacher feedback to help students effectively close the literacy gap and reach their full potential as a student. Students receive three hours of one-to-one, customized reading intervention each week for eight months by attending a tutoring session two nights a week. The goal of the LIT program is to support each student's growth toward grade-level competencies in reading and writing.
Our LIT Manager meets with prospective students to assess their current reading skills through letter/sound and sight word identification exercises along with a reading assessment that measures their word accuracy and comprehension skills. Students who are not meeting grade level expectations in reading (typically 1-2 years behind their peers) are invited to join the LIT Program. Participants are regularly assessed throughout the program year to identify specific needs and measure growth. If a student reaches grade level expectations, they "graduate" and move on to our SMART Program the following year.
Kars4Kids: You offer individualized programs. Are you working in tandem with the children's teachers to keep apprised of their progress and needs?
Doug Lyons: We connect the tutors, parents, and teachers to ensure the student receives the best possible support and tutoring intervention for their learning needs. Additionally, we solicit feedback, including academic data, from our students' teachers multiple times a year and provide this data to the tutors to better inform their weekly sessions.
Kars4Kids: Can you describe your SMART program for us?
Doug Lyons: Our SMART Tutoring Program for 1st through 5th graders focuses on five areas of student achievement: social emotional learning, mathematics, accountability, reading, and technology. Within the context of building trusting relationships with our volunteers, students focus on homework review, executive functioning skills, and developmental experiences that combine learning and reflection. Students attend tutoring for 1.5 hours a week for nine months of the school year.
Students have access to a wide variety of high-quality resources and activities designed to meet each student at their academic level, offering both remediation and extension of knowledge and skills that they are working on in the classroom or expected to know at their grade level. Our program team monitors student progress throughout the year to address the child's individual needs and course correct as needed.
Kars4Kids: Your tutoring programs are divided into middle school and high school. How would you describe each group's main focus?
Doug Lyons: Our Middle School Tutoring Program serves 6th, 7th, and 8th grade students. The program features a curriculum tailored to common core standards incorporated into Chicago Public Schools' learning standards designed specifically for student learning needs, with a focus on preparing students for high school transition and continued success in their education. The curriculum emphasizes social emotional learning, executive functioning skills, academic coursework across the four core subjects (English, Math, Social Studies, & Science), and high school readiness including test prep and career exploration.
New in 2022-23, Tutoring Chicago is excited to further expand our programming by developing a high school program beginning with our 9th graders. The High School Tutoring Program provides our students with the continuation of one-to-one tutoring and mentoring in areas essential for success in secondary education. The curriculum covers executive functioning, organizational skills, and preparation for the next four years. This includes support for academic course success, taking advantage of high school resources, reflection surrounding college and/or career readiness, as well as overall self-management and social awareness skills. Students continue one-to-one tutoring support with flexibility in scheduling sessions with their tutors once a week.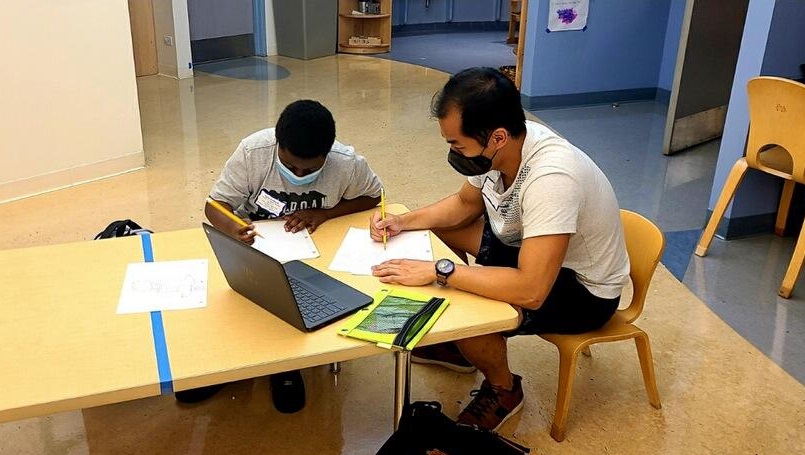 Kars4Kids: Can you tell us something about the educators who advise and guide your work?
Doug Lyons: Our program staff is comprised of experienced educators and leverage their combined experience as educators to maintain curriculum and delivery models that are consistent with CPS standards and reach families across the city.
Additionally, we have current and former CPS administrators on our Board of Directors who offer expert advice and insight for our programming. Our program team also maintains a network of current teachers who provide insight and feedback.
Kars4Kids: How did Tutoring Chicago weather the pandemic?
Doug Lyons: Early into the pandemic we shifted our tutoring methods to entirely online, with tutors and students continuing to work together through the remainder of the 2019-20 school year and into the summer. We continued digital tutoring during the 2020-21 academic year in keeping with CPS's remote learning model. Beginning last year, we returned to in-person tutoring in addition to continued digital tutoring, providing our students and families with the ability to choose the method that best fits their needs. Currently, roughly 50% of our students meet with their tutor in person and the other 50% meet with their tutor digitally.
In order to facilitate the shift to digital tutoring, we provided students in need with Chromebooks and other student technology. To date, we have supplied over 500 Chromebooks to students, supporting their access to learning with their tutors.
Kars4Kids: What's next for Tutoring Chicago?
Doug Lyons: This year our programs serve 1,000 students across our four tutoring programs (SMART, LIT, Middle School, and High School). We are continuing to update and improve upon our delivery of high quality tutoring programs to ensure all Chicago students achieve brighter futures.