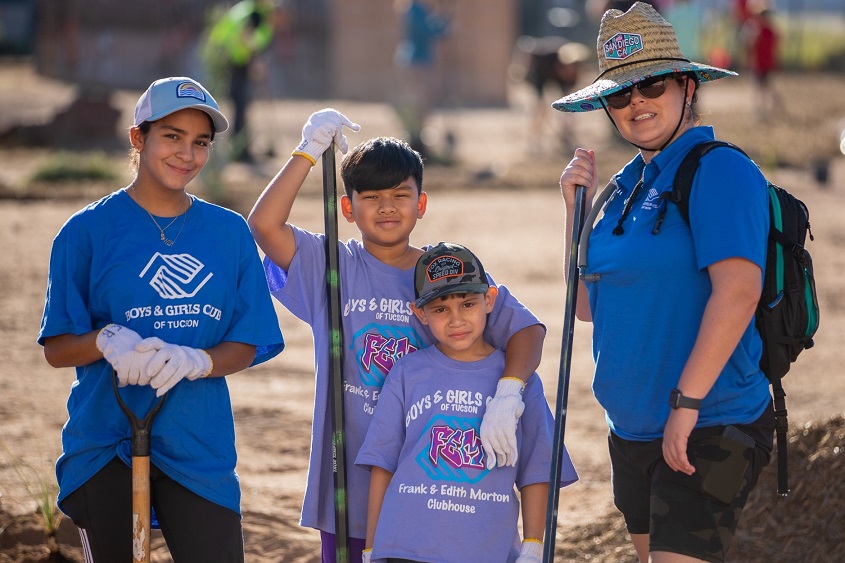 Boys & Girls Clubs of Tucson, if you didn't know better, might seem to you like just one more branch of this national youth organization. This particular branch of Boys & Girls Clubs of America, however, distinguishes itself for being attuned and responsive to the needs of the community it serves. BGCT also instills in the youth it serves, a better sense of and connection to their natural surroundings and resources. At Kars4Kids we feel it's important for kids to have a safe place to go after school. The uniquely creative offerings at BGCT go beyond, elevating this safe space to a place that enriches, supports, and connects youth to their surroundings and to the community.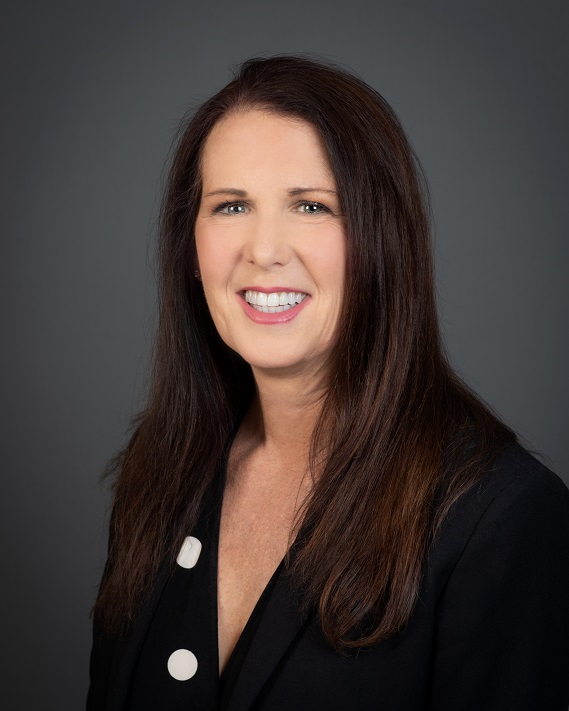 With BGCT in their lives, the boys and girls of Tucson are much more likely to become successful adults who give back to the community. The stress on community and the excellence and creativity of its programs are two of the main reasons we chose to award a small grant to Boys & Girls Clubs of Tucson. We spoke to the inspiring CEO of BGCT, Denise Watters, to learn more about the work of this local asset for Tucson youth.
Kars4Kids: Boys & Girls Clubs of Tucson is serving in six locations. That must be a lot of kids! What proportion would you say are from low-income homes? 
Denise Watters: It sure is! Our current numbers indicate that 92% of the youth we serve come from low-income households.
Kars4Kids: As CEO, what are your day-to-day responsibility for all the BGCT youth? Can you tell our readers about the Boys & Girls Clubs of America's Standards of Organizational Effectiveness evaluations and how you placed? What's your secret?
Denise Watters: Having been a BGC member myself on the East Coast, I know from the inside how important our mission is, and that's where I begin. In all my daily activities, in choosing my priorities and charting our direction, I revisit these words: "The mission of the Boys & Girls Clubs of Tucson (BGCT) is to provide young people in our community, especially those who need us most, with a clear path to reach their full potential and pursue their dreams." Managing my day-to-day duties is driven, at its core, by the pressing obligation all of us at BGCT have to create, develop, and nurture a safe and supportive space for those who need us the most.
As far as the BGCA Standards of Organizational Effectiveness go, those are a series of rubric-based metrics that allow BGC organizations to decide for themselves where they want to focus their energy, resources, and improvement efforts. It may not be a rank, but it does speak to the inviting and inclusive relationship between BGCA and its branches. BGCA has always served as a beacon to all of us, providing us with key insights into our own practices. We remain ever committed to understanding our impact through a variety of lenses, from these national assessments all the way to our treasured staff on the ground who give us daily input on what they see in the Clubs.
My secret is simple but true: at the end of the day, it's all about the youth.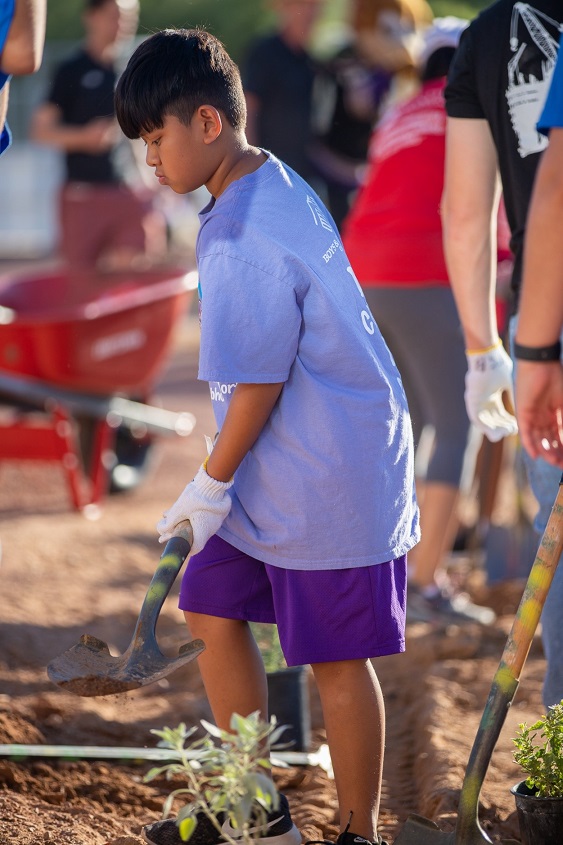 Kars4Kids: The first iteration and chapter of BGCT opened its doors in 1963. Is your mission the same, today? What is different about BGCT in the 21st century?
Denise Watters: BGCT has gone through an incredible evolution over the years, and in my opinion the Tucson chapter especially has leapt from strength to strength. Our mission remains the same as it has since we first opened our doors. The ways we implement it, however, as well as keeping our finger on the pulse of the needs of Tucson's youth as they evolve, continue to evolve as needed. I'll give just two examples that can highlight this:
When the Boys & Girls Clubs of Tucson first opened its doors the organization (national as well as branches) was missing the "G," being a boys-only club. The Tucson chapter rallied together with other branches across the country in voicing their desire for inclusion, and this ultimately led to the tipping point where girls were allowed to attend, and BGCA as we know it today was born. We may not have made the change ourselves, but we sure were a heavy rock in an avalanche of change.
More recently, when 2020 and COVID-19 exploded into the picture, we were one of the first organizations to get a bead on the educational crisis that was about to unfold. In just a few months into the pandemic we transformed our Clubhouses into daytime learning centers for the children of first responders, essential workers, and frontline COVID workers. This past summer (2022) we participated in Arizona OnTrack, and were able to make our summer programs free for more than 2,000 youth and served more than 29,000 meals and snacks during this time. Now that schools are returning to more normal schedules we are adapting our programming to fit around the circumstances our youth encounter daily.
The Tucson branch has always been forward-thinking in adapting to social needs. We keep our finger on the pulse, the voice that guides us being the needs of the youth today.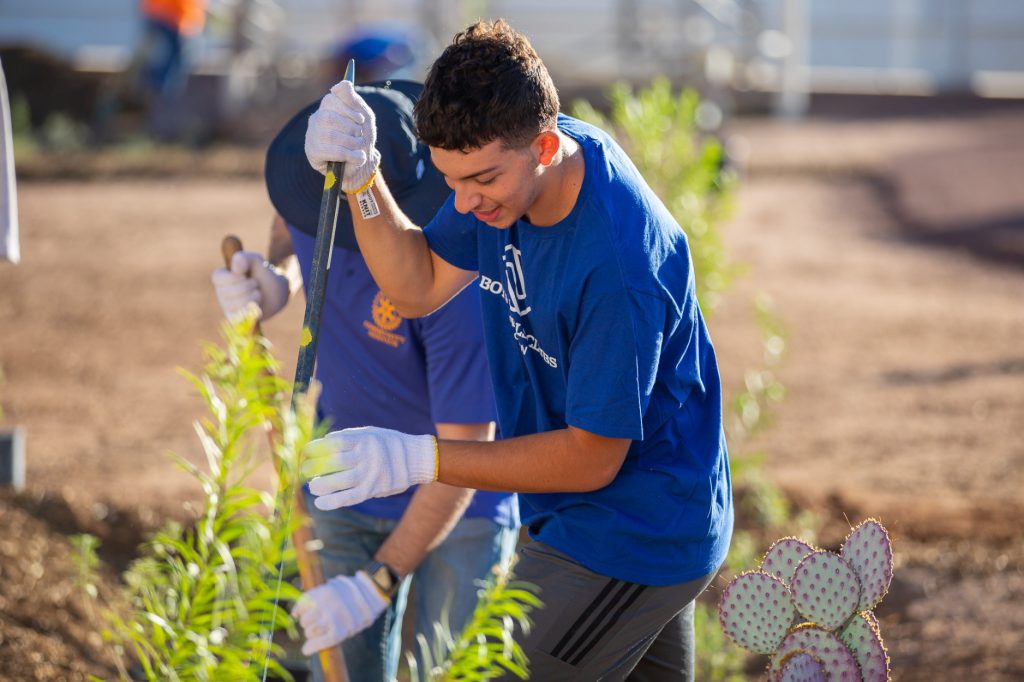 Kars4Kids: Tell us about the Formula for Impact. Who developed it, what is it? When was the formula adopted by the Boys and Girls Club Movement and why?
Denise Watters: The Formula for Impact is, at its core, a vision created by BGCA. Described as a roadmap, it outlines a series of objectives all BGC chapters should strive towards. These are to ensure that every member we serve sees strong outcomes in the areas of Academic Success, Good Character and Citizenship, and Healthy Lifestyles. It further expands to include more specific components of how to achieve these outcomes. We first find the youth who need us the most. This simple but deep step involves a lot of strategy and planning, encompassing everything from where we concentrate any outreach efforts to how we plan new Clubs or extensions. Having accessed these youth, we provide them with Outcome-Driven Club Experiences, High Yield Activities, Targeted Programs, and Regular Attendance.
There's much more to be said about the Formula for Impact. I would encourage anyone interested in this targeted approach that has supported so much of both BGCA's and BGCT's success to visit BGCA's website to read more about it. It really is one of the most exciting components that drives the BGC Movement, and informs so much of what we do.
Kars4Kids: Parks in Focus is a program that really caught our eyes. What a wonderful way to teach children about their local natural surroundings. Can you tell our readers about this program?
Denise Watters: I love all of our programs, but I agree: Parks in Focus really is special. It's a partnership with the Udall Foundation that instills in youth a love of nature through photography. Throughout the year various opportunities exist for our participating youth to visit local and state parks while learning about photographing nature and wildlife. This not only teaches a skillset but also instills in participants a love and appreciation for the wildlife and plants of the southwest. Arizona is home to some of the most majestic scenery in the country, and we want everyone to do their part to learn about the land they live on and care for it. This inspires youth to understand more about the environment but also science fields such as biology, botany, and more.
One of the most exciting highlights for Parks in Focus occurs annually, when the youth take a trip to the Grand Canyon and spend several days immersed in one of the most unique natural environments on earth. I think back to one of our Club members from our Frank & Edith Morton Clubhouse location, named Yvonne. Going on that trip was one of the most meaningful experiences of her life. It was fun, educational, and unlike anything she had ever encountered. It's a touching thought to think that, whatever her career path in life will be, this was one of those milestones that contributed to her personal development, confidence, and education. We are very fortunate to have this partnership with the Udall Foundation. It creates positive memories that last a lifetime and support a youth's journey on so many levels.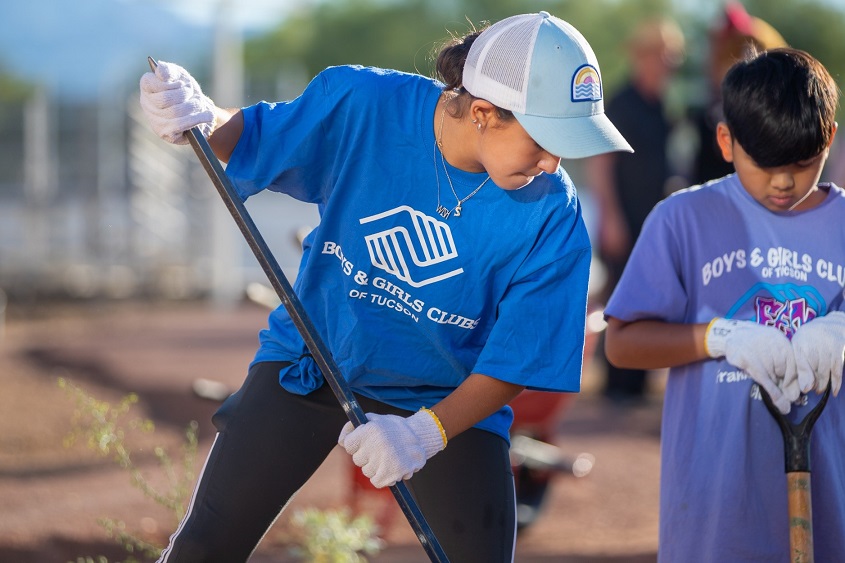 Kars4Kids: We were also intrigued by the description of the Games Club as a science and design-thinking program. How is this games club different than other such clubs?
Denise Watters: The Games Club was developed in connection with a professor from the University of Arizona Astronomy department. It's a fantastic concept in that it merges fun and education. Just about everyone loves playing a stimulating game, but for a youth, games are a great opportunity to teach critical thinking and math skills. We would also host activities in the Games Club that would teach STEM in enjoyable, engaging ways. Building a model volcano, for example, teaches not only elements of geography and volcanology but also chemistry, archeology and engineering. We've all had the experience where the same material presented two different ways can be either incredibly exciting or boring. With passion and some creative thinking, we create high-yield learning activities that inspire youth to learn more and potentially find an area of academic interest. The Games Club shows any youth hesitant about science, math, or critical thinking there are many roads that can lead to knowledge, and some of them can be very enjoyable.
I keep coming back to this word, but in this case it's very important: in education, having fun counts for a lot. That never changes, no matter what our age is.
Kars4Kids: We're including here a clip of the Rivera family talking about their experience with BGCT (above). What did you give these boys and their family that made the difference for them, and helped them overcome their tragedy?
Denise Watters: The Rivera family story is a very powerful one, and every now and then I revisit it in my mind. Though we do our best to instill joy in our members, it's the obligation of every staff member to remember that some of them have gone through immense pain before they come through our doors. It's so crucial to remain mindful, to honor that pain but find ways to empower them to not be defined by it. We've had our finger on the pulse of mental health needs for the past couple of years, especially with how much they were exacerbated during the pandemic. It's one of the areas of immense importance that is driving us to seek new lasting partnerships to ensure we are doing everything we can to support the mental health needs of our Club members who might have experienced losses similar to the Rivera family. Informed compassion is more crucial than ever in any youth development initiative.
Building on that, while mental health is a vital element of our current interests, we also want to ensure that other pieces of the puzzle are strong. These youth have wonderful, bright futures ahead of them, and the most important thing is for them to realize that. By being academically supported; taught essential skills about the workforce; learning physical wellness and health; and just being in an environment that nurtures good character and positive relationships, our members can gain confidence in themselves. That confidence is very valuable, especially if you've come from circumstances where abuse, neglect, poverty, or loss have been a very present factor.
The value of a positive role model can't be stated enough. Our members develop lasting bonds with Clubhouse staff, and it's not uncommon for staff to be invited to graduations, birthdays, quinceañeras, or other personal events. We have strict protocols in place for how staff can respond to these types of invitations, but the general picture it paints is a very powerful and meaningful one.
Kars4Kids: Tell us about the EXCEL program. We like the idea of motivating kids to help themselves get ahead.
Denise Watters: EXCEL is a great program. Here's how it works. High Schoolers are encouraged to submit their report cards every quarter.  If they receive an unweighted GPA of 3.0 to 3.4 they will receive a $25 gift card.  If they receive an unweighted GPA of 3.5 to 4.0 they will receive a $50 gift card. If the GPA is lower than a 3.0, and they submit their report card they don't receive anything, however, the next quarter if their GPA is still below a 3.0 but was better than the previous quarter they will receive a $10 gift card to places like Taco Bell, McDonald's, etc. This helps encourage them to make small academic gains that can add up a lot over the course of their time in high school, especially if they begin as a freshman.
All grades are recorded on a tracker and maintained so we have record of the GPA and the dollar amount of the gift card earned.  When they complete their senior year all gift cards from GPA's 3.0 and higher will be matched dollar for dollar and they will receive a check in that total amount.  So if they turned in report cards all four years of high school they will receive a check totaling the amount of gift cards they received over those years which can add up to quite a lot. In addition, if during their senior year they received a 3.5 and higher GPA for all four quarters they will receive a free iPad. If during their senior year they received a 3.0 to 3.5 all four quarters they will be put into a drawing and one member will receive a free iPad.
What makes the EXCEL program so effective is it instills in participants that education has a value. Especially when there are pressures to work to support other family members, or just a lack of interest in school, this type of incentive really can make the difference between a youth staying in school or not. And it can also stimulate the intrinsic desire to do better. A check for a high GPA is great, and can make a huge difference, but we also hope the satisfaction of getting those high grades, of looking at the report card and saying, "Wow, I really did that." can help build that crucial confidence needed to not only succeed in high school but also in higher education or trade school.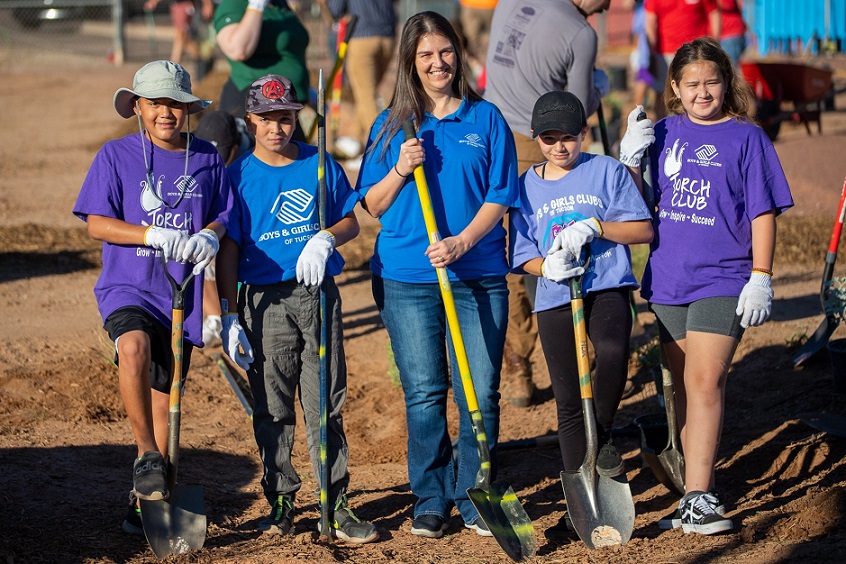 Kars4Kids: We're curious about your Youth of the Year recipients: has the award helped some of them on to top-tier colleges and universities? It seems like it would look good on a college application or resume!
Denise Watters: Winning Youth of the Year absolutely looks great on both a college application and a resume. Being a national program and competition, it's recognized across the country and carries with it an impressive weight. I think to our winner two years ago, Anycia, and how it helped her land a place at Hampshire College, where she is studying towards her ultimate goal of being a neurologist. I think, however, that it serves as a mirror. Winning an award always looks great, but this award in particular says so much about the individual receiving it. Winning Youth of the Year means you've really made an impact in both your own leadership qualities but also your academic achievements and engagement. We're so proud of our Youth of the Year winners, and celebrate them as often as we can!
Kars4Kids: What's next for Boys and Girls Clubs of Tucson?
Denise Watters: We have so many exciting projects in the works, a few of which I can't announce quite yet (but stayed tuned). There is a lot going on at BGCT, we have set our ambitions skyward and the projects stemming from them are matching those heights of excellence we aspire to. It also helps that next year is our 65th Anniversary, and we plan to really kick things into high gear. So, while I can't say much for now here are some teasers:
First, we remain deeply committed to continuing our mission, ensuring we reach the youth who need us most and provide them with that enriched path to following their dreams. Within that, we aim to expand our footprint in the community, looking into new partnerships and the exciting projects that will stem from them. There are so many organizations in town interested in supporting the next generation of brilliant workers, thinkers, scientists, artists, and businesspeople. We want to grow and expand by creating lasting meaningful connections, spearheading these collective collaborations. When we work together we are greater than on our own, and BGCT is committed to building enduring, lasting bridges that will connect and reach more of the youth we aim to serve.
Here's one concrete thing I can say: we are keen and passionate about tackling the challenges our members face and finding new ways to empower them. The future looks bright for Tucson's youth.