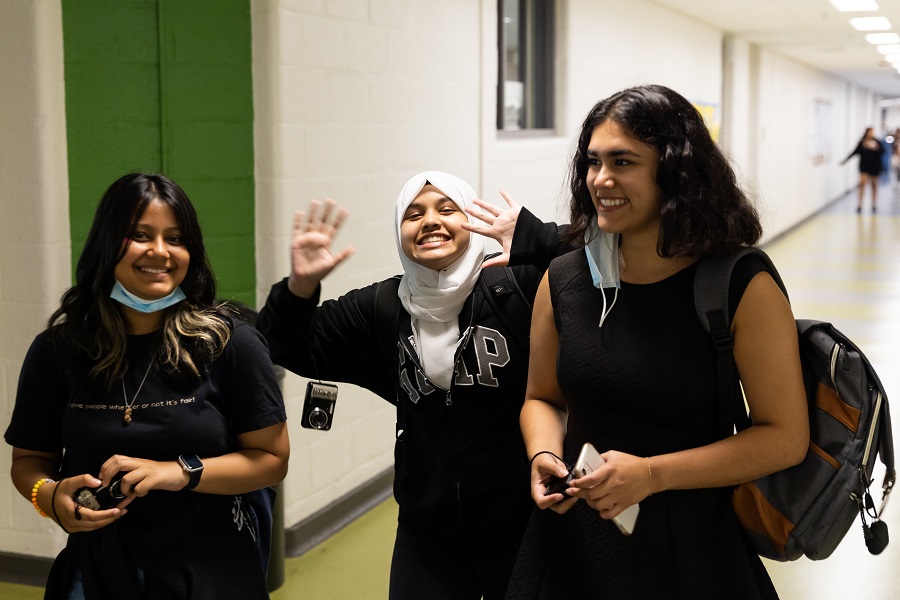 Breakthrough Greater Boston (BTGB) believes that any student who wants to go to college can do so. That belief goes hand in hand with the idea that a college degree, in particular for students living in underserved communities, is the only way to break the cycle of poverty. The conundrum then is how to get these kids into college when the schools they attend are inadequate for this purpose, neither motivating nor educating students toward a higher education. BTGB works hard to overcome these obstacles and deficits by offering a continuum of learning opportunities and extra support to those it serves.
The mission of Breakthrough Greater Boston is one we share. We also believe that giving kids the tools they need to succeed is a communal responsibility. It is our hope that our modest small grant award will help to propel BTBG participants to a more prosperous and productive future. We put some questions to Breakthrough Greater Boston Development Associate Shannon Farrell to learn more about this work:
Kars4Kids: Tell us something about the kids you serve. What's your demographic?
Shannon Farrell: Starting in 7th grade, Breakthrough Greater Boston (BTGB) serves students across Cambridge, Boston, and Somerville who have high potential and are committed to going to college, and who simultaneously face disproportionate barriers on their educational journey. Of our nearly 700 7th-12th grade students, 93% are students of color, 83% are from low-income families, 68% will be the first in their families to graduate college, and 42% speak a language other than English at home. From 7th-12th grade at Breakthrough, students dedicate, on average, an additional 1,800 hours towards their education, closing opportunity gaps and propelling them to college.
Kars4Kids: What can you tell us about your Students Teaching Students model?
Shannon Farrell: BTGB is a unique organization with a dual mission. Alongside supporting underserved students on their paths to and through college, BTGB builds careers in education through a Teacher Training Program for college-aged students that features competitive national recruitment, research-based training, and daily coaching from master teachers.
BTGB's Teacher Training Program recruits, inspires, and trains diverse cohorts of high-achieving college students to teach in our summer and after-school programs, where Teaching Fellows gain over 500 hours of training, mentorship, professional development, and classroom experience that catalyzes future education careers. With intensive training and ongoing guidance from professional educators, our Teaching Fellows build critical career skills as they implement curricula, plan daily lessons, manage student behavior, and commit their time to helping younger students follow in their footsteps on the road to college.
BTGB aims to advance educational equity for generations to come by developing the next generation of teachers. Research from the National Bureau of Economic Research shows that Black students are 13% more likely to complete high school and begin college if they have had one Black teacher in elementary school and 32% more likely if they have had more than one. To this end, BTGB intentionally recruits college students from diverse backgrounds that align with our students', and this Students Teaching Students model creates collaborative mentorship and near-peer relationships that inspire both students and teachers to succeed.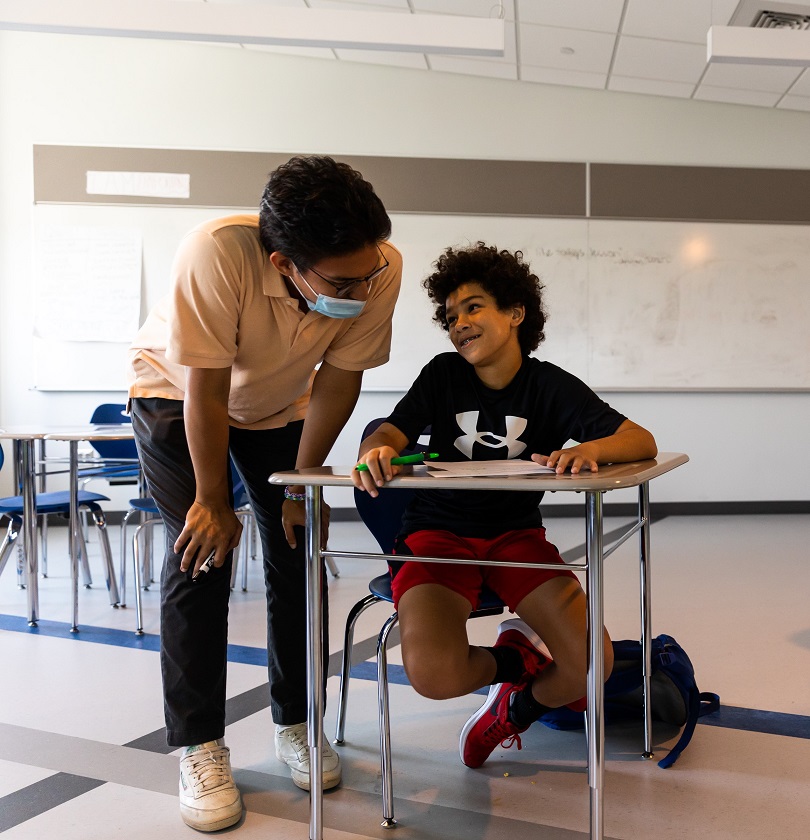 Kars4Kids: Students who want to apply to BTGB must do so in 6th grade, begin the program in 7th grade, and commit to staying in the program for at least 6 years. What makes kids ready for your program in 7th grade? Why at that point in their studies and/or their development?
Shannon Farrell: At BTGB, we know that young people across the US do not have equal opportunity to attend college: low-income students, students of color, and first-generation college students face unique barriers on the path to and through college. Only 76% of America's low-income youth can expect to graduate from high school; 61% can expect to enroll in college; and a mere 14% can expect to earn a bachelor's degree.
Research suggests that students need to be on track for college—achieving academically, demonstrating good study habits, and developing positive relationships—by 8th grade if they are to be successful in college. To provide this necessary early intervention, BTGB first engages students in the summer before 7th grade to start inspiring a love of learning, closing skill gaps, encouraging self-advocacy, and illuminating the path to college.
Kars4Kids: Breakthrough intentionally builds life skills through four key social emotional competencies. Can you flesh that out for us?
Shannon Farrell: BTGB is dedicated to providing "whole child" support and providing social emotional learning (SEL) opportunities. Knowing that life success is not limited to academic mastery, BTGB intentionally builds life skills through the four key social emotional competencies of community membership, effective communication, creative problem solving, and persistence.
We assess student social emotional skills and weave opportunities for SEL into all aspects of programming by fostering a safe and supportive community, as well as deep family engagement, use of daily advisory sessions and restorative justice circles, and tailored supports through group interventions and licensed mental health counselors. To celebrate student successes, during the summer program's daily community meetings, students receive "shout-outs" and "spirit sticks" for showing exemplary community spirit in the areas of community membership, effective communication, creative problem solving, and persistence.
Kars4Kids: Tell us about your school year program for middle schoolers.
Shannon Farrell: During the school year, 7th and 8th grade students attend the Middle School After School Program (MSASP) one day per week, which offers homework advisory time, hands-on STEAM workshops, social emotional learning (SEL) resources, and community building.
Students have dedicated time to complete their homework, which is also a time for us to reinforce good study skills and to provide targeted academic support. Students also get time to build community and social emotional skills with their Breakthrough peers and teachers, including community meetings to celebrate student learning and community values.
Additionally, students receive BTGB's Full STEAM Ahead curriculum, centering on Science, Technology, Engineering, Arts, and Math through fun and engaging hands-on workshops. Current workshops include making butter, density columns, borax bouncy balls, catapults, rockets, and more. For example, in one engineering workshop, students will build a 'robot' hand using straws and string to mimic the structure of bones and ligaments/tendons. Then, they refine their designs so that their 'hands' will be able to pick up a variety of objects!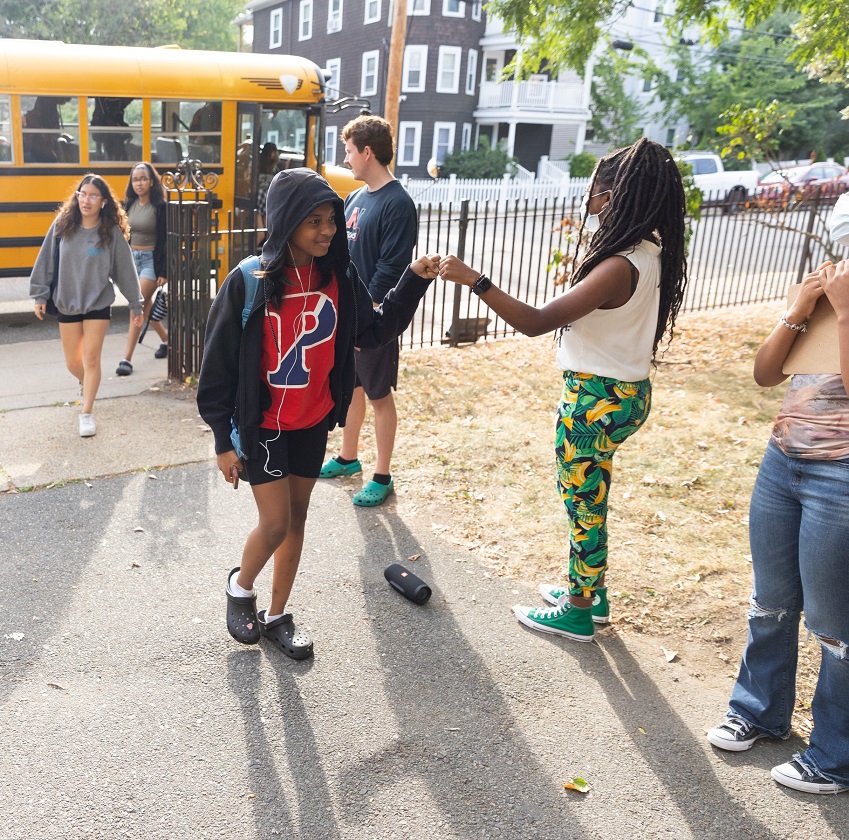 Kars4Kids: Can you give us an overview of your middle school summer program? Why do kids need a summer program? Don't kids need time to just kick back and have fun?
Shannon Farrell: According to research from John Hopkins University, unequal access to summer learning accounts for two-thirds of the opportunity gap between students of color, low-income students, and their more-resourced peers. Students who do not engage in summer academic programming typically regress by an average of two months each summer.
Our six-week Middle School Summer Program is the centerpiece of a student's Breakthrough experience. 7th-9th grade students combat summer learning loss by attending core academic classes including English Language Arts, math, science, and social studies, plus benefit from individualized mentoring, community building, social emotional learning, and time to engage with their college-going peers. BTGB boasts an average class size of 8-10 students.
At BTGB, we aim to combine the best parts of school with the best parts of summer camp. Not only do students participate in core academic classes, but students also get to enjoy daily clubs like sports, daily small-group advisory sessions, and daily high-energy community meetings that celebrate students' academic successes, shout-out students who practice core community values, and build community culture through fun skits and activities. On Fridays, the Breakthrough community comes together for special activities like Math Olympics, Career Day, and more. For example, on Unity Day, the Breakthrough community gathers to discuss what it means to have a community made of diverse identities and perspectives. Every activity during Unity Day is predicated on respecting, supporting, and listening to one another. For instance, students complete "Identity Wheels," reflecting on their racial, gender, religious, national, and other identities, and what role these identities play in students' lives.
In their third BTGB Summer Program, rising 9th grade students participate in a special program called Leadership Academy, designed to ensure a successful transition to high school. In addition to core academic courses, the key components of Leadership Academy include opportunities to take on leadership roles within the Summer Program, college and career exploration, and high school preparation.
For all students, BTGB's curriculum is designed to celebrate diverse perspectives and cultural backgrounds. Literature selections feature authors and characters reflecting the diverse backgrounds of our students, such as this past summer's 7th grade text: Claudette Colvin: Twice Toward Justice by Phillip Hoose. The previous summer's 7th and 8th grade text was Black Enough: Stories of Being Young & Black in America by Ibi Zoboi, a collection of personal essays and variety of stories from some of YA literature's most notable Black authors who explore identity and intersectionality. BTGB's Social Studies courses address social justice themes, such as this summer's "Migration and Global Impact" and "Identity, Values and Activism" courses.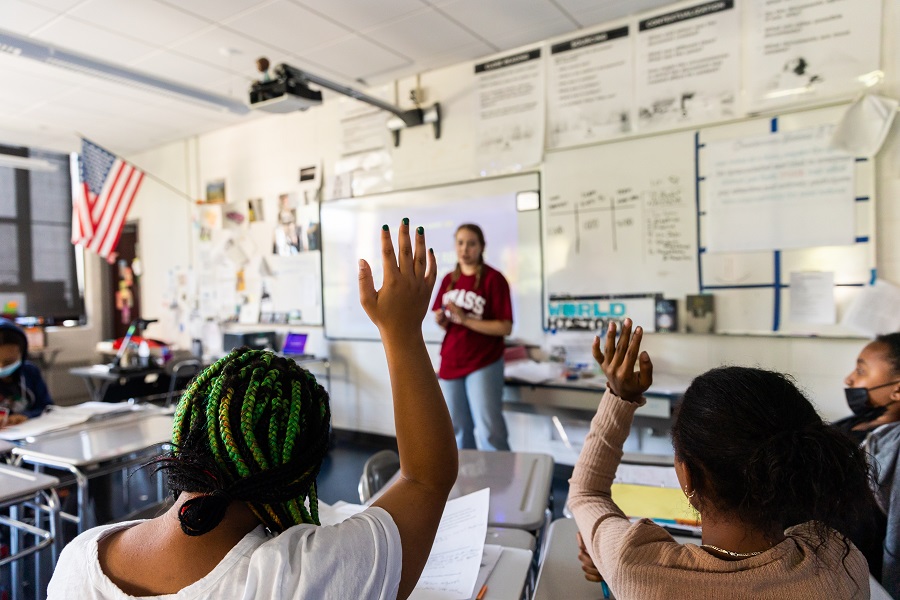 Kars4Kids: How does your high school program differ from your middle school program? Is that when college preparation begins in earnest?
Shannon Farrell: BTGB's High School Program builds upon the strong foundation laid in middle school and helps students to succeed in college-track classes and gain admittance to college.
During the school year, 9th and 10th grade students attend the weekly High School After School Program, a structured Study Hall with grade-specific workshops where they receive academic support, build valuable skills, and connect with their college-going peer group. Rising 10th and 11th graders also receive guidance on valuable summer internships and experiences.
Starting in 11th grade, students participate in the College Access Program, where they are paired with a volunteer Coach for weekly meetings and individualized guidance for course selection, right-fit colleges, and college essay topics. The College Access Program also includes SAT Prep and College-Aligned Financial Education.
Between 11th and 12th grade, BTGB offers College Prep Institute workshops, dedicated work time, and conferences with staff to help students complete significant portions of their college, FAFSA, and scholarship applications. Students also participate in mock interviews, discuss college with BTGB alumni, and visit colleges.
Kars4Kids: BTGB students stay with the program for as long as ten years, presumably through the college years. What does the typical participant come away with at the end of the ten years?
Shannon Farrell: BTGB has historically provided students with six years of support from 7th-12th grade. BTGB launched our new College Success Program for the 2022-2023 school year, marking the most significant programmatic expansion in the organization's history.
BTGB now supports students throughout that entire ten-year journey to college graduation: it is the culmination of years of engagement and support that begin in 7th grade. A typical student receives all the benefits of this 10-year continuum of services:
7th and 8th grade students receive a rigorous year-round academic program, including a six-week Summer Program and a weekly After School Program.
Rising 9th grade students participate in Leadership Academy: a High School readiness course.
9th and 10th grade students participate in an after-school program with grade-specific workshops, where they receive academic support, connect with college-going peers, explore new careers, build college knowledge, and develop skills to navigate high school.
11th and 12th grade students participate in the College Access Program, ensuring each student is admitted to college through individualized guidance on course selection, right-fit colleges, college essay topics, college interview prep, SAT prep, and college-aligned financial education.
Rising 12th grade students participate in the College Prep Institute, which provides workshops, work time, and staff support to help complete college, FAFSA, and scholarship applications.
During the summer between high school and college, rising first-year college students participate in the College Transition Program. Students receive support during the high-risk college transition through workshops on resource mapping, navigating the culture of predominantly white institutions, and essential logistical tasks such as registration and bills.
During their four undergraduate years of college, the College Success Program provides guidance and monthly support that leads to college graduation. Students receive one-on-one coaching on the academic, social emotional, and financial aspects of college, tailored to key topics by year. For example, key topics for freshmen include navigating increased autonomy, creating a study schedule, utilizing office hours, stress management, and financial aid support.
BTGB's continuity of services along this ten-year pathway culminates in our students' college graduation and empowers them with tools for their lifelong success.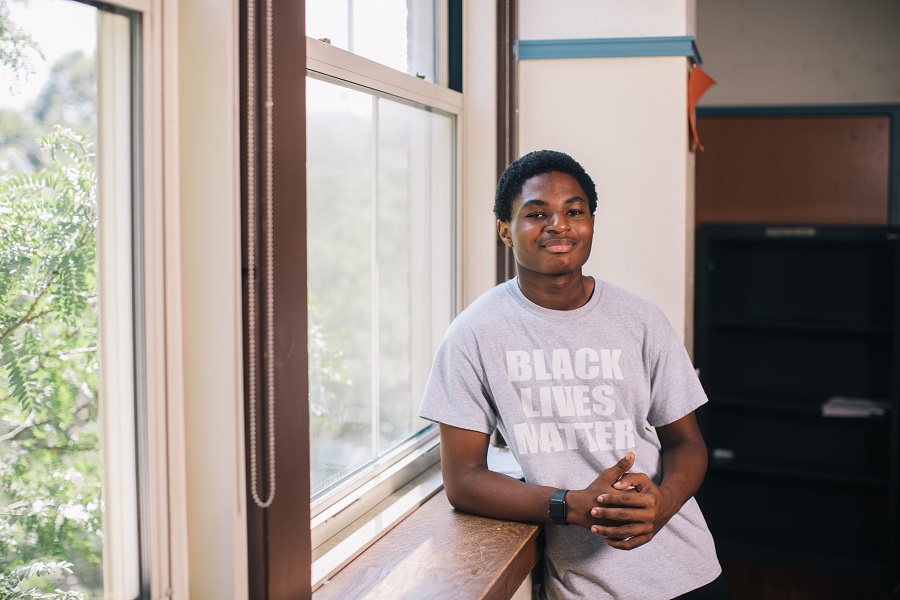 Kars4Kids: What's next for Breakthrough Greater Boston?
Shannon Farrell: At Breakthrough Greater Boston, we know that our predominantly low-income students of color have been disproportionately impacted by COVID-19, and our students, families, and broader communities continue to face unprecedented challenges and their lasting impacts on the education sector. As BTGB has reconvened in-person over the last year, we have continued to encounter: 1) learning loss or delays in learning progress, and 2) trauma aftereffects that can cause students to disengage from learning. In this ongoing context, we aim to help students regain any potentially disrupted momentum on their journey towards college. In this time of challenge and growth, Breakthrough's goal is to serve as a steady presence for our students and teachers, ensuring a safe, vibrant environment where students can 1) reconnect with their peers 2) access academic and SEL support, and 3) experience the joy of learning.
In 2022, Breakthrough Greater Boston celebrated our 30th anniversary – a significant organizational milestone! Founded in 1992 by MacArthur Genius Awardee Dr. Angela Duckworth, Breakthrough is celebrating 30 years of evidenced-based practice, early academic intervention for college access and success, and systems change that tackles inequities in education.