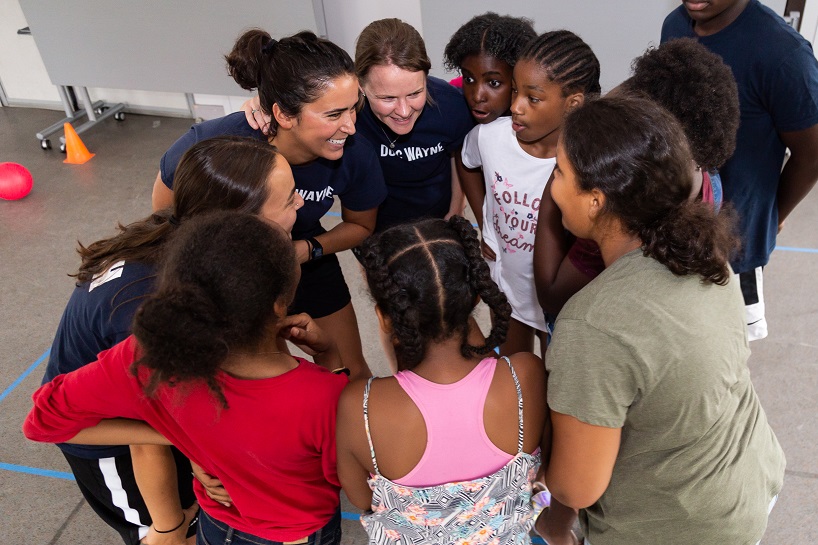 Doc Wayne Youth Services offers a unique curriculum that uses sports as a therapeutic device to help kids develop resiliency, confidence, and leadership skills. Think about it: spending time with an encouraging coach, revving up your circulation, taking the lead, learning to be fair, learning to be confident, dealing with loss, feeling good about the win—sports really does have everything you can think of to help children proactively improve their mental health and social emotional skills.
Well, while there's nothing new under the sun, there is no doubt that the Doc Wayne brand of sport-based therapy is innovative and different. And it's working. This year alone, Doc Wayne students self-reported positive change in key life skills such as critical thinking, reflection, empathy, and learning interest.
The novel approach of Doc Wayne, and its proven benefits, was reason enough to support this youth services nonprofit with a small grant award. What should we learn from the successes of Doc Wayne about sports and youth mental health? We put some questions to Doc Wayne Youth Services CEO David S. Cohen:
Kars4Kids: What was the inspiration behind Doc Wayne Youth Services? Presumably, there is/was a person named "Doc Wayne?"
David Cohen: Doc Wayne Youth Services was founded in 2002 by Susan Wayne in memory of her brother, Eli (Doc) Wayne. Eli was a pediatric physician as well as a tremendous supporter of using sport as a medium for positive youth development. He committed his time to students in the community by volunteering for and coaching youth sports. It began as a program of Justice Resource Institute and focused exclusively on youth in residential treatment programs. In 2010, Doc Wayne became an independent 501(c)(3). We now operate with 25 full-time staff and a 13-member Board of Directors.
Kars4Kids: Doc Wayne operates globally. In how many countries do you operate? What is the common denominator for the children you serve, wherever they may live? Who is most likely to benefit from the Doc Wayne curriculum?
David Cohen: The need for Doc Wayne's intervention in youth mental health has never been as apparent as it is today and the need to reach underserved communities with effective clinical and support services has never been more intense. Doc Wayne has been improving the overall health of children and adolescents in the Greater Boston area for over a decade through sport-based mental health programming. Over the years, other organizations from around the world have approached us about training them on our model. Our Champions Network™ trainings were born out of this growing interest in our approach, and since its launch, we have trained over 600 individuals who work with youth in a sports or educational setting. We have reached clients in 25 different countries who have served over 500,000 youth worldwide.
Kars4Kids: The Doc Wayne curriculum utilizes four fundamental constructs to promote wellbeing. What can you tell us about these constructs?
David Cohen: Our four fundamental constructs are Teamwork, Communication, Resilience, and Confidence, and they are divided into a total of 30 teachable skills that eventually ladder up to Connectedness. Doc Wayne's Creating Champions™ curriculum is a sport-based adaptation of common clinical frameworks. The Playbook, available in youth and adult formats, guides a participant's skill-building journey and provides a visual representation of Doc Wayne's proprietary curriculum, layering clinical and social emotional learning goals onto an intuitive sports framework.
Kars4Kids: Can you give us an overview of Creating Champions™?
David Cohen: Doc Wayne runs four community-based services; group therapy, individual therapy, Therapeutic Mentoring, and Therapeutic Recess, all guided by our proprietary curriculum, Creating Champions™, which layers clinical and social emotional learning goals onto an easy-to-grasp sports framework. Our curriculum is derived from two therapeutic models: the Attachment, Regulation, and Competency (ARC) Framework and Dialectical Behavior Therapy (DBT).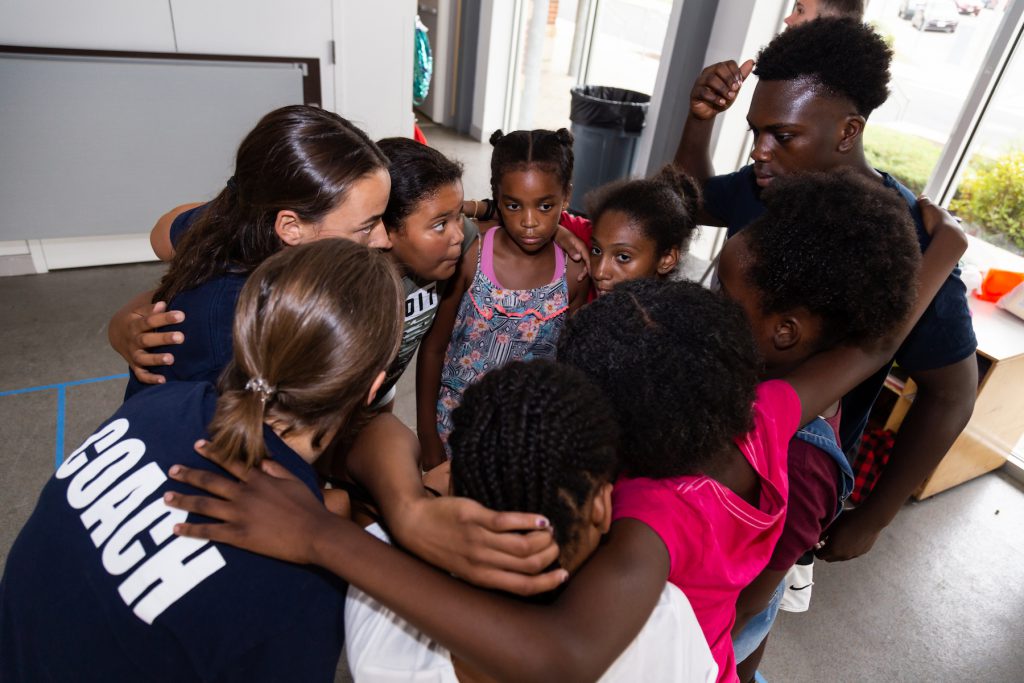 Kars4Kids: What can you tell us about Chalk Talk®? What are the indications for sports-based therapy?
David Cohen: ​​Chalk Talk®, Doc Wayne's sport-based group therapy program, engages youth by harnessing the power of sport. Our clinicians lead weekly sessions with students within their schools and communities designed to support them as they process experiences of trauma. They use soccer, basketball, flag football, and other team sports to facilitate talk therapy and help students process and persevere through adversity. Clinical notes are taken after each session to track youth progress over time. Our team sees success as positive changes in youth behavior, such as youth beginning to use healthier coping skills, feeling confident to engage in sport and fitness, and becoming leaders in their school or community. An individualized treatment plan is designed for each youth based on their strengths, needs, and developmental stage.
Kars4Kids: What is Rookie Pride™?
David Cohen: Rookie Pride is Doc Wayne's curriculum for younger constituents (5-8 years old). Rookie Pride reflects themes from Doc Wayne's original proprietary curriculum, Creating Champions™, while incorporating language, themes, and characters which are more age-appropriate. The final design of Rookie Pride includes cartoon-like characters (a pride of lions), coloring sections, and stickers. Each facet is intended to make a participant's time with Doc Wayne more engaging and fun. The addition of Rookie Pride enables our team to address the needs of younger participants with more accuracy. Doc Wayne coaches now have greater flexibility to design group sessions which accommodate the developmental needs of youth in our programs.
Kars4Kids: Can you tell us about your therapeutic recess program?
David Cohen: Doc Wayne launched Therapeutic Recess as an opt-in program for students that provides structure, programming, and oversight during the school day. Through this program, students strengthen their ability to recognize, communicate, and manage difficult emotions while at recess. Our clinicians also help them develop prosocial skills and strengthen their ability to independently manage conflicts with peers. Finally, we work to ensure that students develop trusting relationships with coaches and recess staff. Doc Wayne launched its recess program in 2019 at just one school site, and this year, we are running our program in 7 schools across Greater Boston, reaching over 1,500 children each week.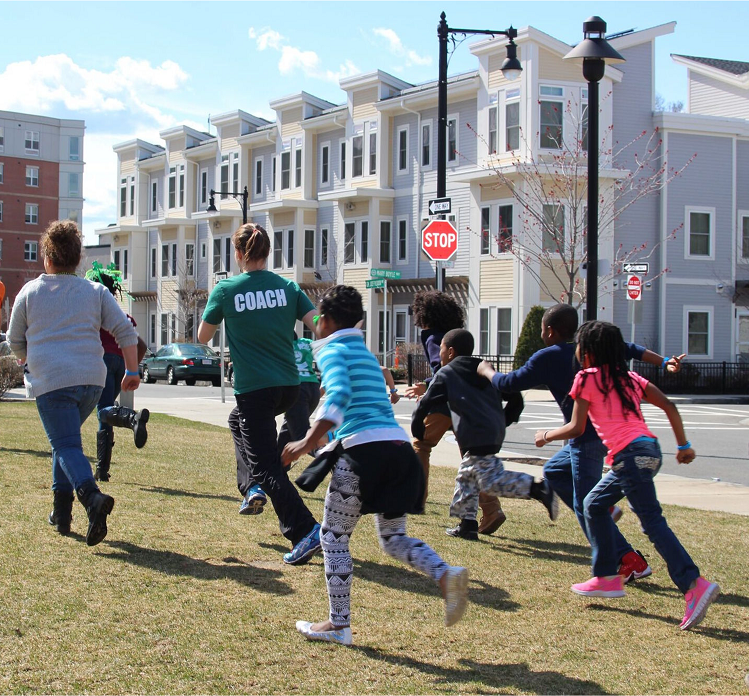 Kars4Kids: You offer therapeutic mentoring. How is this different than garden-variety mentoring?
David Cohen: Youth in Doc Wayne's Therapeutic Mentoring program are our highest need youth. These children have been identified by their individual clinician as needing an extra clinical relationship through their Therapeutic Mentor. Each of our mentors meets with their youth clients 1-2 times each week, lasting between 3 months – 1 year. Our clinical focus is on youth who are survivors of complex trauma, youth who have experienced domestic or community violence. Children who are currently working with a mental health clinician, often in-home or in-school, can be assigned a therapeutic mentor as an additional form of clinical support. Doc Wayne currently has 3 therapeutic mentors who work with the rest of a youth's therapeutic team to support their growth towards treatment goals. These partners vary from in-home therapists to residential clinicians and typically are organized by an Intensive Care Coordinator. All collaborate to deliver consistent and successful therapeutic guidance to the over 20 youth in Doc Wayne's Therapeutic Mentoring program.
Kars4Kids: What role does telehealth play in your work?
David Cohen: Throughout the pandemic, our team transitioned to working remotely, including performing all of our clinical work through telehealth. Restrictions on group gatherings over the course of the pandemic required us to adapt the focus of our direct services. During lockdown, we delivered over 5,000 telehealth sessions. We have since returned to in-person programming while also maintaining telehealth as an option for youth. This option better meets the needs of some of our youth whose school schedules and access to technology varies.
Kars4Kids: What's next for Doc Wayne Youth Services?
David Cohen: Our new vision is to maximize the impact that Doc Wayne can have on at-risk youths regardless of where they live. Over the next three years, Doc Wayne's ambition is to provide one million children access to sports-based mental health support. Our organizational partners have played an essential role in allowing Doc Wayne to expand in the past several years, and together, we are confident that we can achieve this goal.