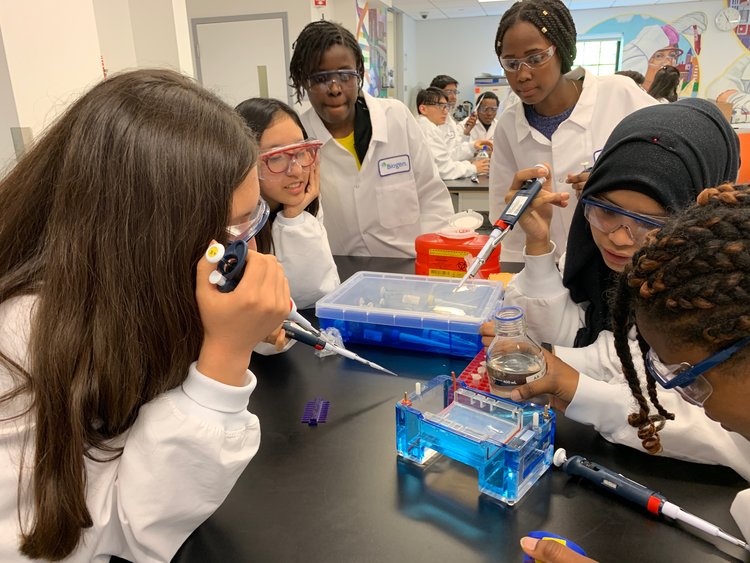 Enroot knows that immigrant students need all the help they can get. It's hard being a teenager anywhere, but being in a new country makes everything that much harder. When everything is strange, and even language is a barrier, how can a young person navigate the way to success in school and in life?
If that young person is lucky enough to live in the Cambridge, Massachusetts area, the answer is Enroot, with its comprehensive programming that serves as a recipe for success. Enroot pairs students with mentors, and offers academic help, leadership training, plus college and career preparation. That's a tall order, so we went to Enroot Director of Development & Strategic Initiatives Dananai S. Morgan to find out more about the work of this, our latest Kars4Kids small grant recipient:
Kars4Kids: What are some of the obstacles for immigrant high school children?
Dananai S. Morgan: In recent years families have immigrated to the US in record numbers, fleeing violence, religious persecution, and seeking economic opportunity. The communities they settle in are often overwhelmed by the unexpected influx of new community members and lack the infrastructure to fully support their successful transition to a new life in the United States.
In Massachusetts, 1 in 6 residents is foreign-born, comprising a population of over 1.1 million residents. The majority of foreign-born residents learn English upon arriving. Adequately supporting the growing English Language Learner (ELL) student population remains a major challenge for most communities, particularly for students who enter high school as English Language Learners. With the Cummings Foundation's support over the next 10 years, Enroot will grow from serving 175 students in two communities to serving over 1,000 students in five communities by 2028.
English Language Learners (ELLs) are the lowest performing cohort in Massachusetts with only 63% of ELLs graduating high school on-time compared to the state average of 81%. For college completion, the contrast is staggering; 42% of Cambridge students who enroll in high school go on to graduate from college in six years in comparison to a mere 17% by English Language Learners. On top of the academic and linguistic barriers, ELL students additionally face a number of other unique challenges: limited social networks, low household income, discrimination, and immigration status obstacles.
Over 90% of the students enrolled in Enroot are classified as low-income, and all will be the first in their families to attend an American university. In spite of this, according to our most recent alumni impact study, nearly 55% of Enroot alumni go on to graduate from college, a rate nearly triple that of their peers. By providing wrap-around support that tackles the unique challenges facing low-income ELL students in high school and in their first two years of college, Enroot narrows the achievement gap between our students and their native-born peers.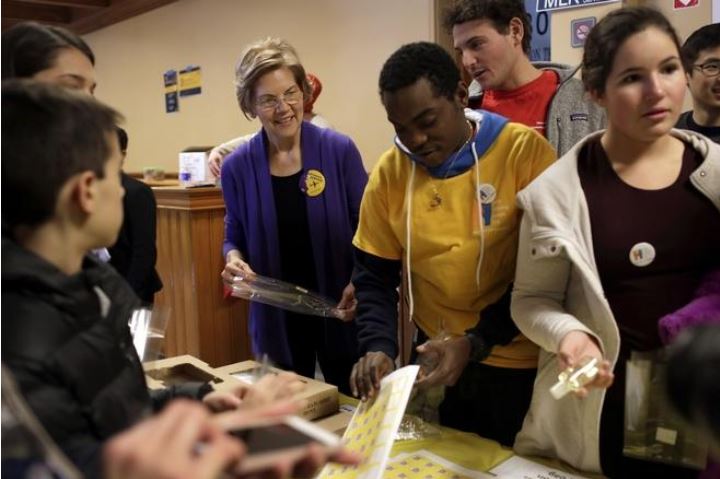 Kars4Kids: Why is a mentoring relationship important for the students you serve?
Dananai S. Morgan: Mentoring is a key component of Enroot's holistic program; all of our students are matched 1:1 with a caring adult mentor and meet their mentor once a week for at least one academic year. Many of our pairs continue to meet throughout the student's years in high school. We recruit volunteer mentors who share identities with our students, focusing specifically on mentors who speak another language, are immigrants themselves, and/or are in a professional field of interest to our students.
Kars4Kids: Your program is very comprehensive. It must take up a big chunk of time, albeit productive time. Do participants commit to a certain number of hours?
Dananai S. Morgan: Mentors commit to meeting with a student for 90 minutes a week for the duration of the school year. Mentors will attend workshops with high school juniors and seniors as part of our post-secondary preparedness workshops.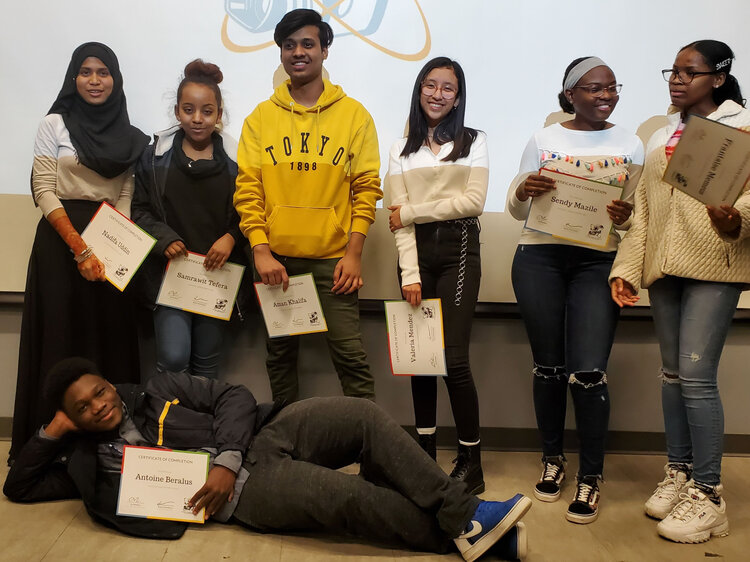 Kars4Kids: How many participants do you have this year? Have you adapted your program for the duration of the coronavirus outbreak? What changes have you implemented?
Dananai S. Morgan: We currently have over 200 students enrolled in Cambridge Somerville and across 16 college campuses in our College Success program. Enroot remains as dedicated as ever to supporting immigrant students' ability to succeed in the US educational system and to helping them build an unshakable sense of belonging. All in-person programming remains suspended to ensure the health and safety of Enroot students, family members, volunteers, staff and partners.
Although Enroot cannot currently deliver programming as we have traditionally, Enroot is committed to continuing to provide a multifaceted support system for students throughout the crisis. Prior to launching our virtual programming, Enroot embarked on an assessment of students' access to computers and internet service, food and supplies, and social emotional support. At the moment, our support for students includes:
Virtual Mentoring: Recognizing that students would be spending more time online for classes, Enroot created a virtual mentoring model that focused on community engagement, virtual games, check-ins, and sharing of tips and resources that allow students to maintain real-world connections and build new online communities. Encouraging students and mentors to try different forms of communication has led to an increase in communication as some students have quickly adapted to having options to reach out to support systems. Group mentoring nights continue weekly for each cohort of students on Zoom; 1-1 mentoring sessions take place using video calls, voice calls, social media, and frequent texts. In meeting students where they are, our distance mentoring model has reimagined what support and connections can be while consistently fostering connection.
Virtual Tutoring: Enroot's volunteer tutors continue to support students' academic progress through virtual tutoring. To assist tutors, Enroot created a manual including tips on how to use virtual whiteboards, lists of video call platforms with varying functionality, and other recommendations.
Post-Secondary Preparation Workshops: Enroot continues virtual delivery of our monthly post-secondary workshops for high school seniors and juniors, who attend along with their mentor, to ensure they have the tools and the guidance necessary to create a clear, actionable post-secondary plan. Topics of recent workshops include making good financial aid decisions and choosing the right college. Enroot will begin virtual college tours in the coming weeks.
Support for College Success Students: Enroot's College Success staff continues to provide crucial 1-1 support via virtual coaching and virtual office hours. Facebook Live gatherings and virtual workshops, which are recorded and available online, provide additional engagement opportunities and information to support our college-going students.
Additional Online Programming: Enroot also transitioned our successful "Lunch and Learn" series, delivered in collaboration with the CRLS Library, and the "Math Circles" series, delivered in conjunction with Lesley University, to virtual format. Enroot is also hosting a new series of virtual student gatherings to address social emotional needs of students, including movie nights, yoga sessions, and collaborative online games.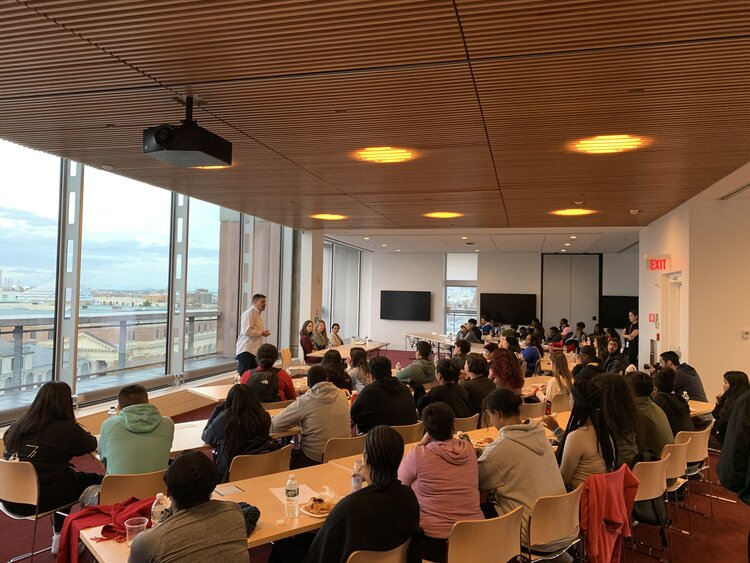 Kars4Kids: Do Enroot graduates come back to visit or volunteer?
Dananai S. Morgan: Yes. We are proud to have an Enroot alumnus serving as our Board Secretary and were excited to recruit an alumnus as our Somerville Program Director. We continue to engage our over 400 alumni as volunteers in program facing events such as career panels.
Kars4Kids: What kind of internships do you offer?
Dananai S. Morgan: At least one point in their 3-4 year engagement with this program, all students work at a professional internship 2-4 days a week throughout Somerville and Cambridge. Many participate in internships for several years, at different host sites. Approximately 25% of our current internships have an explicit STEM focus.
In the coming years, we will continue expanding our internship offerings in both communities with a priority on additional STEM fields, especially those our students consistently express interest in such as the healthcare sector. To compliment internships, Enroot piloted job shadow experiences for students. During February and April vacations, Enroot students spend half a day shadowing professionals at companies like TripAdvisor, Google, Akamai, Momenta Pharmaceuticals, Broad Institute, Microsoft, Biogen, and other companies in STEM fields to expand their exposure to various career options. Enroot brings in professionals from partner organizations including UAspire and Cambridge Trust to speak on topics like financial aid and budgeting.
We host STEAM career panels featuring careers in robotics, biotechnology, mechanical engineering, e-commerce, and IT infrastructure providing exposure to students about these fields. Panelists have represented companies like Ava Robotics, Akamai Technologies, Sensata Technologies, CarGurus, Auto Desk, MIT, and Biogen. Our students have visited the offices of Fidelity, Google, Akamai along with several college campuses.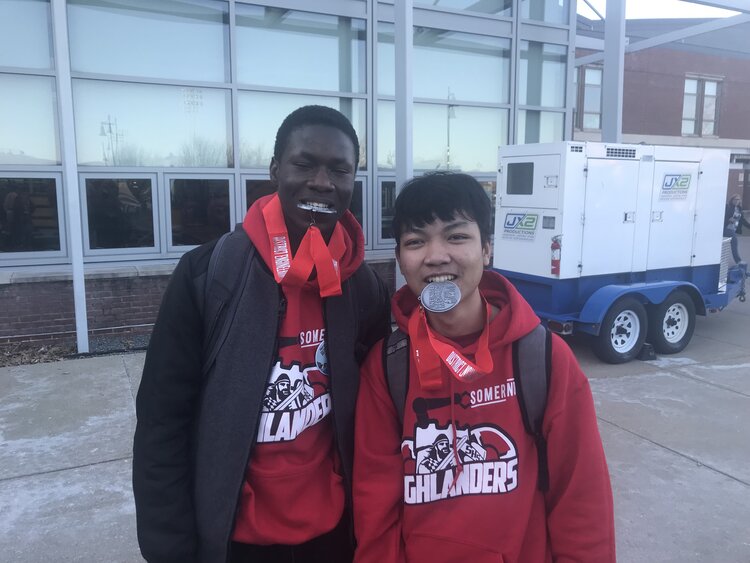 Kars4Kids: Why is leadership a part of your program? Must every student be a leader?
Dananai S. Morgan: Enroot creates opportunities through out of school experiences that spark ambition. Our team of adults nurture their curiosity, support their vision and inspire them to become leaders within the community.
Kars4Kids: Can you give us an overview of the community service component of your program?
Dananai S. Morgan: In partnership with Many Helping Hands 365, we were thrilled to join the community and have incredible participation from students and volunteers at the 2020 MLK Day of Service on January 20th. Enroot students volunteer alongside over 3000 volunteers to make fleece blankets, scarves, and Valentine's Day cards, and to sort food, toiletries and books benefiting homeless individuals, at-risk children, homebound elders, and veterans.
Kars4Kids: What's next for Enroot?
Dananai S. Morgan: Enroot plans to serve over 1000 students in 5 communities over the next 10 years.