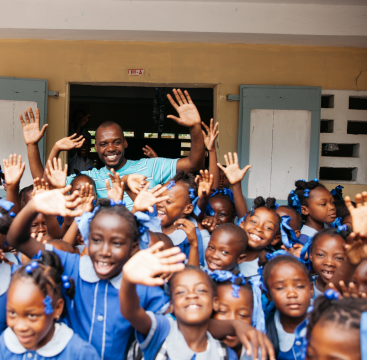 Dr. Bernard A. Harris went about as far as a black man can go. To be specific, he was the first African American to walk in space. But actually, he was just getting started on his life's mission: making sure that minority children and children from low-income homes have a fighting chance at getting ahead in life.
To that end, Dr. Harris created the Harris Foundation with its three-pronged focus of imparting STEM subjects, fostering good health habits, and teaching kids the basics of money management. By filling in the gaps in the education of these children, Dr. Harris is showing them that despite one's circumstances at birth, given judicious amounts of mentoring, knowledge, and hope, there are no limits to what one can achieve. Just as in Dr. Harris' case, the sky is literally the limit!
Kars4Kids was delighted to give the Harris Foundation a small grant, because the Harris Foundation is doing what we love best: mentoring children and helping them to get ahead. Partnering with the Harris Foundation  in this small measure is an honor.  We spoke to Pamela R. Jones, Executive Director of the Harris Foundation, to learn all about the work of this important initiative.
First African American to Walk in Space
Kars4Kids: Tell us about Dr. Bernard A. Harris, who set up The Harris Foundation in 1998. We know that The Harris Foundation is all about helping underprivileged children get ahead by strengthening their STEM skills, supporting good health and good health habits, and teaching them business skills and money management. Was Dr. Harris, the first African American to walk in space, from a low-income family?
Pamela R. Jones: Dr. Harris grew up in a single family household, first in an economically disadvantaged neighborhood in Houston and then on a Navajo reservation where his mother received a teaching position. In his book Dream Walker, Bernard says: "One of the lovely things about being a kid is that for the most part you don't know what you don't have." Besides a hard work ethic, it is this resilience, coupled with the strong, nurturing women in his life, that has led to the many successes he has experienced.
Kars4Kids: So many educational initiatives focus on mentoring and education alone. The Harris Foundation is unique in adding health and wealth to its roster of programs. Tell us about the health programs you run. In addition to empowering children to enter the health professions, do you dispense medical and dental care to uninsured children? What aspect of health do you focus on from an educational standpoint?
Pamela R. Jones: In regard to reaching students with direct health services, The Harris Foundation administered the Robert Wood Johnson Community Health Leaders (CHL) Award to recognize individuals who overcome daunting obstacles to improve health and health care for underserved communities. From 1993 to 2012, the CHL Award honored 206 individuals across 45 states, the District of Columbia and Puerto Rico. The mission of CHL is to support and sustain the capacity of these unsung heroes who demonstrate creativity, innovation and commitment to improving health outcomes at the community level. CHL are nurses, physicians, dentists, pharmacists, clergy, attorneys and judges, CEOs and executive directors, school officials, activists, advocates and volunteers. Project focus areas are broad reaching but have included youth health and development and youth homelessness.
Our education programs have focused on health & wellness in a number of different ways. Our Dare to Dream program's service-learning projects, selected and implemented by students, have included canned food drives and health fairs addressing issues of food security & physical well-being. Our summer science camps include a nutrition component within its core curriculum. This requirement is filled by camps in a number of ways—health careers exploration, food journals and/or the integration of Fooya, a mobile digital health platform. Fooya, backed by research from the Children's Nutrition Research Center at the Baylor College of Medicine located in Houston, Texas, has demonstrated clinically measurable change in children and youth eating habits. This partnership is intended to further the art and science of technology on mobile devices, which can be used towards impacting global health.
Kars4Kids: The Harris Foundation website states that there are 8.1 million uninsured children in the US and more than 5 million of them are children of color. Has the Affordable Care Act had a positive impact on the number of uninsured children? Are things getting better?
Pamela R. Jones: Georgetown University's Center for Children and Families' Annual Report shows that in 2014, the number of uninsured children hit a historic low of 6% (4.4 million children). While much of the Affordable Care Act focuses on affordable health care options for adults, it did play a role in the decrease in uninsured children. This occurs by the removal of barriers through simplified enrollment processes and policy change. While the national rate of uninsured children has decreased greatly, we must continue to work to solve this problem. In particular,  our home state of Texas has an 11% rate of uninsured children—far above the national average.
Kars4Kids:  Your RockIt! program teaches children how to manage and market a band. Have any of the children actually used the models they've developed to create, market, and manage a band?
Pamela R. Jones: In the RockIt! program students actually do create a band, manage a budget and create a music video with their classmates. As they learn about the principles of financial literacy (earning, saving, spending, budget, investing, etc.), the bands go on a journey—rehearsing in a mobile studio, going on tour and even experiencing financial setbacks. Bands then create music videos either by starring in them or through animation. These videos are judged by a panel of teachers and classmates with winning bands being invited to a special celebration at the Federal Reserve Bank of Dallas – Houston Branch.
Kars4Kids: Tell us about Game Truck. What is this and how does it make lessons in money and business  management come alive for the child participants?
Pamela R. Jones: The GameTruck is a mobile video game theater based in Arizona with over 100 franchises across the country. Working with the Houston franchise allows the integration of gaming into our financial literacy program, RockIt! The GameTruck provides flexible and exciting on site field trips for participating students. It first turns into a rehearsal studio for bands. Scores on musical performances translate into dollars as the RockIt! competition heats up. In its second site visit, the GameTruck transforms into a learning lab for tutorials and practice in iMovie and other technology involved in music video creation.
Kar4Kids: How has Common Core affected the work of The Harris Foundation?
Pamela R. Jones: The Common Core State Standards link all learning to ten college and career readiness standards. While Texas has not adopted the Common Core, our ExxonMobil Bernard Harris Summer Science Camps operate nationally. Both the Common Core State Standards and the Next Generation Science Standards are covered in our professional development sessions for camp directors. It is important that the camp directors and teachers are aware of the content knowledge and skills students need to possess in order to be college and career ready. A full awareness of the standards also allows our facilitators to know what knowledge and skills students arrive with and what they should be leaving with in order to return to their classroom prepared for the grades ahead.
Kars4Kids: How many schools are enrolled in your STEM Centers of Academic Excellence? Tell us about the nuts and bolts of this program, for instance, about a learning experience on typical day at an after school program enrolled in STEM-CAE.
Pamela R. Jones: The STEM Centers of Academic Excellence™ (STEM-CAE) are educational institutions that host THF programs that will enhance the academic success of youth in science, technology, engineering and mathematics through innovative STEM-based activities. The Centers offer project-based inquiry learning experiences designed to engage learners in the knowledge, understanding and application of STEM concepts and principles. Types of programs include: Saturday Academies, Residential Summer Academies, Leadership Academies, Non-residential Summer Academies, After School Programs, STEM Clubs, and more.
Most recently, the STEM-CAE acted as a STEM enrichment course in eighteen schools conducting summer school sessions in the Houston Independent School District. The program was administered in two cycles, each completed within a four-week period. The 5th – 9th grade students who participated in the program enjoyed a hands-on educational experience in the areas of environmental science, engineering and food science, as well as character development. The students were also treated to an outdoor field excursion to The Hill at Sims Greenway, an awe-inspiring nature habitat that allowed the students to experience the science lessons up close and personal in a nature outdoor classroom.
Kars4Kids:  What is Summer Science Camp like? Is the program all about science or are there other activities, as well? What do the children learn at Science Camp?
Pamela R. Jones: For the last decade, The Harris Foundation has partnered with ExxonMobil to offer the ExxonMobil Bernard Harris Summer Science Camp nationwide. The middle school students we reach are full of promise but underserved, with a real need for exposure  to STEM areas of study and role models, in order to meet their full potential. For that reason, we offer the free, 2-week residential camps at colleges and universities where students learn from certified teachers and university faculty while being exposed to the collegiate atmosphere.
Students engage in a problem-based inquiry learning curriculum focused on STEM; therefore, they study science as well as technology, engineering, and mathematics.  The core curriculum requirements include physical sciences (physics, chemistry, earth sciences), life sciences (biology and environmental sciences), technology, engineering (robotics/design), mathematics, communications (oral and written) as well as health/nutrition.
What truly sets our camps apart is the interdisciplinary nature of the curriculum and the real-life applications it presents. The core curriculum, field excursions and other educational experiences enrich students' understanding of the practical relationships between classroom work and the real world. Communication and teamwork are integral parts of the students' camp experience. Evening sessions provide opportunities for discussion of students' academic, college, career and social issues. Students engage in an array of extracurricular activities during the non-class time.
Kars4Kids: Can you give us an overview of The Dream Tour, please? Are students, parents, and educators all in one room together for the tour? What will an educator attending the tour learn? What will that educator bring to his or her students as a result of meeting with Dr. Harris?
Pamela R. Jones: The Dream Tour ran from 2008-2011 with a model to bring a positive and educational program to inner city middle schools around the nation and world, led by Dr. Bernard Harris and the Dream Tour Team. The Dream Tour's main focus was the student, with parents and educators also in attendance at these "STEM Pep Rallies." An action-packed 60-minute motivation and education program, the Dream Tour encouraged students to pursue STEM courses and careers by presenting an inspirational message from Dr. Harris and other Rock Stars of STEMTM as well as a shuttle simulation and meet and greet with select students. Students left the Tour  not only with with t-shirts, Rock Stars of STEM trading cards and access to The Harris Foundation's STEM resource clearinghouse (www.dreamtourrocks.org), but also with a renewed interest in STEM and awareness of STEM role models and careers. The Tour aimed to reach 1 million students but was able to reach 150 million through media impressions.  Its direct participants exceeded 100,000 students in 483 schools from 42 cities.
The Dream Tour's counterpart, The Educational Forum was a gathering of teachers and administrators, business and government leaders, and other interested stakeholders. With the purpose of reaching out to 21 communities to understand the issues and impact of education on our nation's children, the Foundation compiled its findings into a white paper which was shared on Capitol Hill. These findings included strategies for engaging the student, educator, parent and business and community leader in a holistic education that would meet the needs of all learners in the 21st century and help further national advocacy efforts through reform.
Kars4Kids: Your mission statement says you stand for "instilling the values of responsibility, fairness and respect." How do you give forward these values to the students you serve?
Pamela R. Jones: While Dare to Dream, our character development and crime prevention program, directly focuses on developing these values, truly all of our programs have elements of character development. Dare to Dream's year long curriculum allows students the ample time to explore their own character traits and improve upon them in order to set and meet both short and long-term goals. We utilize the Josephson's Six PIllars of Character in introducing the concepts of trustworthiness, respect, responsibility, fairness, caring and citizenship.
All of our programs focus on developing 21st century skills in some form or fashion. These 21st century skills include collaboration and effective communication. In order to be successful in working as a team, one must be responsible, fair and respectful, while also being able to communicate – both to listen and articulate. Whether it's completing team projects, reporting project results, developing college and career readiness skills or implementing community service work, students must first develop the foundational skills and character traits. We know that students are infinite beings with infinite possibilities—and developing that potential starts with developing their character.