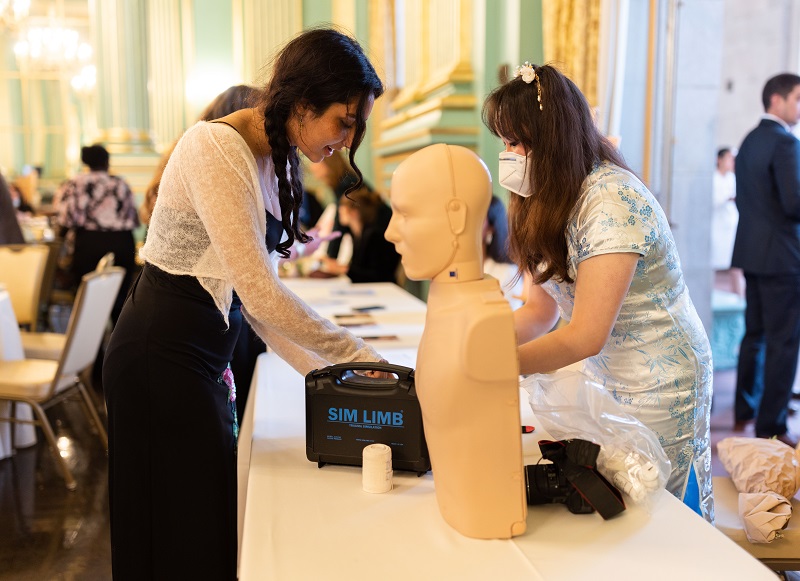 Her Idea believes in the power of young women to do important work before they ever step foot on a college campus. Young women, like all young people, often have brilliant, out-of-the-box ideas, but never do anything to realize them. What they need, according to Her Idea, is the kind of mentorship that can help them bring those creative ideas to fruition.
Bukareva calls her brand of mentorship, as embodied by Her Idea, "transformative." The descriptor is absolutely apt. Since achieving nonprofit state in 2021, Her Idea has awakened the entrepreneurial spirits of hundreds of young women, guiding and spurring them on to realize their most passionate ideas. The tangible, even remarkable results of this Kars4Kids small grant recipient, suggest that more such mentoring is needed to build a can-do attitude in the young women of today for a brighter tomorrow.
We put some questions to Her Idea Executive Director Anna Bukareva, to learn more about this work:
Kars4Kids: Tell us about the young women you serve. What's your demographic?
Anna Bukareva: Her Idea's signature program, the Dare to Dream Fellowship, is dedicated to serving and empowering young women ages 14 to 19 within the San Francisco Bay Area. Our program is designed to support a diverse demographic that reflects the vibrant socio-economic landscape of SFUSD public school youth.
Kars4Kids: When was Her Idea founded and why?
Anna Bukareva: Her Idea was inspired when I began mentoring students on a small scale for their senior capstone projects at School of the Arts in San Francisco in 2018. I discovered right away the need for mentoring. This echoed my own experience a little over 10 years earlier, as a graduating senior, how helpful mentoring would have been to validate my ideas and show me how to "start now" even as I was beginning college. Following many conversations with friends and colleagues, I realized how widespread the need was and how impactful it could be. Even just a few conversations with a young woman can help her see a direction forward and make her feel engaged and powerful around her idea or dream. We achieved our nonprofit status in April 2021 and launched our pilot fellowship program in the fall of the same year. We landed our first high school partnership in our second year and continue to expand our partnerships and our reach, with the goal of inspiring young women to navigate their paths confidently, nurturing their interests and entrepreneurial spirit. Our mission is to provide transformative mentorship, guiding them to become impactful next-generation leaders.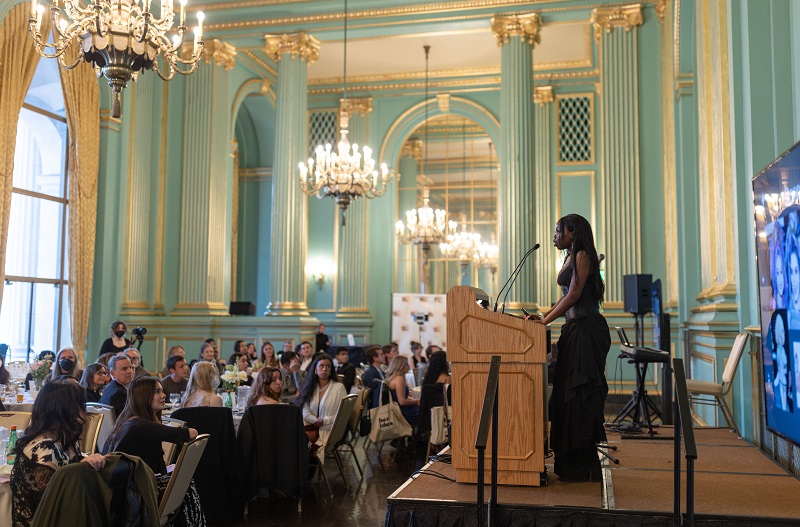 Kars4Kids: How many young women have participated in your programs?
Anna Bukareva: We accept up to 10 young women in our Dare to Dream Fellowship each year and hope to increase that capacity in the upcoming years. In our high school partnerships, we have mentored over 600 students thus far.
Kars4Kids: Her Idea is a mentorship program. Are the mentors, volunteers? How many mentors do you have and what is the ratio of mentors to mentees?
Anna Bukareva: Our mentors work 1:1 with students in our fellowship program and they are all volunteers. We have a pool of mentors available depending on program needs each year in various careers and professions. At this time, we have over 100 volunteer mentors in our network.
Her Idea's mentors provide expertise, encouragement, and accountability. The program nurtures the participants' project management, communication, and leadership skills, empowering them to not only pursue their passions but also execute them effectively. By combining mentorship, funding support, and community engagement, Her Idea offers young women the tools and guidance to turn their ideas into impactful real-world projects.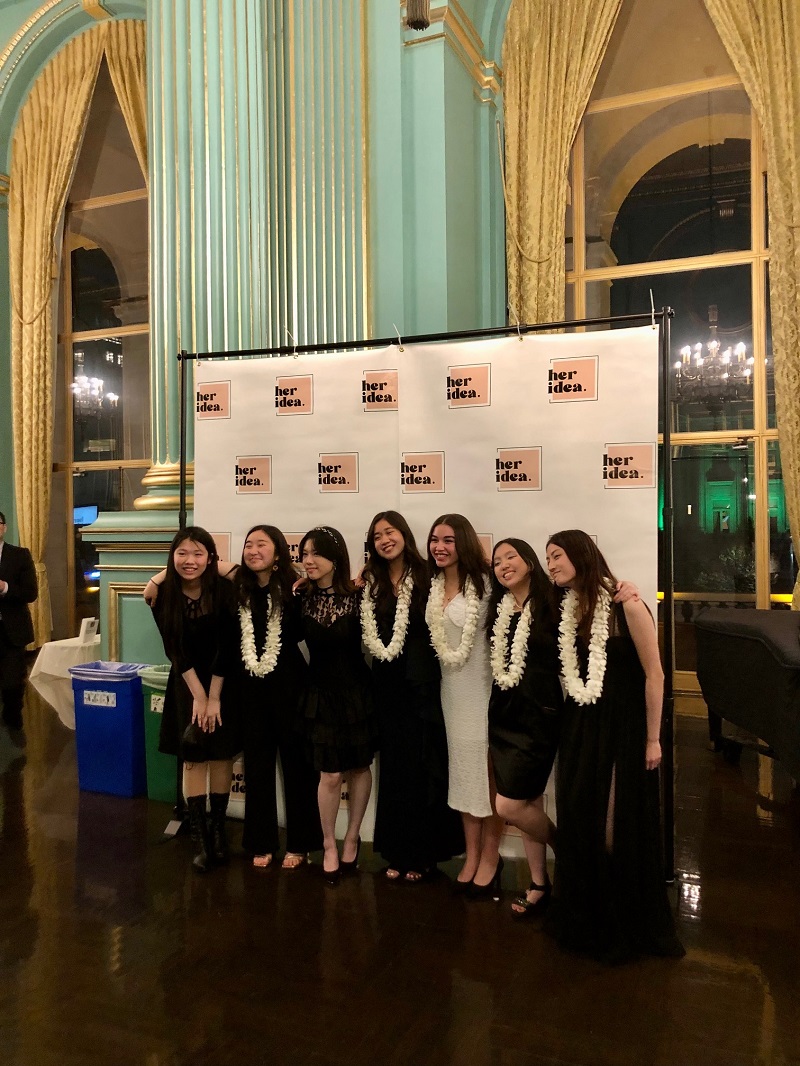 Kars4Kids: The Her Idea mentoring program allows young women to "pursue an idea or passion as a real world project." How does this work?
Anna Bukareva: The process begins by submitting an application describing an idea for a real world project. Once accepted, they're paired with a mentor and begin developing a project proposal. The program kicks off with a Pitch Event, where they present their concepts to the public. From there, the fellows collaborate with their mentors to craft project timelines, secure funding, and bring their ideas to life. The journey culminates in a grand gala attended by business and education community leaders, where the young women showcase their final products, and share their journey, learnings, and achievements.
Kars4Kids: What are some of the projects that Her Idea participants have carried out?
Anna Bukareva: Here are descriptions and web links to a bunch of great projects from past students which all began while they were still in high school:
Big Leap Collective by Ellie
Ellie created her Bay Area-based 501c3 nonprofit offering opportunities for greater diversity, and accessibility in live events and music education through community-focused shows, immersive events, encouraging collaboration in the Bay Area and beyond! Ellie also plays in the cabaret psych-punk band, Grooblen. Since Big Leap Collective's inception in fall 2019, it has grown to support artists from across the world and reach thousands of people through in-person and online events.
Youth Bike America by Dasha
Senior year of high school during the pandemic, Dasha helped organize a youth bike trip across America promoting the use of alternative transportation. After garnering national attention from this trip, she started a youth led bike organization that helps promote climate justice by bike riding. Her organization encourages anyone to come ride with them once a month to rethink how we all use transportation!
Medical First Aid For Youth by Karen
Karen started a nonprofit teaching first aid skills to middle school and high school students of Excelsior SF. Since starting the program 2 years ago, her program has been awarded over $17,000 in grants by the YMCA's Youth Empowerment Fund (YEF) to support this program. She expanded her program to provide certifications to graduates and continues to hold 3 program sessions per year.
Youth Led Recording Studio by Lex
Lex imagined a space where youth could come and safely express themselves, a space where every voice is heard, a space where she belonged. Lex was awarded a $10,000 grant by YEF to build a music production studio at her arts-focused high school, to provide interested students the opportunity to learn audio engineering and to record original music. She spent the spring semester of her senior year designing the curriculum of an audio engineering program, building a music production studio from scratch, and teaching her peers how to master, mix, and record in the newly designed studio.
Danceable by Lily
Lily created a program called Danceable, a dance program for neurodivergent & physically disabled youth. As someone who feels passionate about dance and art education, her goal is to make dance programs more accessible for disabled middle school and high school students in San Francisco. She was awarded a $5,000 grant by YEF to build her dream program. Since then, she's designed and organized a successful and accessible dance program which held their first showcase at School of the Arts in SF. She currently attends UC Berkeley studying Chemistry.
Project Smile SF by Meagan
As a junior in high school, Meagan founded Project Smile SF, a 501c3 non-profit organization with a mission to enhance oral health, particularly among underprivileged communities. Project Smile SF collaborates with dental clinics and community centers to extend its reach to individuals in these underserved communities. They recently received a $3,500 grant from YFYI, $2,500 grant from YEF and $5,000 grant from BLING to support their mission and provide both oral care products and education to the community. With a focus on creating engaging educational resources and integrated community events, Project Smile SF aims to increase awareness around the significance of maintaining proper oral hygiene. Ultimately, the organization aspires to expand beyond San Francisco and into other countries, with a shared community effort to enhance and preserve oral health for all.
Peertraits by Maile
Maile launched Peertraits her senior year of high school – a free service providing senior portraits for low income students who cannot otherwise afford their portraits. In February 2023, she was awarded a $1,000 grant from FOSOTA and a $2,500 grant from YEF to build her program, and since then has successfully completed the first year of the program at her high school and has plans to expand across more high schools in San Francisco each year. Maile will be attending Harvard University studying Business Administration.
Musiconnect by Mayu
Mayu established a nonprofit organization called Musiconnect. Through this program, SFUSD students are offered access to affordable private music lessons taught by experienced music students. Currently, Musiconnect already has over 35 mentors and has enrolled over 100 students in the program. They recently were awarded their 501c3 nonprofit status! She currently attends UC Davis studying Managerial Economics.
Artistic Aspirations by Claire and Ginny
Claire and Ginny founded a community program called Artistic Aspirations. Their mission is to provide elementary and middle school children with opportunities to explore their creativity through artistic workshops. The program offers resources for low-income youth who wish to pursue a specific art form, including mentoring to guide them through the creative process. They launched their program at a public middle school in SF with over 100 students and 10 artist mentors. The program was awarded a $5,000 grant by the YMCA's Youth Empowerment Fund in February and plans to partner with more San Francisco schools in need of art programs. In the Fall, Claire will attend Northeastern University majoring in Criminal Justice and Sociology while Ginny will enter her junior year of high school.
Care Kits for Kids by Mana
Mana created Care Kits for Kids, a program that partners with hospitals to provide care packages to pediatric patients and the families of patients. Through this service, Mana aims to improve the hospital experience for young patients and lift the spirits of their loved ones. Her efforts have already earned her a grant, a successful fundraising campaign, a partnership with Stanford's Children Hospital, and the donation of hundreds of care kits to families in need. She will be attending Pitzer College studying Molecular Biology.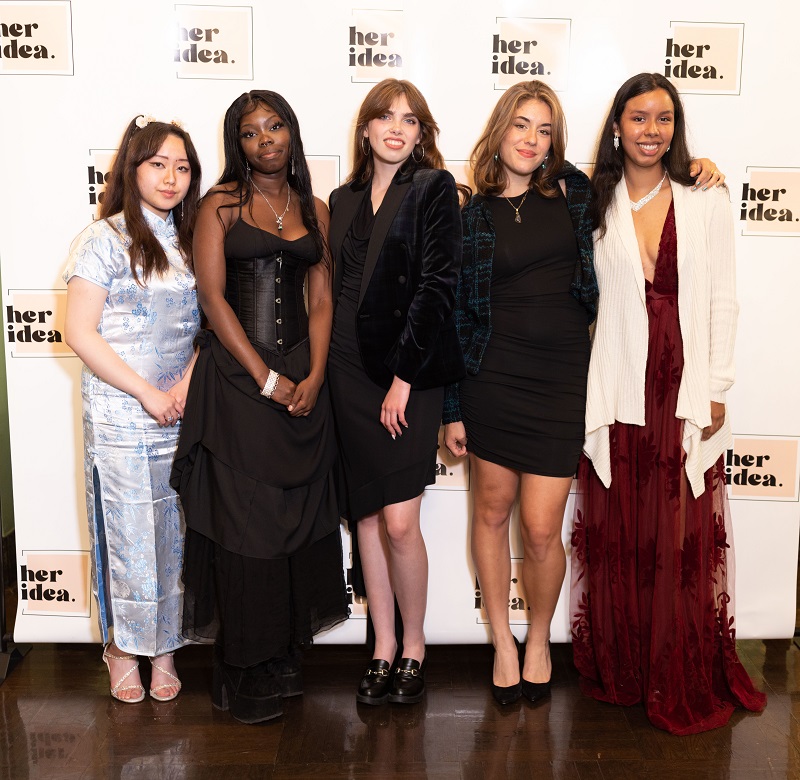 Kars4Kids: You also have a college and career readiness program. Can you give us an overview of this program?
Anna Bukareva: Absolutely, our college and career support is an integral part of our overall mentoring approach within the Fellowship program. This program is designed to equip young women with the essential skills and knowledge they need to confidently navigate both their academic journeys and future career paths.
We offer a series of interactive workshops that include: Resume Building; Networking and Job Hunting; LinkedIn review; Interview Preparation; Financial Literacy and Budgeting; Exploration of Careers.
Kars4Kids: Her Idea has an internship program for high school and university students. How does it work?
Anna Bukareva: Her Idea offers an impactful internship program tailored to high school and university students. Our internship program not only provides a valuable foot in the door of professional experiences but also creates an opportunity for them to contribute as project mentors themselves. Interns are offered the chance to immerse themselves in various aspects of our organization's operations. First, they are assigned to different teams within the organization, aligning with their interests, skills, and career aspirations. For example, interns on our grants team delve into the world of grant research and proposal writing. They learn how to identify funding opportunities; conduct thorough research; and articulate our organization's mission and impact effectively. While interns on our marketing team contribute to our organization's visibility and outreach efforts, they engage in tasks such as social media management, content creation, and campaign development. The commitment is year round 4 hours/week. Since most of our teams operate remotely at this time (except for our events team), our interns are located all over the world.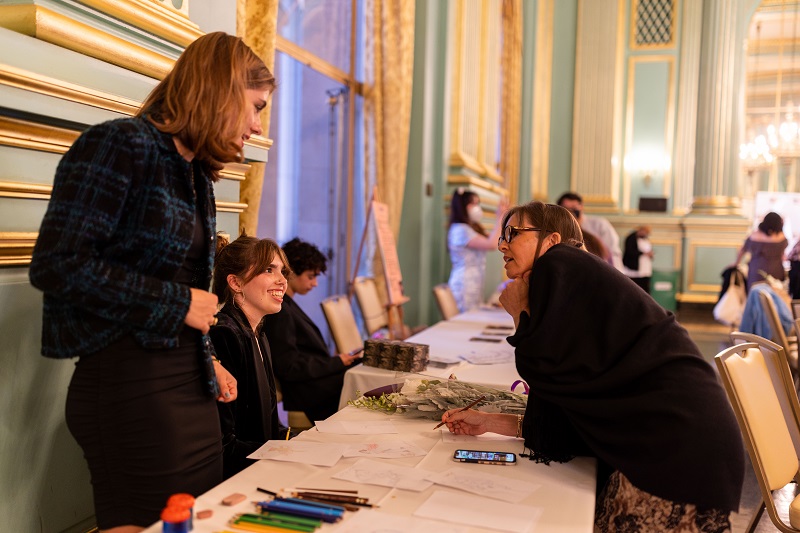 Kars4Kids: Her Idea has so far held two pitch events. What happens at a pitch event and what do participants get out of the experience?
Anna Bukareva: In the past 2 years since we've started, Her Idea has successfully hosted two pitch events and two galas, which are integral components of our program. Our pitch event is a pivotal moment in the program where each fellow has the opportunity to present their unique idea to a diverse audience that includes the community, parents, educators, and peers. During the pitch event, they take the stage to showcase their project idea for the first time. They outline their concept, goals, the impact they aim to achieve, and any funding or mentoring needs. This presentation is not only a chance for them to communicate their passion and dedication to their projects, but also serve as networking opportunities to connect with community members and generate support needed to get their project idea off the ground.
The pinnacle of the program year is the gala event. This event marks the culmination of the journey each young woman undertook throughout the program. At the gala, fellows take the stage once again, this time to present their final accomplishments. They showcase what they have achieved over the course of the year, demonstrating not only growth of their project but growth in themselves as well.
Both the pitch event and the gala empower these young women with a sense of confidence and encourage them to continue pursuing their passions. It truly is a transformative experience where they not only learn to present their ideas but also gain the skills and support they need to thrive as confident, empowered, and accomplished individuals.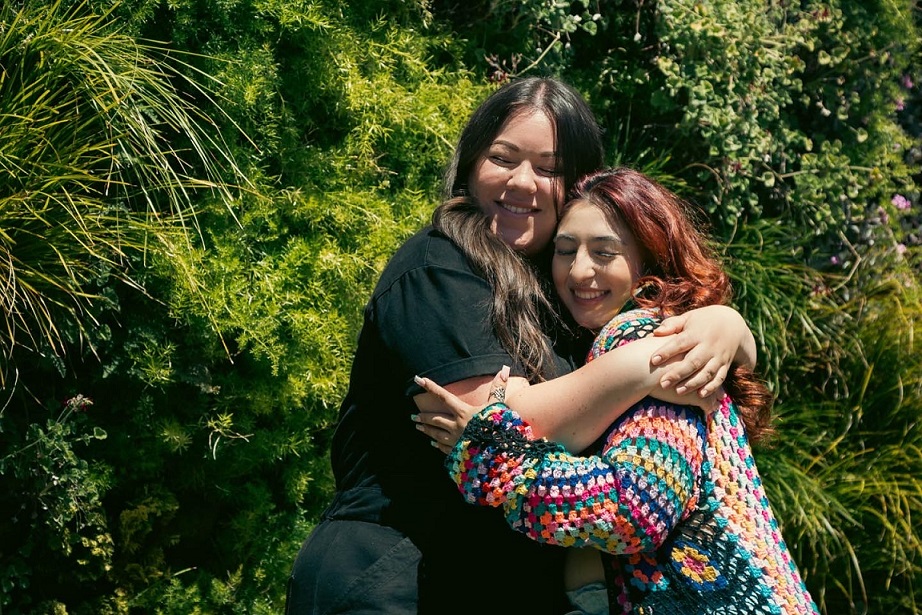 Kars4Kids: What's next for Her Idea?
Anna Bukareva: We have our biggest year yet with an anticipated 200 students in our high school partnership programs. Applications for our Fellowship program will open in October. Because of this growth, we are currently focused on expanding our program team. We are a completely volunteer run organization with a vision to be fully funded by 2025.
One of our key objectives is to extend our program to additional high schools across the Bay Area. We are also actively seeking corporate partnerships and sponsorships. This includes building connections with businesses, organizations, and industry leaders who share our vision of empowering young women and promoting the philosophy of "starting now" and not waiting until later to pursue your dreams. We invite guest speakers to share their story; field trip hosts to show us their workplace; concept advisors to expand our curriculum; and workshop hosts to host a special event for our fellows and community.