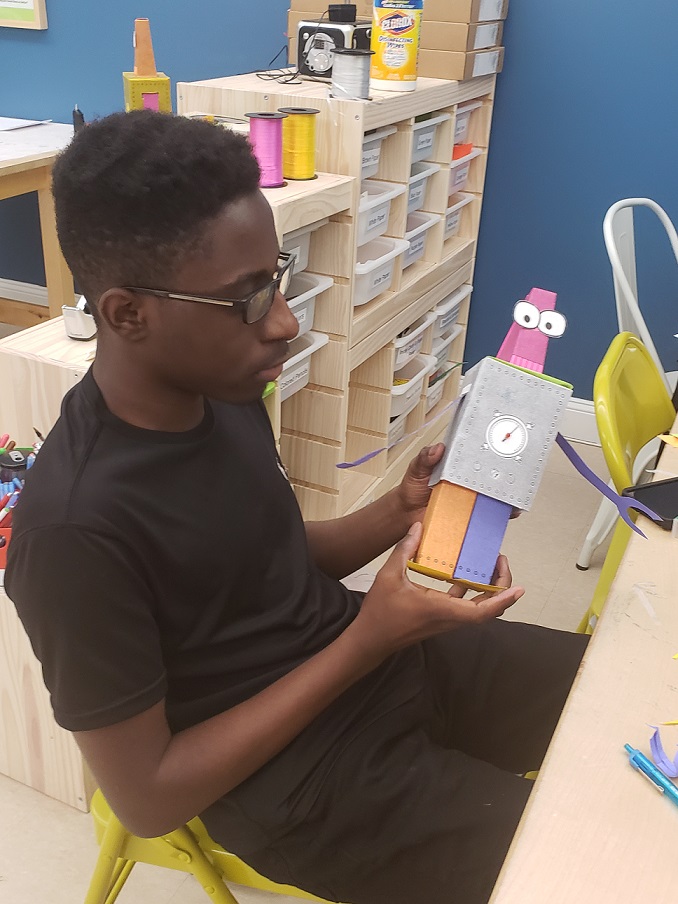 Maverick Landing Community Services (MLCS) is situated at the heart of a housing development, offering the families who live there what they need to break the cycle of poverty. For the kids, especially, MLCS is teaching them the STEM skills they need to get ahead in our technologically advanced world. But it's also about helping them develop their social-emotional skills.
Impressed with the comprehensive programming and services MLCS offers to children, we were pleased to offer them a small grant. We spoke with Executive Director Rita Lara, to learn more about the work of MLCS:
Kars4Kids: Tell us the story of how Maverick Makers was born?
Rita Lara: Maverick Makers began as an initiative to capitalize on the interest and daily visits to the lab from various groups of neighborhood children who stop by the MLCS Tech Lab, often spending their whole evening at the lab seeking homework help and interactive engagement. Children in the lab had also been assisted with computer use and research in support of their respective projects. It became clear to us that they were seeking play and engagement–and we wanted them to have it.
Kars4Kids: Maverick Makers is completely free for all children, 7-12-years-old in East Boston. How many children participate in this program? Are you able to accommodate as many children as want to attend?
Rita Lara: The Maverick Makers program is completely free for children. About 50 youth participate in the summer and year-round program participate in the program. Ideally, we run at a moderate capacity due to the program's capabilities and the capabilities of our staff but we have never faced an issue where we were forced to turn away children that wanted to take part in it and the program have no issues in reaching its full capacity.
Kars4Kids: What is Maverick Makers?
Rita Lara: Maverick Makers is a four-day out of school program that will offer academic support, boost socio-emotional development, and create excitement and curiosity around learning. We are open 4pm to 8pm Monday through Thursday. By focusing on finding creative solutions that integrate the use science, tech, engineering, art, and math (STEAM), children become enthusiastic and engaged in learning. These extracurricular activities seek to connect children with new experiences that help them widen their horizons while developing teamwork skills. Offerings includes coding, robotics, and 3D CAD learning that supports visual spatial literacy development – one of the biggest predecessors to STEM engagement and success.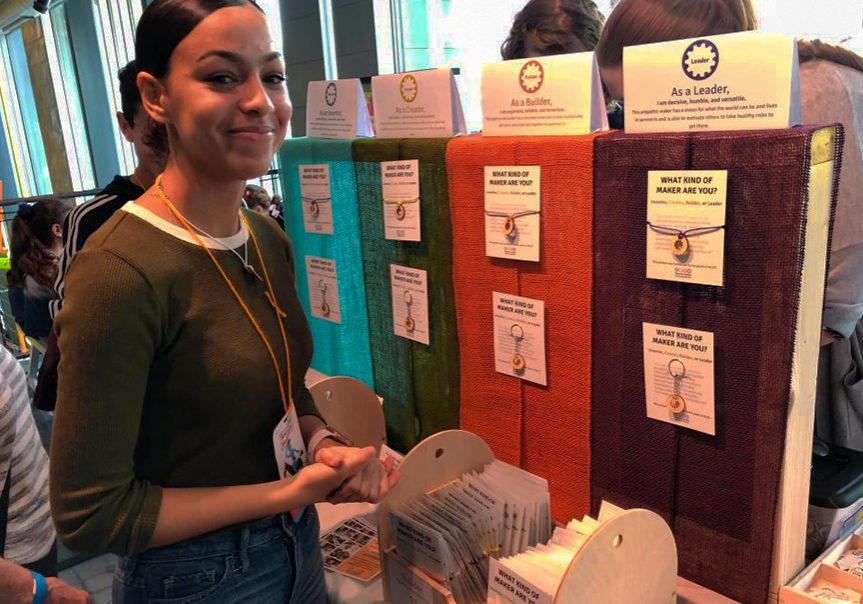 Kars4Kids: How is Maverick Makers Teens different from its younger version?
Rita Lara: Maverick Makers Teens is where tweens and teens learn product ideation, development & assembly, sales & marketing, research & development to make products 100% sustainable. We seek to increase interest in STEM careers for children who are living in poverty, and to develop and diversify the STEM talent pipeline of tomorrow so that kids from traditionally underrepresented communities in those fields populate future STEM jobs. Central to our methods for accomplishing this goal is simply to make STEM fun and productive by inspiring curiosity, critical thinking, and exploration. We tap local private sector talent so youth get to directly engage engineers, coders, scientists and other STEM professionals.
Historically, kids from underserved communities have little to no exposure to STEM professionals. Once kids engage in these high-quality interactions with caring adults, they begin to envision pursuing these careers. Examples of such creations are the What-Kind-of-Maker-Are-You necklaces and keychains, which debuted at our signature event, the Maverick Community Connector, as well as the Boston Mini-Maker Faire.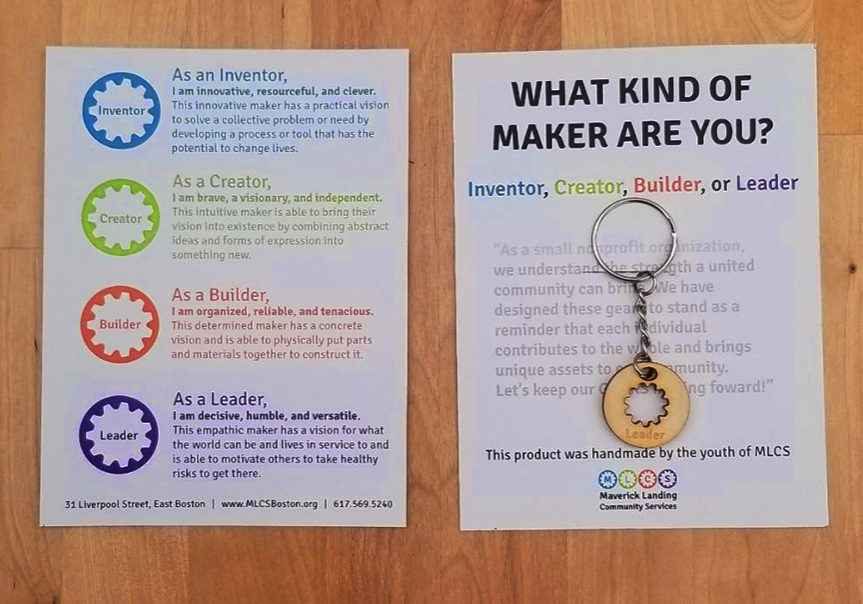 Kars4Kids: Can you tell us a bit about the demographic you serve?
Rita Lara: Our community at Maverick Landing is incredibly diverse; approximately 65% are Latino with recent immigrant parents, 25% North African, 8% African American, and 2% white. 90% of our youth ages 7-18 live in poverty. The majority of children and youth we serve reside in single parent households because a parent is in jail or remained in a family's country of origin; face issues of acculturation or assimilation as immigrants or children of immigrants with parents challenged by language barriers; and come from families struggling with undiagnosed and untreated depression or anxiety due to trauma. Most of these youth (75%) live in area subsidized housing, and attend Boston Public Schools in East Boston. These challenges highlight the need for a model like ours to support youth by offering family support alongside programs that build career and life skills to help them achieve their educational and economic goals and dreams.
Kars4Kids: Can you tell us about Maverick Landings' organizational values—how they were developed and how they are implemented?
Rita Lara: At MLCS we place great emphasis on making sure our organizational values are alive in all aspects of our work. We revisit our organizational values at all of our organizational planning sessions which occur at least 4-5 times per year and we work with specific values during weekly team huddles. Our values are also posted publicly and integrated into our work with the Maverick Landing and East Boston community.
We developed our values as part of a multi-stakeholder strategic planning process that took place in the spring of 2016. We are committed to ensuring that these values are embedded into the way we think about and implement all of our programs. Our values are:
We are a learning organization committed to excellence and growth.
We are committed advocates for the people who work with us.
We work as a team because it is an optimal way to operate.
We create a welcoming environment for everyone—everyone belongs.
We celebrate victories with staff and community.
We support collaboration and operate in the best interests of the communities we serve.
Kars4Kids: Do you see it as a success when someone moves on from Maverick Landing? Do former residents come back to volunteer their time or even just to visit?
Rita Lara: Depending on the circumstances for moving, it's possible to view it as a success when someone moves from Maverick Landing, If a resident is moving from Maverick Landing into subsidized housing and is in a profession where they can afford to do so, then we whole-heartedly view the move as successful and a great opportunity for them to embark on. Former residents do come back frequently to volunteer and visit from time to time and their presences is always welcome within the Maverick Landing Community.
Kars4Kids: MLCS places a lot of emphasis on family. What is the place of the family in a child's success?
Rita Lara: We believe that there are two critical approaches that ground our work in community: a Family Systems approach, and Building Social Capital. As a neighborhood-based organization, MLCS ensures that youth in our programs have access to strong family-based support systems. Parents and caregivers of the children and teens in our programs live steps from our offices and often come in to meet with the Director of Family Services for individual support with system advocacy, household management, or personal issues they face. There is a long-held deep trust between families and MLCS through our resident services and case management work.
It is also vital to us to ensure that the Maverick Landing community doesn't become insulated in poverty in a community increasingly surrounded by luxury condos. We seek to build capacity using local talent emphasizing service, building social capital, and breaking through the economic stratifications that often separate neighbors.
Kars4Kids: The MLCS playgroups collaborate with Countdown to Kindergarten. What is that?
Rita Lara: Countdown to Kindergarten is an organization that engages families, educators and the community in a citywide effort to enhance early learning opportunities and to support the transition into kindergarten. The organization implements a school readiness campaign that helps families participate actively in their children's education right from the start, understand the value of kindergarten, and learn how to choose schools and then register in the Boston Public Schools
Kars4Kids: What's next for Maverick Landing Community Services?
Rita Lara: We held our big event, the Maverick Community Connector, last Friday and counted nearly 400 people in attendance despite the heatwave earlier in the day. This video showcases our work:
At least year's event we debuted our "What Kind of Maker Are You," necklaces and key chains developed and assembled by youth. This year we are building out our makerspace for teens and invested in our 3D laser cutter – our first piece of advanced tech that will serve as important technology for teen production. We are also currently piloting our design planning process curriculum with the teens this summer and unveiled the first prototype for a STEM/STEAM kit that we will continue working with teens to develop and bring to market.