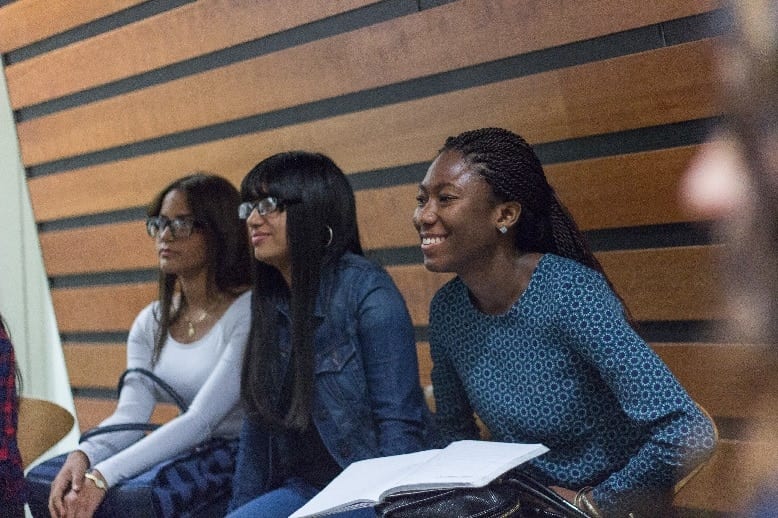 Project Rousseau mentors high school students from low-income homes. The nonprofit organization does this by pairing these students with college student volunteers. The organization is one of the newest recipients of a Kars4Kids small grant. It's work with which we most definitely wished to partner!
As always, we like to tell our readers a bit about our small grant recipients. If you're a Kars4Kids donor, that makes you a partner with our small grant recipients, too! If you're not yet a donor, well, maybe reading about this good work will convince you to become one!
Here we interview Alejandro Zarate, Project Rousseau's New York City regional director:
Kars4Kids: How old is the founder of Project Rousseau, Andrew Heinrich? Heinrich seems rather young to have created an organization impacting students not just in several states, but in other countries, as well. Where did he find the time to do all this in addition to his studies?
Alejandro Zarate: Andrew Heinrich is 26 years old. Starting Project Rousseau when he was relatively young has allowed him to communicate with our students much more effectively. Now, while it may seem that such an involvement is time-consuming, changing lives spurs a strong drive to continue. After all, when you enjoy what you do, you do find the time to do it.
In addition, he's not alone. We are all grateful for the community of like-minded supporters who impact our students immeasurably. The places where our supporters come from have always been eager to help in many different ways. Overall, he views his work as an incredible opportunity that has allowed him to make change both locally and far away.
Kars4Kids: Project Rousseau teams mentors who may have "white privilege" with mentees who are generally people of color living way below the poverty line. Does this create any tension?
Alejandro Zarate: The mentors we recruit are people who care for people and are open-minded. They can be found from all sorts of backgrounds. For the students who desire mentors, what they mostly want are individuals who are empathic and eager to help. These qualities matter more to our students than any other feature of the mentors.
In fact, these mentor-mentee relationships have been so effective that we have the mentees becoming mentors when they enter college. Other Project Rousseau alumni have become tutors to their younger high school peers. All this leads to the creation of a great and diverse body of mentors and role models.
Project Rousseau Training
Kars4Kids: Do Project Rousseau mentors undergo any sort of training? Do the mentors have mentors?
Alejandro Zarate: All college students wishing to become mentors must undergo training. College chapters set up dates and times when Project Rousseau hosts the training. Primarily, it consists of an oral walk-through of various mentor-mentee scenarios.
Mentors do not have mentors but they can consult with their chapter presidents. Chapter presidents, who are also volunteer college-students, can contact their regional directors. For emergencies, the staff have procedures in place outlined for the mentors in the Mentor Handbook to alert and involve the required emergency services.
Kars4Kids: How do students find out about Project Rousseau? What makes a student eligible for your help?
Alejandro Zarate: Our staff reaches out to high schools where nearly all students receive free lunch. With assistance from schools' guidance counselors, we specifically seek students from very low-income households (less than $10,000 a year). That said, we accept any student who approaches us who qualifies for Free Lunch. We're also fortunate that older Project Rousseau students encourage their younger peers to join.
Kars4Kids: Are you able to take all the students that apply to Project Rousseau or is there a waiting list?
Alejandro Zarate: We can take in all students. They have immediate access to academic support and community service programs. For mentorships, we are dependent on the number of mentors available for a given school year so for this, there is a waiting list. Broadening Horizons opportunities vary as some are open to everyone while others, such as international trips, are open to select students based on an established criteria set by Project Rousseau.
Kars4Kids: What percentage of students drops out of Project Rousseau?
Alejandro Zarate: Over 90% stay involved—defined as participating in two or more pillars each year. Because students can be as active as they wish and no one is kicked out, retention is very high and students tend to get increasingly more involved as they progress in high school.
Kars4Kids: Your website states that students generally put in 150 hours of community service and that you see a correlation between the extent of volunteerism and grades. Why do you think this is so?
Alejandro Zarate: This is a great question. We believe that volunteering has a positive effect on the self-esteem of our students. This in turn impacts their confidence for the better in school settings. We've heard of similar trends from our mentors!
Kars4Kids: What's next for Project Rousseau?
Alejandro Zarate: We're looking forward to the start of the new academic year and will be expanding our reach to a few additional partner schools! We're excited to be able to offer more academic, community service, and broadening horizons programs to an even larger pool of deserving students.