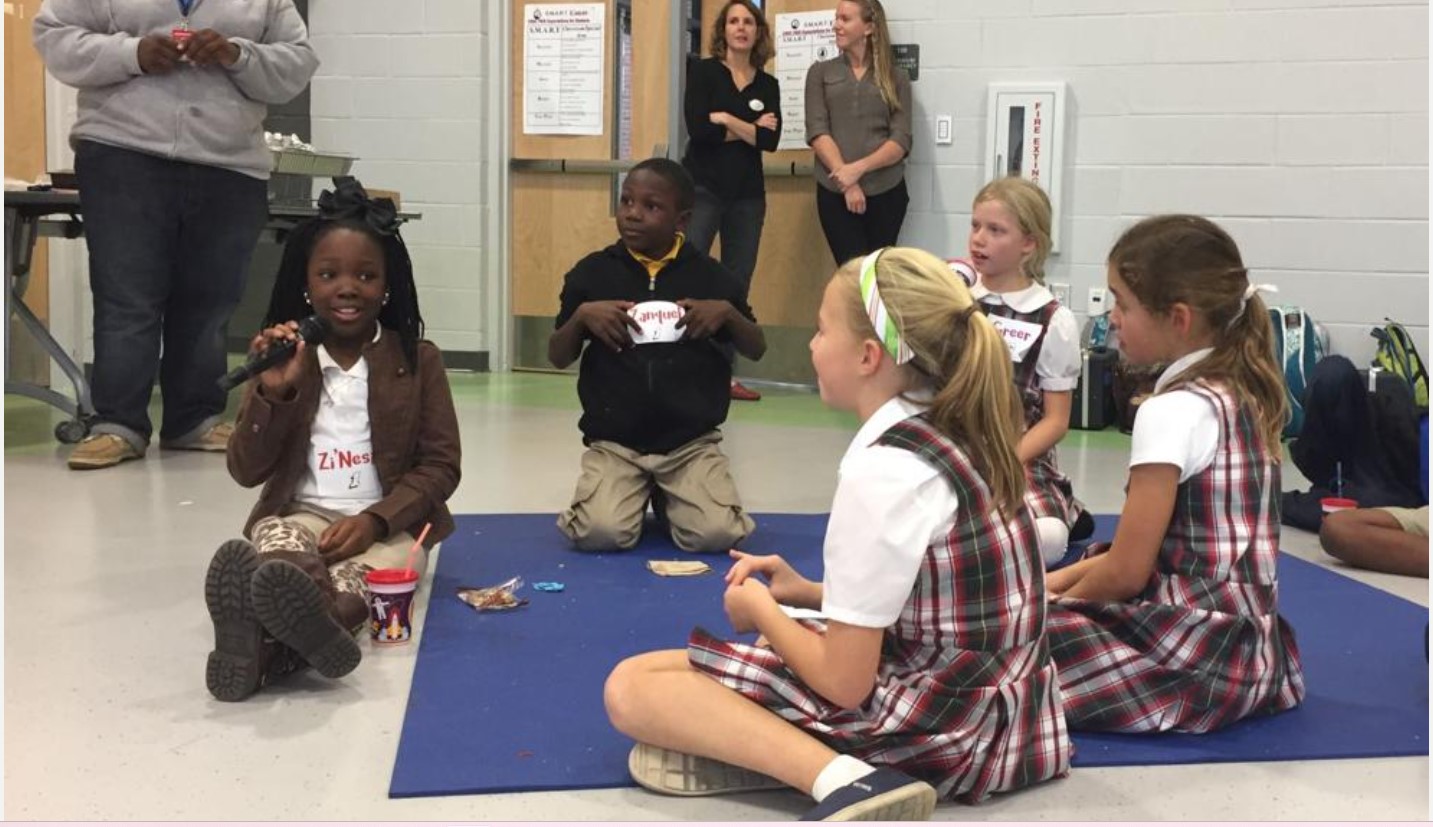 Social emotional learning (SEL) can help children soar through life challenges by giving them healthy ways to vent and channel their strong feelings. Once you give children the tools they need to deal with their emotions, it frees them up for learning school subjects like math and science. And getting through school successfully means getting good jobs and breaking the cycle of poverty.
This is the work that WINGS for Kids is doing, and that is why Kars4Kids has awarded the organization a small grant. Kars4Kids shares WINGS for Kids' mission of helping children get ahead. WINGS is doing terrific work in this arena!
Read all about WINGS for Kids in this interview with Barbra Buoy, Development Associate at WINGS for Kids.
Kars4Kids: Tell us about your founder, Ginny Deerin. Who was she? What drove her to found WINGS?
Barbra Buoy: Ginny was a mid-career professional in the mid-90s when she realized that she was struggling with her personal and professional relationships, was making rash decisions, and was having trouble managing her emotions. She came across a book on emotional intelligence by Daniel Goleman and found that the teachings in the book were applicable not only for her life, but for kids from vulnerable backgrounds.
Kars4Kids: Who is eligible for WINGS? It sounds great! How does a parent manage to get his child into the WINGS program?
Barbra Buoy: WINGS programs serve elementary schools kids in Title I schools (schools with high numbers or high percentages of children from low-income families as designated by the U.S. Department of Education). We currently have nine direct service programs in three states. We intentionally seek kids who are exhibiting significant behavioral and/or academic challenges. For parents who are interested in what we teach, but may not have a formal WINGS program in their area, we offer a free DIY kit on our website.
Kars4Kids: How many children have you served through the years?
Barbra Buoy: More than 5,000.
Kars4Kids: Can you give us an example of an activity children do at WINGS to strengthen their social and emotional skills?
Barbra Buoy: We have a technique to help kids manage their emotions called "Hold Up, Hijacker!"  The gist of this technique is that when a child feels that an emotion like anger, frustration, or confusion is threatening to make them have an inappropriate emotional outburst, they can teach themselves not to be hijacked by the emotion, and to replace it instead with positive self-talk.
Kars4Kids: Tell us about the creed. 
Barbra Buoy: The creed was written about eight years ago at a senior staff retreat. Our CEO and long-term program staff came up with this simple kid-friendly poem that's now recited every day by WINGS kids and staff. It's our core social and emotional learning (SEL) skills in kid-friendly language and reinforces the learning objectives that we teach each week.
The WINGS Creed

I soar with WINGS. Let me tell you why.

I learn lots of skills that help me reach the sky.

I love and accept who I am on the inside

and know my emotions are nothing to hide.

Life's full of surprises that make me feel different ways.

If I can control myself I will have much better days.

I understand the choices I make should be what's best for me to do

and what happens is on me and not any of you.

I understand others are unique.

I want to learn more about everyone I meet.

I want to step into their shoes and see what they are going through.

I am a friend. I support and trust. Working together is a must.

Kind and caring I will be.

I listen to you. You listen to me.

I soar with WINGS. I just told you why. All of these things are why I fly high.
Kars4Kids: Who is eligible to become a staff member at WINGS? How did the alliance between WINGS and AmeriCorps come about?
Barbra Buoy: For our part-time staff who directly work with WINGS kids in small groups, we intentionally recruit and train college students. We want college to be a value and expectation for WINGS kids. Many of our full-time staff at one time worked as WINGS Leaders in the program setting. We've always thought of what we do as "service." About five years ago, we applied to the Corporation for National and Community Service and were awarded our first AmeriCorps grant.
Social Emotional Learning: EQ
Kars4Kids: We hear a lot about "social emotional learning." Why is there such an emphasis on this aspect of learning? Isn't this something that we used to take for granted? When did this become part of the dialogue on education and why?
Barbra Buoy: We've been doing this for 19 years and know that it is a key strategy for helping to close the achievement and opportunity gaps between kids in poverty and their more affluent peers. Kids from fragile environments have more "clutter" to filter through than middle-class and wealthy children. SEL helps them connect to their emotions and fosters the ability to make positive choices about their own lives.
Now, employers have also seen the research that suggests that EQ is just as important as IQ in creating a balanced, productive workforce.
Kars4Kids: Can you give us examples of daily achievements you might see at WINGS?
Barbra Buoy: We love to see kids who are "Creed-ing" each other. That is, kids who use creed language to establish personal boundaries and bring our positive behavior in themselves and their peers. They use language in our creed that references teamwork, kindness, positive decision-making and enhanced personal relationships.
Kars4Kids: Your website states that you have a 4-star Charity Navigator rating. Tell us about that: what is it that WINGS accomplishes to get that outstanding grade? To what do you attribute your success?
Barbra Buoy: Several things have allowed us to achieve and retain that rating: a codified, researched and evaluated program model; stellar financial management and audits; a value system that all staff believe and model.
Kars4Kids: What is the future of WINGS? Do you see WINGS expanding throughout the country?
Barbra Buoy: WINGS will definitely expand. Our learning agenda this year features several pilots (in places like Detroit and Los Angeles) that will help us find the right balance of delivery systems.