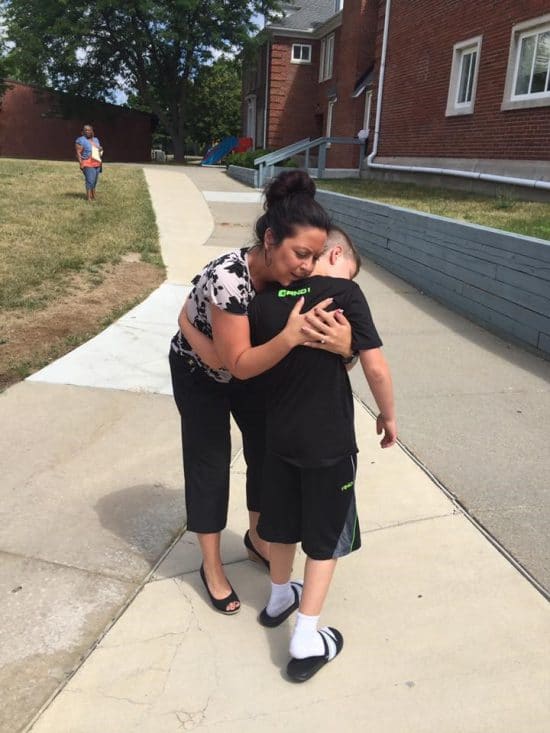 Whaley Children's Center is the kind of place that carves a notch into your heart and settles in forever. This is a place filled with love and warmth for kids who haven't known much of either. It's a place where foster kids go between foster homes, and you better believe it: kids in foster care tend to get bounced around a lot.
Now, kids deserve to be kids. They deserve to be accepted and loved unconditionally. When kids don't get that kind of acceptance and love, it affects them. Whaley tries to heal the unhealable, and give these children back a bit of what they've been missing: a carefree childhood.
This is important work, and we were grateful to have the chance to partner with Whaley in a small way, by means of our Kars4Kids small grant program. As always, we like to tell the readers of the Kars4Kids educational blog for parents about the work of our small grant recipients. To that end, we offer you this thoughtful interview with Mindy Prusa, President and CEO of Whaley Children's Center.
Kars4Kids: How many children do you currently have living in your group homes?
Mindy Prusa: We have 24 children living on our on-grounds Mott Residences and 17 living in our group homes. 41 total.
Kars4Kids: In what ways are the four group homes less restrictive than the Mott Residence? Can children in the group homes, for instance, keep their bedroom doors closed?
Mindy Prusa: The group homes are a less restrictive environment because that is where we teach many of our independent living skills. There is less structure and the children have more free time than the children in our Mott Residences. They are in residential homes throughout the community.
Kars4Kids: You have a 3:1 staff to children ratio. Is the ratio the same at night? Are any of your staff members married couples? It must require a great deal of commitment to work with the children full time.
Mindy Prusa: When the children are awake we have a 3:1 ratio. At nighttime, when the children are sleeping, there   is one staff member per unit or home. Then we have floating staff that are available if any issues may arise. We have three shifts at the Center, so a full time employee would work 40 hours, like a normal job. No employee is singly responsible for 24/7 care.
Kars4Kids: What happens when the children turn 18? Are they ready to be on their own? Are there transitional programs or group living situations that can help them until they have completed their educations and found work?
Mindy Prusa: Before  a  child  turns  18  their  treatment  team  begins  to  work  with  them  to  figure  out  where  they  would  be  going  next.  Some  of  our  teens  transition  into  adulthood  with  an  apartment,  a  job  and  assistance  from  their  DHHS caseworker,  others  transition  to  independent  living  centers  to  help  them  build  their  independent  living  skills  while  also  residing  in  a  facility  that  give  them  many  adult  freedoms,  and  some  of  our  children  will  move  into  adult  foster  care.  It  really  depends  on  each  individual  child  and  their  specific  needs.
Kars4Kids: How long does it usually take to gain the trust of a child who has a history of being shifted around from foster family to foster family, a child who may have seen abuse? Is every child different, or do they tend to follow the same pattern? What is that pattern of behaviors?
Mindy Prusa: Before a child turns 18 their treatment team begins to work with them to figure out where they would be going next. Some of our teens transition into adulthood with an apartment, a job and assistance from their DHHS caseworker, others transition to independent living centers to help them build their independent living skills while also residing in a facility that give them many adult freedoms, and some of our children will move into adult foster care. It really depends on each individual child and their specific needs.
Kars4Kids: How long does it usually take to gain the trust of a child who has a history of being shifted around from foster family to foster family, a child who may have seen abuse? Is every child different, or do they tend to follow the same pattern? What is that pattern of behaviors?
Mindy Prusa: Every child is different, each comes with a different story. Trust is very individualized depending on the person. Some trust too soon and some never at all. At the Center the most important thing is we follow through with what we say we are going to do, modeling it is safe to trust others in an environment where true trust is measured by truth only and not by negotiating feelings. To tell a child you are going to do something and then following through with it can speaks volumes for the development of their interpersonal relationship skills going forward.  Each child needs to learn how to trust again when they come here because the people they should have been able trust unfortunately were not trustworthy.
Kars4Kids: Whaley incorporates the Circle of Courage philosophy to help teach children to be emotionally healthy. The philosophy has four chief components, qualities children need to be well: belonging, mastery, independence and generosity. How do you teach a child who has never belonged to a typical family home, a feeling of belonging?
Mindy Prusa: The best way to teach a child to belong is to give them a place that feels comfortable enough to belong to. We provide every child with a safe place to call home and several people who love them unconditionally. Every child who comes to our Center slowly learns that no matter how hard they push us away, we will still come back and say "I love you" anyways. Everyone says the places they belong are the places they are loved the most and that is how our children feel about Whaley. We love them, so they belong here.
Kars4Kids: Do the children receive their schooling at Whaley or are they mainstreamed into regular schools?
Mindy Prusa: About one third of our children go to school at the LaFontaine Learning Academy located on our campus. All children who go to school on-grounds have an individual education plan (IEP). Everyone else goes to six different charter and public schools in the community.
Kars4Kids: What kind of vegetables do the children grow in the Whaley vegetable garden? Are there any favorites? Do children who grow vegetables really eat more of them?
Mindy Prusa: The children grow typical garden vegetables like tomatoes, green peppers, corn and carrots, but we also try to do nontraditional veggies like eggplant and unique varieties of peppers. This way the children are more inclined to try new things.
At the beginning of the summer the children love the garden and water it and weed it, but somewhere in mid-July, they tend to loose interest and it starts to look a little sad. That's when our staff step in and care for things. Once the veggies start growing, however, they are so excited to eat them. Sometimes we have to remind them that once they are picked they stop growing, because they pick them far too soon. It's really cute to watch them learn and grow.
Whaley Legacy
Kars4Kids: Do the children at Whaley know about Donald Whaley, the little boy who died of diphtheria at ten, who was saving up his money to help less fortunate children? What would Donald Whaley think if he could see what his little jar of coins has become?
Mindy Prusa: Some of the children have heard us telling others the story, but many have no clue who the little boy in the picture in the parlor is. We would like to think if Donald Whaley saw the Center today he would be overwhelmed with joy. We have a 90-year legacy of helping children develop into their best selves. It is truly something we are proud of and he would be too!
Kars4Kids: How long do most children stay at Whaley? What is it like to see them leave?
Mindy Prusa: The average time a child is at Whaley Children's Center is approximately 18 months. Some however are here for a few days and others a few years. When a child leaves it is really bittersweet. We are really happy to see them go to a forever home, but it is hard to let that relationship go. We spend so much time building them up, teaching them what it feels like to be loved, to have a place to belong and a place to call home. When they go, they are ready for a new home, but we know that Whaley will always hold a special place in their hearts. Every time a child leaves it reassures us that our program works and that is why we are here, to help children find forever homes.
Kars4Kids: What's next for Whaley Children's Center?
Mindy Prusa: Whaley Children's Center just celebrated our 90th anniversary and is going to continue to grow for another 90. We will continue to grow our program, adapt it as needed and make sure we are the best place for our children to call home. At the end of the day that is what it is all about, our kiddos!