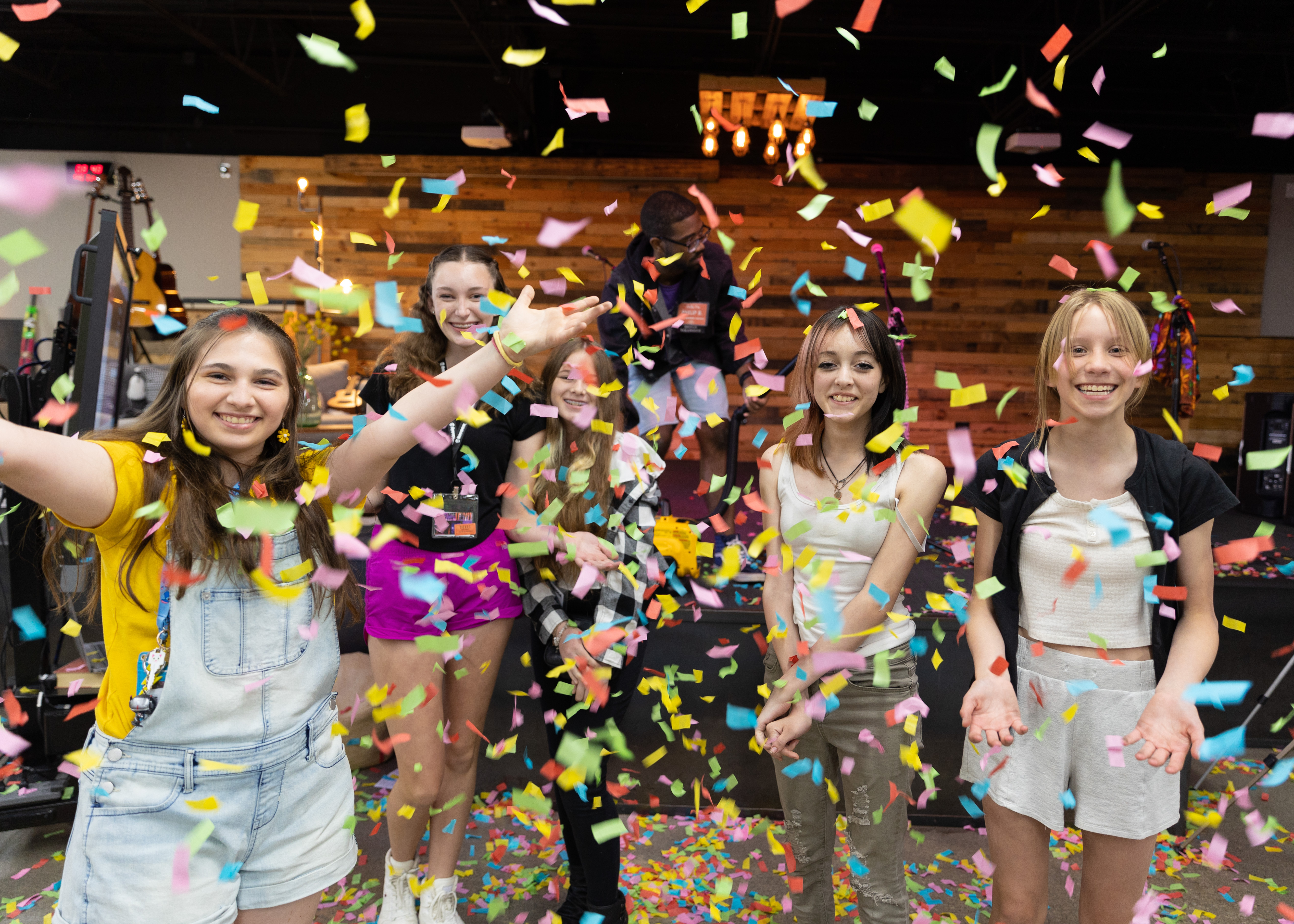 The Bridge Teen Center, a center for suburban teens, is the latest recipient of a Kars4Kids small grant.  Now, when Kars4Kids gives out a small grant to a worthy organization, we like to interview someone there for this blog, to spread the word of the good work  being done there. In preparing this interview, however, this writer had no idea she was corresponding with one of the teens served by The Bridge. It was impossible to tell that the very full and considerate responses received had been penned by a teenager.
That makes The Bridge all the more impressive from our standpoint. It would have been the easy way out to hand off the interview to a clerk. Having a teen handle this very adult job, on the other hand, meant giving that teen a learning experience, an important task, and a huge responsibility. Giving the interview to Amber Holup also shows that the staff at The Bridge have developed an extraordinarily high level of trust with the teens they serve. We predict great things for The Bridge, and for Amber Holup, a credit to The Bridge. Kars4Kids is proud to play a small part in helping this so obviously worthy organization that is helping kids like Amber throughout the year.
Kars4Kids: Founding The Bridge had to have been a huge undertaking for Director Priscilla Steinmetz and her husband Rob, when they got the ball rolling in 2010. How were they suited so uniquely for the task of building a teen center?  Do the Steinmetz's have children of their own?
Amber Holup: Priscilla first had the idea to start The Bridge Teen Center in 2005. For five years, she and her husband Rob worked hard to raise money, volunteers, and the community's support before opening their doors to teens in June of 2010. Rob and Priscilla, a married couple with no children, both had careers in the nonprofit sector before conceptualizing and starting The Bridge Teen Center. In addition, Priscilla had worked with youth for over 20 years. Combining each of their nonprofit backgrounds and Priscilla's youth ministry background, along with the community's support, The Bridge Teen Center opened a 2,400 square foot teen center that has now grown to be 9,600 square feet that offers over 300 programs each year to students for free.
Kars4Kids: Your mission statement specifically mentions that The Bridge is intended to serve students who live in the suburbs. What are some of the challenges of raising a child in the suburbs? What specific need is The Bridge filling for these children?
Amber Holup: While there is no denying the ongoing need within inner city communities, there is a misconception that nothing bad happens in the suburbs – we call it the "White Picket Fence Syndrome."  Many view the suburbs as safer, more orderly, and more wholesome environments than their urban counterparts.  However, research shows that those perceptions are unfounded.
A report from the Manhattan Institute indicates that suburban public high school students have sex, drink, smoke, use illegal drugs, and engage in delinquent behavior as often as urban public high school students. Teens in the suburban areas primarily served by The Bridge Teen Center – including suburban Cook County and Will County – face many challenges and risk factors.  The Cook County Department of Public Health reports that 1 in 10 teens have attempted suicide; 33% of students have used marijuana at least once; 29% of students were offered, sold, or given an illegal drug by someone at school during the last year; 40% of children are overweight or obese, and obesity rates have tripled for children over the past 20 years; and 30% of teens have been bullied at school or online.
These statistics are staggering and as a teen myself, I can attest that they are true. When I first came to The Bridge I was a victim of bullying. I know first-hand that The Bridge provides its students with the love, support, and resources to help them overcome the obstacles that they are facing and flourish into the people that they are meant to be.
The free programs and events offered by The Bridge are designed with purpose – helping students to grow mentally, physically, spiritually, and emotionally.  Teens who actively participate in Bridge programs experience decreased social pressures, including bullying; improved grades through our free tutoring; exposure to unique programs that introduce them to potential career paths; improved "life skills" through targeted culinary demonstrations; programs that teach students basic car maintenance and more; and increased exposure to increasingly scarce art programs that include a wide variety of free music lessons and visual arts programs.
On behalf of the 3,800 student that The Bridge Teen Center has served, I can honestly say that the center is changing the lives of suburban teens – for a group of students that afterschool programs typically forget about.
Kars4Kids: You offer programs in each of five "buckets": Everyday Life, Community Connections, Educational Support, Mind/Body, Expressive Arts. What exactly is a "bucket" in this sense? Do students sign up for specific buckets? How did you come up with this concept?
Amber Holup: Our free, groundbreaking programs can be categorized into five different program areas.
Programs in the Everyday Life bucket include life skills programs, weekend entertainment, afterschool drop-in hours, and signature special events. Programs in the Community Connections bucket include ongoing community service projects for students, parent programs, behind the scenes tours, and programs that introduce students to careers. Programs in the Educational Support bucket include tutoring and homework support, career and job readiness, in-school assemblies and workshops, leadership training, study skills and test prep, and STEM programming.
Our Expressive Arts program bucket provides opportunities for students to dream, explore, and express themselves creatively through a wide range of visual and performing art forms. Mind/Body programs and experiences are designed around the interests of teens that promote active and healthy living through culinary demos (healthy focus), group kick fitness class, de-stress yoga, self-defense workshops, canoeing, and boxing/kickboxing.
A program bucket is simply a way for The Bridge Teen Center to categorize our programs and market the programs to our students. Students sign up for each program separately, however each program bucket has its own icon that is featured next to each respective program in our program magazine. If a student really loves Expressive Arts programs then he/she can look for the paintbrush icon in the program magazine to quickly identify which art programs they would like to sign up for.
Kars4Kids: How many children are currently enrolled in The Bridge? Is there a wait list? What is the ratio of staff to children?
Amber Holup: The Bridge Teen Center has served 3,800 students from over 125 different communities in the past five years. As a result of students graduating, The Bridge has 2,137 students currently enrolled. We have outgrown our facility two times thus far and expanded once in 2011 (a year after opening our doors) and another time in December of 2015. Expanding our facility and programming has allowed The Bridge Teen Center to keep up with the growing number of students that we serve. We've also had to expand the number of staff and volunteers that we have, to keep an adult to student ratio of 1:15 for student safety.
Kars4Kids:  Your website states: The Bridge is managed by experienced professionals who are supported by well-trained and pre-screened adult volunteers. What sort of professionals work at The Bridge? How many volunteers do you have? Do you train the volunteers yourselves? What does training consist of?
Amber Holup: The Bridge employs 5 full-time and 5 part-time staff members.  The Bridge employs young professionals who can identify with being a modern day teenager, and in supervisory positions, more seasoned professionals are seen. This balance allows The Bridge to successfully serve teens with excellence.
Priscilla Steinmetz utilizes her nonprofit experience and her 20 plus years in youth ministry to serve as the nationally-recognized Executive Director of The Bridge Teen Center. Her expertise in the field has earned her many accolades such as being named an Afterschool Ambassador for Afterschool Alliance. Rob, her husband, has over 15 years of experience in the nonprofit sector and was even a professor teaching "Marketing for Nonprofits" before starting The Bridge and uses his extensive knowledge to serve as Director of Marketing and Development.
Anna, Program Director at The Bridge, holds a Masters of Education in Educational Psychology and uses her knowledge to ensure that the afterschool programs that The Bridge staff plans are reaching students holistically. The Bridge Teen Center's dynamic staff is part of our recipe for success but we couldn't do it without our volunteers.
Volunteers are a major part of the free afterschool programs we provide. Each year, we utilize the volunteer services of more than 200 "Program Volunteers" – those who share their passions and skills with students by leading an afterschool program. That does not include more than 80 ongoing "Bridge Volunteers" – those who volunteer weekly or monthly to assist with ongoing support during student hours. Bridge Volunteers' training consists of pre and post meetings led by Bridge staff at the beginning and end of the program day, as well as an annual volunteer training day where teenage youth development lessons are taught by our staff and external presenters.
The Bridge: A Melting Pot
Kars4Kids: Tell me about the mix of children you serve. Are they from similar backgrounds or from various types of homes: blue collar, professional, low-income?
Amber Holup: The Bridge exists to serve students between the ages of 12-18 (7th-12th grades) and also provides monthly programming to help parents navigate through the teenage years.  For the safety of our students, The Bridge adheres to a very strict "teens only" policy.  Students can attend The Bridge the summer before they enter 7th grade, through the summer they graduate high school.  There are no participation restrictions based on residency, school, religious affiliation, or economic background.
Currently, The Bridge Teen Center serves approximately 58% girls and 42% boys.  Approximately 74% of students at The Bridge are Caucasian, 8% Hispanic, 10% African-American, and 8% Multi-Racial/Other.  Although we do not track the income of the families we serve, we estimate that more than 50% of the students we serve come from low- to moderate-income households based on the communities in which our students reside and the schools they attend.
As a student at The Bridge myself, I like to say that The Bridge is a "melting pot" for teens in our community. From upper middle class to those that live below means, The Bridge helps all teens regardless of their background. All teens are trying to discover who they are and all teens face unhealthy temptations and all teens have to discover what they are going to do with their lives; The Bridge is there to help each student (and their parents through monthly parent programs), regardless of their background, through the tough teenage years.
Kars4Kids: The acronym you have on your student application form is awesome. Have you ever had to expel a student from The Bridge? How do you deal with infractions?
Amber Holup: Expectations for behavior are made very clear to students at the very beginning. The Code of Conduct is explained to each student as they sign their application, indicating they understand the expectations of behavior and that experiencing The Bridge Teen Center is a privilege. Positive behaviors are reinforced through verbal recognition and modest praise. The environment at The Bridge Teen Center is very positive, safe, and supportive, so the students want to be here. Expectations are always communicated and modeled by staff and volunteers to remind students of what is expected of them. Staff and volunteers call our students "ladies" and "gentlemen" and "students" rather than "kids" because we expect our students to behave with respect.
Students who break their promise to follow the Code of Conduct may lose their privileges at The Bridge Teen Center. The staff helps the students understand the consequences of the behavior and why their behavior is wrong, and then discusses an action plan to replace negative behaviors with positive ones. Some students have had their privileges taken away for various amounts of time, but are invited back if staff feels the student returning is in the best interest of the student him/herself and in the best interest of the safety for all our students at The Bridge Teen Center.
The Bridge Code of Conduct
B e faithful to attend the program you signed up for or contact The Bridge within 48 hours of the event if you need to cancel.
R emain in the building for the length of the program unless you have communicated with both the Bridge staff and your parent(s).
I nteract and respect others—Bridge staff, volunteers and other students; listen when others talk.
D ecide to be responsible for your attitude by being open and teachable.
G o with the flow, honor The Bridge's and other people's space and property. This is an illegal substance and weapon free facility.
E ncourage rather than put down others; use appropriate language.
Kars4Kids: How many students are receiving homework help at The Bridge? What percentage of kids from The Bridge go on to college? Would you say The Bridge has a hand in making that happen?
Amber Holup: Students informally receive homework help from volunteers and staff members daily. We estimate that 30 students a month receive homework help while we know for certain that 10 students a month receive weekly tutoring in a more formal format. This does not include our Educational Support programs that are offered on a weekly basis to our students. Educational Support programs equip students with studying skills, decrease their test anxiety, and teach students how to apply their knowledge from school to real life applications.
Unfortunately, The Bridge Teen Center does not have the means to track the percentage of students from The Bridge that go on to college, however Afterschool Alliance reports that students who attend afterschool programs are more likely to go on to college. We believe that The Bridge does have a hand in making that happen because we offer Educational Support programs that help them persevere through middle school and high school, and students have the opportunity to meet college and trade school representatives when they lead programs at The Bridge, or when students do an offsite program at a local school.
Personally, I have been discovered that I want to major in Nonprofit Business Administration at Olivet Nazarene University, a sponsor of The Bridge, as a result of me attending The Bridge Teen Center.
Kars4Kids: Your anonymous Q&A is a fabulous idea, but it looks like it's no longer current. Is it difficult to gain the trust of the kids at The Bridge?
Amber Holup: Our anonymous Q&A was utilized when The Bridge first opened and staff and volunteers were gaining the trust of our students. Now that The Bridge is trusted by both adults and teens in the community, parents and students know that they can talk to staff and students whenever they would like, to seek advice. Students know by the actions of Bridge staff and volunteers that they are cared for, loved, and accepted, therefore they don't feel a need to be anonymous.
The Bridge Teen Center plans on unveiling a new website soon that leaves out the Anonymous Q&A section.
Kars4Kids: What are the most popular events at The Bridge?
Amber Holup: The most popular events at The Bridge Teen Center are the Friday Night Live events. Each Friday, from 7:30-10:30pm, students spend time socializing with their friends at The Bridge. Karaoke, movies, trivia games, high school and traveling bands entertain students and provide a safe place where students can go and refrain from unhealthy behaviors (i.e. Drinking and smoking).
Kars4Kids: Is there any sort of graduation ceremony for matriculating out of The Bridge? Is it difficult for kids to move on? Do the staff keep in touch with any of the kids after they "age out" of the program?
Amber Holup: Students can attend The Bridge up until the summer directly after their senior year of high school. Some students are sad when they move on because they have formed such strong relationships with staff, volunteers, and other students, however some students come back to volunteer at The Bridge upon graduating. The staff does keep in touch with students to some extent, however it is not a major focus since there are new students to serve.
As a senior in high school, it will be a bittersweet day when I can no longer come to The Bridge as a student, however I know that I will stay connected to staff and volunteers through volunteering at The Bridge Teen Center and The Bridge Teen Center's Thrift Store. I look forward to giving back to the place that has helped me develop into the person that I am today.
Kars4Kids: How do volunteers at The Bridge know they are on the right track with this work, that the work they are doing is important? What makes them feel excited about coming to work each day?
Amber Holup: A true innovator in the field of teen programming, The Bridge Teen Center has been nationally-recognized as a leader in youth development on two occasions (by Youth Service America in 2014 and the Afterschool Alliance in 2011). In addition to being recognized for having some of the most innovative and successful teen programming in the nation, high-ranking executives with both United Way and the Boys and Girls Club have referred to our programs as "the best they have seen." A 30-year park district veteran also referred to our programs as "the most comprehensive teen programming he'd ever seen." We also receive calls and emails on a weekly basis from groups all over the country seeking our guidance on how to successfully launch and operate a teen center (29 different states to date). We are humbled by the fact that our little grassroots start-up has become a national trend-setter in just 4 years!
These awards and accolades have pointed out to The Bridge that there is no other place like The Bridge around, however the individual stories of the students that The Bridge has impacted truly let us know that the work that we are doing is important and needed. We've watched bullied teens who once walked hunched over with sadness evolve into confident young men and women who are leaders. We have watched other students with eating disorders open up in group counseling sessions called "Soul Café's," realize their self-worth, and become healthy again. Watching our students evolve into young adults with dreams and passions that they have discovered through the programs at The Bridge Teen Center make our volunteers excited to come to work every day; the stories fill them with passion for being gladiators who fight for teens.