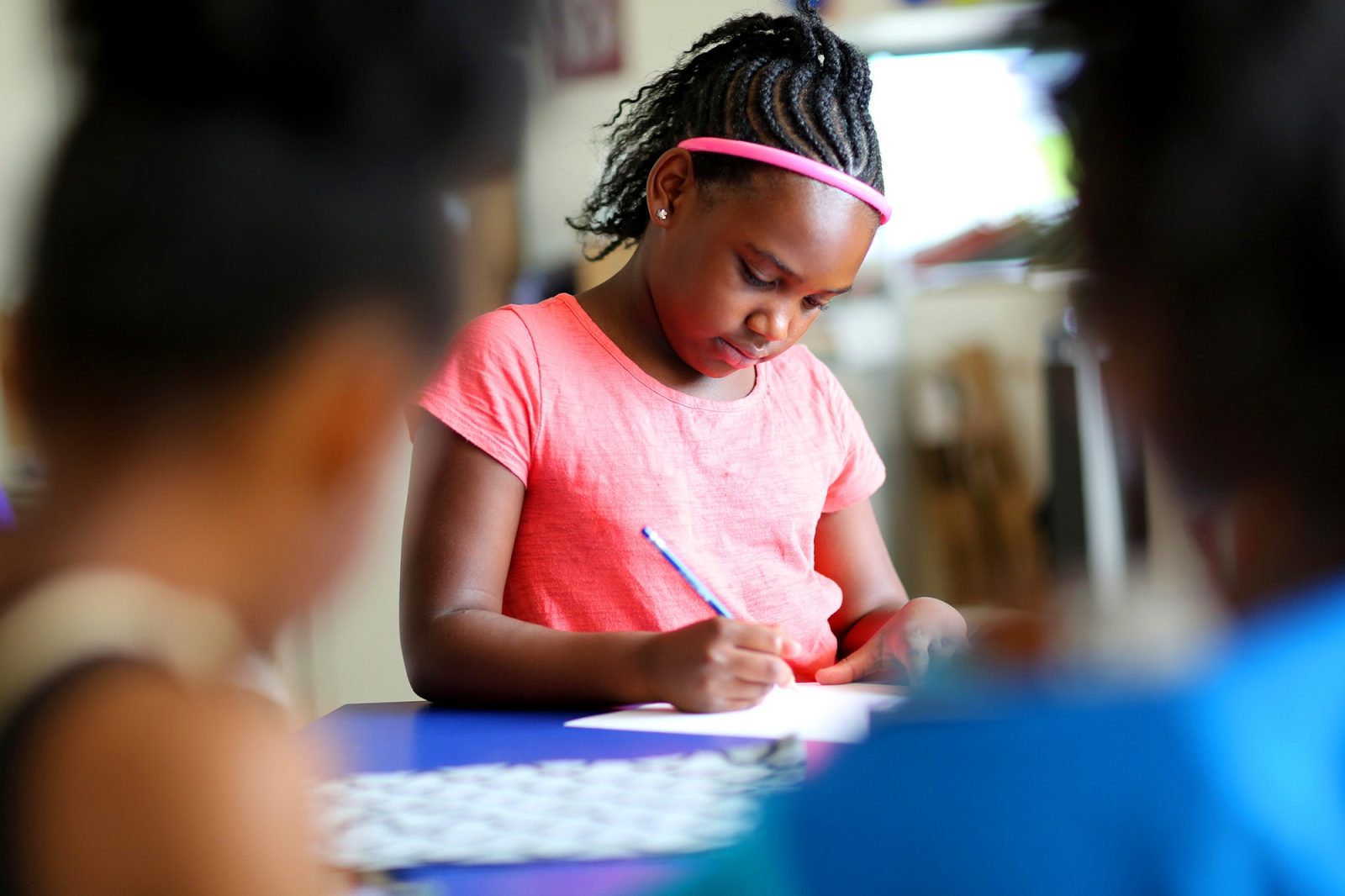 The Gary Comer Youth Center is, at first glance, a tangle of contradictions. It's a state of the art building—an architectural thing of beauty—smack dab in the middle of a neighborhood known for its poverty and crime. It's a center for inner youth founded by the guy who started Lands' End, purveyor of the preppiest of preppy white people clothing. And finally, it's the legacy of a local son, one who made it big but never forgot the people and the streets of his childhood; proving something more than loyalty to a memory, by building something right there at home to help them get ahead.
Gary Comer, indeed, grew up on the Southside of Chicago. He didn't stay there. But now his legacy is there in the Southside to stay for the long-term, especially now that President Barack Obama has designated a location close by the center as the venue for his own legacy, the Barack Obama Presidential Center.
The Gary Comer Youth Center applied for and received a Kars4Kids small grant, because the two share a mission. The Youth Center is all about providing opportunities for kids who would otherwise have few resources to help them get ahead, which is what Kars4Kids is all about, too. The Kars4Kids blog subsequently spoke with Angela Vanderpool , Development Associate of the Gary Comer Youth Center, to find out all about the center and its good work.
Kars4Kids: Gary Comer died only 7 months before the center was completed, in 2006. How much is the founder of the Gary Comer Youth Center, present in the day to day inner life of the center? Do you think he'd be pleased with how things have turned out at GCYC?
Angela Vanderpool: Mr. Comer's vision to develop an education campus in this neighborhood has come to fruition. His legacy is very strong and is the foundation of all operations, programming ,and staff planning. More than anything, Mr. Comer wanted young people to develop strong character; hone their talents and skills; and have quality education opportunities right in their backyard.
"The Youth Center is dedicated to providing a greater opportunity for young people in this neighborhood to practice, to learn, to study, and to sharpen their skills and intellect. This Youth Center is for the children. May they use it well."
—Gary Comer, May 25, 2006
Mr. Comer also strongly believed in partnerships and not duplicating services that already exist, so our continued strategy to partner with organizations like South Shore Drill Team, Free Spirit Media, and ACCESS Community Health Network are a direct result of the legacy he left behind. I'm certain Mr. Comer would be pleased with how his vision lives on through the implementation of our mission.
Kars4Kids: A Chicago Reporter interview with the director of GCYC, Ayoka Samuels, has her explaining how kids at the center perceive racial prejudice. "We take them out of the neighborhood (to expose them to new things). They'll just say stuff like, 'You know, they don't really have this out here.'  Nope, sure don't. Or a simple field trip to the Schaumburg Park District. It's an indoor waterpark. 'Do we have anything like this in our neighborhood?' And then they start to think about, 'Well, why is that?' And it opens up an opportunity to have a conversation as to why."
What about the Gary Comer Youth Center, then, plunked smack dab in the middle of the South Side? It has won several awards for its striking design. Do you think the presence of the center in this neighborhood says something to these children? Do they have a sense of pride about the building?
Gary Comer Youth Center: Never Vandalized
Angela Vanderpool: The presence of the youth center with its unique design conveys something different is possible and that significant things are happening in their community. As Center Director Ayoka Samuels explained, we aim to expose our youth to new things and in every interaction with our youth, our goal is to redefine what is possible in their lives. Our youth not only feel a sense of pride in the state of the art facility that was designed solely for their success, they also feel a sense of pride in what they have accomplished as a result of being here. The youth are very proud of the building and it shows in their respect for it, we have never been vandalized and we are viewed as a neutral zone in the community. The building purposely demonstrates and reminds South Side youth that they are worthy of innovation and investment. GCYC programing has supported them in reaching their potential.
Kars4Kids: Tell us about the high school you run, Gary Comer College Prep. Is it a public high school? Are you selective about the kids who attend? What makes this school different from other high schools?
Angela Vanderpool: To expand on Gary Comer's vision of providing greater opportunity for youth in the Grand Crossing community, GCYC partnered with an outstanding educational organization that shared the same commitment to students' success in college and beyond, the Noble Network of Charter Schools. Noble Network operates the school and has a charter with CPS [Chicago Public Schools]. It is a public school and non-selective, meaning there is no selection criteria (no testing for admission, no GPA minimums) to enter.
GCCP serves more than 700 students and is one of the top-ranked non-selective schools in the city. Along with other high school and middle school students, a majority of GCCP students participate in Youth Center programming after school, on weekends, and during the summer. Over 98% of GCCP Seniors have graduated since the founding class in 2012. The seniors have a 100% college acceptance rate every year since its founding. This year, in addition to celebrating our ten year anniversary, we are celebrating the GCCP founding class college graduations. Most are first in their families to earn a bachelor's degree.
Kars4Kids: The center hosts the South Shore Drill Team, which sounds quasi-military with flag, rifle, and dance routines. Their mission statement is: "South Shore Drill Team uses the performing arts to engage inner-city youth throughout their critical teenage years, mitigate the dangers of gangs, drugs, and violence, and guide members towards completing their education and becoming responsible citizens."
How does doing drills with rifles mitigate, for instance, violence? Is this seeming contradiction addressed and made clear to the kids on the team? How?
Angela Vanderpool: The theory behind rifle drills (they are fake rifles – wooden models by the way) and dance routines is based in discipline. When a young person practices seven days a week and dedicates their time to artistic expression, teamwork and discipline, they are learning positive recreation and skills. It's no easy feat coordinating dancing while flipping and catching a wooden rifle or flag, sometimes after being thrown 20 feet into the air. To accomplish this, youth must show up to group rehearsals and performances regularly and timely; carve out time to practice on their own; coordinate precise timing of choreography with peers; follow safety protocols and maintain their uniform and props to name a few tasks. This leaves little time for engaging in less enriching activities or having time to hangout on the streets and get into trouble. Also, to be a successful Drill Team member, it is essential to maintain good physical condition and mental acuity; good grades are also a requirement for membership.
Kars4Kids: Tell us about the presidential library that will be established near the center by President Obama. The kids must be so psyched about that.
Angela Vanderpool: The Barack Obama Presidential Center held a press conference to announce the location of its future home. It will be located near the center at a still as of yet undetermined location. We are in active discussion with the Presidential Center program staff regarding educational programming that will be developed and available to our youth and all young people across the city.
Kars4Kids: Mrs. Obama brought global leaders attending a Chicago-hosted NATO summit to the center to show them around. She said, "I brought them here because I am so proud of where I grew up, and I wanted to show everyone some of the wonderful things that are happening here on the South Side."
If one looks at the Chicago Tribune Crime in Chicagoland statistics one learns
"There were 1.8 violent crimes per 1,000 people in Greater Grand Crossing in the past 30 days (up 10% year over year).
"Greater Grand Crossing ranks 6th (tied) among Chicago's 77 community areas for violent crime reports in this time period."
From that perspective, how can we understand Mrs. Obama's pride in the South Side? Is the pride about getting ahead, like Gary Comer, from a poor beginning? What are some of the wonderful things, other than the GCYC and the soon to be built presidential library that can give the children at the GCYC a sense of pride of place?
Angela Vanderpool: Of course I can't speak for the First Lady's office, but I imagine some thought was given to shining a positive light on our city during the visit. Mrs. Obama has made health, wellness and education a priority for the nation and I think she probably wanted her NATO counterparts to see good things happening other than our major cultural institutions in the downtown area. The media seem to only highlight negative stories about violence and crime, and this was an opportunity to show there are positive things happening in these same neighborhoods where crime occurs.
The Comer Education Campus is one great example, just a few blocks from her childhood home, of positive activities. There are other museums, community centers, arts organizations, education institutions and recreation facilities in south and west side neighborhoods that rarely get attention for the good work they do, so choosing Gary Comer Youth Center as one example was a way for her to make that point.
Mrs. Obama, having grown up on the Southside of Chicago, can appreciate how the Comer Education Campus provides resources desperately needed by our community, resources that are key for changing the trajectory of the Grand Crossing neighborhood, one student, one home and one classroom at a time. Through the Comer Education Campus, Mrs. Obama, along with youth and families of the community can see a firm path forward.
Gary Comer Youth Center Employment Opportunities
Kars4Kids: It's incredible that you offer employment opportunities at the center for the community you serve. Is there a great deal of competition for these jobs?
Angela Vanderpool: I'd say there's an average amount of competition for positions at the youth center, and GCYC leadership take pride in being able to take advantage of the talent pool that resides within our own backyard.
Kars4Kids: Tell us about the free financial literacy workshop for women. What aspects of financial literacy were taught at this workshop? How many women signed up for this recent event? Will you be offering further workshops of this sort?
Angela Vanderpool: We've hosted many financial workshops over the years and are committed to continuing to do so. Participants learn about budgeting; the rule of 72; benefits of various investment strategies; how to pay for college; and saving/spending habits. Workshops have been taught and sponsored by Sigma Gamma Rho Sorority, Urban Partnership Bank, LadderUP, State Farm and other certified financial planning professionals. Fifty women participated in the last event and we will continue to offer these workshop annually.
Kars4Kids: The homepage of the GCYC website says, "Programs within the 80,000 square-foot facility include college readiness, athletics, academic tutoring, performing and visual arts, health and wellness, culinary arts, technology, media and horticulture." That's quite a roster. Are there plans to add other programs?
Angela Vanderpool: We are always seeking funding to support both established and new programming offers that will benefit our members. Youth voice and choice is important and we strive to meet the needs of our community and developing 21st century skills in our young people.
Kars4Kids: What program would you say is the biggest draw for the children? There seem to be a lot of interest in performance and culinary arts, based on the photos in the website gallery. Can you tell us about these two programs in particular?
Angela Vanderpool: Study Buddies is currently our most popular program. Study Buddies Is the ultimate homework help program where youth work with a dedicated group of tutors to help boost the skills learned during the school day.  In addition to our strong academics program, we offer several programs that support our youth in developing their creative talents. Many of the images shown on our website are GCYC event highlights, where our youth have a regular outlet for showcasing their talents, be it in the physical, visual and/or culinary arts.
Kars4Kids: While the high school dropout rate has decreased among black and Hispanic students, it's still higher than for other groups. It doesn't seem like anyone has hit on the proper way to address the problem. Does GCYC have a theory about why the dropout rate is so high? How is the center addressing this issue?
Angela Vanderpool: Youth living in low income neighborhoods face unique challenges. A significant majority lack educational role models in the home, the threat of violence is very prevalent and having basic needs met are often common barriers. The Youth Center stands not only as a safe place for youth to develop themselves academically, socially and interpersonally, they receive specialized program tracks with coaching and mentoring designed to support them in school in important education transitions such as middle school to high school or high school to college.
As a side note, while youth of all ethnic backgrounds can have trouble adjusting to a typical school environment, not all youth listed as dropouts are dropouts. Often times, students whose parents pull them out of school are counted as drop-outs even if their parents pull them out to enroll them in a school with a better learning environment. This happens more frequently in poorer and underserved communities where quality school choices aren't readily available.