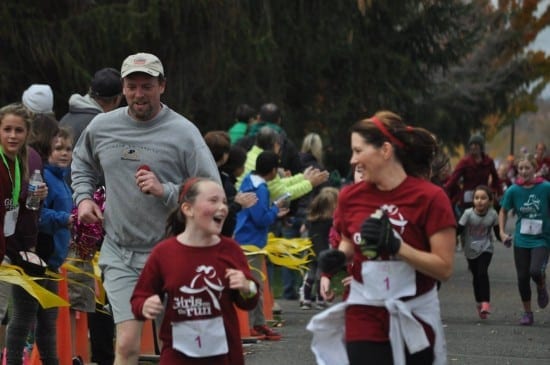 Girls on the Run (GOTR) does what it says it does: it inspires girls. And it does that by teaching them "to be joyful, healthy and confident using a fun, experience-based curriculum which creatively integrates running." The Southeast Washington State branch of GOTR (SEWA), just happens to be the Kars4Kids' newest small grant recipient.
Now, we don't give a small grant to just anyone—a candidate must be doing something we think is truly awesome—something we'd like to partner with. And we think Girls on the Run is just that awesome, just that worthy of partnership. Here's why:
The GOTR program teaches girls to take responsibility for their choices and to be mindful when making decisions. SEWA GOTR girls learn through hands-on experience that there is power in embracing differences and in supporting their sisters. They learn that expressing joy, optimism, and gratitude is a choice. They learn to lead in a positive direction and to stand up for themselves and others. They learn to challenge themselves, to have goals and to achieve those goals.
How do they get there? By exploring concepts of mindfulness in a group setting. By doing good deeds in the community. By running marathons, of course. And by doing all these things as a team.
Girls on the Run: Some History
The organization known as Girls on the Run had a modest start in 1996, with just thirteen Charlotte, North Carolina girls. The next season, that number was doubled. By the year 2000, Girls on the Run had gone international and received 501c3 status.
Last year, in 2015, 179,000 girls completed the GOTR program with the help of 98,000 volunteers and hit the milestone of graduating its one millionth girl from the GOTR program. Also in 2015, GOTR ran 350 5k events all across the United States, making the GOTR running program the largest in the country.
That's pretty incredible stuff.
Kars4Kids spoke with Sarah McMenamin, Executive Director of Girls On The Run of Southeast Washington (SEWA), to learn more about this innovative 10-week program for girls:
Kars4Kids: Does "runner's high" play a part in cementing the lessons you impart at GOTR?
Sarah McMenamin: During the lessons, beginning from the first practice, we talk about the girls running at their "happy pace." We discuss the idea that everyone has a comfortable running pace, and that not everyone has to be a fast runner. In fact, girls do not have to run if they do not wish to; our motto is to just keep moving forward!
In addition to pacing, the girls set lap goals during each practice. The coaches mark out a loop that is equivalent to .25 mile, and each girl works on increasing the number of laps each practice so that she is prepared for the final 5k event at the end of the season.
Over the season we also discuss how running (and exercise in general) can be a healthy, life-long habit that can make you happier in general. I don't believe the term "runner's high" is specifically used, but we do talk about how healthy habits lead to a happier and longer life. There are lessons on healthy and balanced eating, on goal-setting, on dealing with conflicts, and on the media's portrayal of "beauty," in addition to other concepts. Girls finish the season feeling like they have individual power and control over their choices and how they want to live their best lives.
Kars4Kids: Community service projects are a core part of the GOTR curriculum. Can you offer some examples of community service projects in which GOTR girls participate?
Sarah McMenamin: The fun thing about the community service project is that the girls work together to choose a project and to implement it. At this point in the season, the coaches work as guides rather than as directors, and it is meaningful for the girls to see firsthand how their efforts can make a difference.
Projects range from cleaning the school grounds or the surrounding neighborhood, to making blankets for the babies in the NICU at a local hospital. Our teams have also collected items to make goody bags for animals being adopted at the local pet shelters, they have written cards and sent gifts to troops overseas, they have decorated placemats for people who participate in the Meals on Wheels program, and they have collected food for our local food pantry. There are many more projects as well, but these tend to be popular choices for the girls!
Kars4Kids: What percentage of girls repeat the program just because they love it so much?
Sarah McMenamin: This season, we have 49% of our girls who have participated in at least one other season of Girls on the Run or our middle school program (formerly Girls on Track, now called Heart & Sole).
We tend to have more girls repeating in the spring than the fall, since they are more likely to come back for the spring if they participated during the fall season. Each season we have a few brand-new teams, so this tends to skew our numbers a bit, since none of those girls have participated before. And although we are happy with the number of girls who participate more than once, we are always working toward increasing that number.
Kars4Kids: Tell me about Happy Hair and Happy Hair Stations. What's that about?
Sarah McMenamin: Our end-of-season 5k event is the most exciting and fun thing that we do! It is so much more than a race – it is truly a celebration of each girl and her accomplishments over the season. We try to make it a fun event for the whole family as well as our community members who come to help as volunteer runners or helpers. We have music playing, we have food and vendors, and we have Happy Hair stations, where a local children's hair salon donates colored and glitter hairspray to spray on the girls' hair. We often have members of the Gamma Phi Beta sorority or local high school Key Clubs that come out to help with the stations.
The girls love running with their happy hair!
Kars4Kids: How long is the training process for GOTR coaches? Tell me about your typical GOTR coach. Are they college students? Moms?
Sarah McMenamin: Our coaches are our lifeblood! New coaches attend a four-hour full training session which includes information about the history of Girls on the Run as well as the history of our local council. We also go over all of the policies and guidelines for coaches. Lastly, we teach the coaches about our curriculum and teach a sample lesson with them so that they will have hands-on practice before the season begins.
Our coaches must pass a background check and complete CPR/First Aid training, which we provide. Returning coaches must sign the forms and policies, keep up on background checks and CPR/First Aid training, and attend a short refresher training each season.
We have a mix of coaches from different backgrounds. Many are teachers at the school where they coach, and many are parents of our girls. However, we always have a group of coaches who are community members who just want to be involved for various reasons.
I'm not sure we have a "typical" coach – many are runners, but many aren't. Our sole criterion for coaches is that they be enthusiastic about inspiring girls to live joyful and healthy lives! Coaches do not have to be runners themselves; they can run with the girls if they want, but they often have a task to do while the girls are completing the running portion of the lesson. Usually one of the coaches runs with the girls to keep them motivated while one stays back to complete the task involved. Both are fun!
Kars4Kids: Are all your events "rain or shine?" Is that a necessity because of your location?
Sarah McMenamin: Yes, all of our events are held rain or shine! That goes for practices as well. We are fortunate to live in an area where there is not too much extreme weather during our two seasons, so we hardly ever have to cancel a practice due to weather. If it is raining or extremely cold, the team simply holds a modified practice indoors on that day.
We are lucky also to have never canceled a 5k event, although we have had some very cold and very windy runs over the years! Normally the girls and their families are having so much fun that they enjoy themselves no matter what the weather is like!
Kars4Kids: What's your drop-out rate?
Sarah McMenamin: Over the course of each ten-week season, we have a very low dropout rate. Once in a while a girl will have a set of circumstances that make it necessary for her to drop, but this is rare. We have never had more than 2-3 girls drop each season and this season, for example, we are serving 325 girls.
Kars4Kids: GOTR International has been evaluated by experts for program efficacy since 2002. How do these evaluations affect your program?
Sarah McMenamin: Evaluation of our program is a vital part of what we do! At the end of each season we have the girls fill out evaluations, as well as our coaches. This information helps us when we recruit and train coaches, it helps us modify our 5k event, and helps us as we continue our growth process.
It is not always easy to get reliable information from young girls about their growth in the program, but we are able to glean details about their team, coaches, and overall impressions of the program from the evaluations. Our coaches help us learn how to better support and train them. This season we will include parent feedback, either in the form of an e-mail or as a review on our Facebook page.
Kars4Kids: GOTR has a policy of not turning away applicants because of financial difficulties. What percentage of GOTR girls require scholarships? Do you generally have a diverse socioeconomic mix of girls per group? Does this create issues in forming relationships?
Sarah McMenamin: When we are recruiting new schools, we try to have a balance between schools that tend to have full-paying girls and those where more girls will be on scholarship. This way we are able to better manage our projected scholarship fund. However, we are working toward opening more sites in rural areas in the future, where there will be a higher scholarship need.
We tend to have about 45% of our girls who receive some sort of financial assistance for the program on average. Most commonly this is a discount based on whether a girl's family qualifies for free or reduced lunch at school. In addition, we offer a discount to our coaches if they have a daughter to register, as one of the ways we can thank these valuable volunteers for their help each season. Plus, we always have several families each season who require additional financial aid for various reasons.
In terms of cultural diversity, it often depends on the team. Some teams are at schools where there are high minority or refugee populations, and at those schools there is more diversity.
One of the greatest things about the Girls on the Run curriculum is that it is written in a way that builds relationships among the girls and creates a true team bond over the course of the season. Our coaches tell us all the time that they can really feel the shift over the course of the season when their group of disparate girls comes together as a sisterhood!