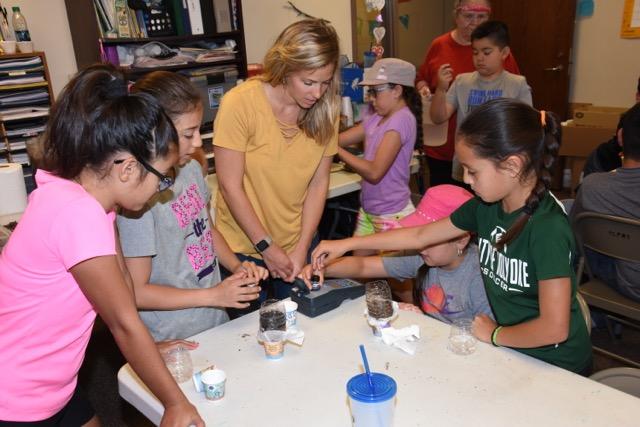 Phillips County Family Education Services is more than just an after school program. It's a place where people can help kids make sense of their homework, and rise above the many obstacles to getting an education and getting ahead. That is the reality for too many children from under-resourced communities and this is where Phillips County Family Education Services comes in, making a difference for the children of Phillips County.
When we consider giving an organization a small grant, we look for heart. It doesn't have to be a huge undertaking serving hundreds of thousands of kids. It has to be making a difference, and making that difference with caring and passion. That's what we saw in Phillips County Family Education Services. And that is why we gave them a small grant.
We spoke with Executive Director Allie Balog to learn more about this work.
Kars4Kids: Can you tell us a bit about the children you serve? Why is there a need for an after school program in your community?
Allie Balog: We serve kindergarten-12th grade students every day from 4:00-5:15. There is a large diverse group of students and most of the students we service are Hispanic. There is a need for an after school program especially for our ELL students because many parents of students do not speak English and the students need help with their day to day homework. It also provides a safe place and location for students to go until parents are able to get off of work.
Kars4Kids: Your after school program serves K-12 students. How many students are in this program? Are they all in the same room, or are they separated by grade?
Allie Balog: We have 28 students registered, but 14 that come regularly. They are all in the same room, they are not separated.
Kars4Kids: The Phillips County Family Education Services website says the children are offered "literacy support." What does that entail?
Allie Balog: We do have a family literacy program where children 6 months-preK are able to gain literacy support in English while their parents attend our classes. They work on numbers, colors, alphabet, sight words, and other skills to prepare them for preschool.
Kars4Kids: You offer some 4-H lessons, on a variety of subjects, for instance, Animal Science. What do children learn about in this lesson?
Allie Balog: We actually partner with the 4-H director and she meets with the students once a month. They work on projects that other children in 4-H do. This is hopes that they will join 4-H and contribute to the program, to help them become well-rounded and experiment different skills, such as STEM, sewing, rockets, and quilting.
Kars4Kids: What sort of STEM activities do you offer?
Allie Balog: We offer many hands-on learning experiences, especially during our Summer Camp. Last year, we had an engineer come in and teach the students how to make water filters and how to check the pH level of the water. They were able to try different filtering materials to see the different results.
Kars4Kids: How do you keep the after school program exciting for the children, so they don't see it as just more school, tacked on to an already long school day?
Allie Balog: This is difficult, but they are greeted at the door and then provided a snack and free time. They are able to take a break from their rigorous day. There is time to work on homework or receive tutoring, but they are allowed to engage in brain teasers, standard related games, or to simply create an artistic project!
Kars4Kids: What is the favorite activity of the children in the after school program?
Allie Balog: I believe snack and the conversation and decompression of their school day!
Kars4Kids: What do you offer to the high schoolers you serve that is distinct from what is on offer to the younger children you serve?
Allie Balog: Our older students serve as tutors for the younger students and also as the volunteers for our summer program. When we have had non-English speakers we have given them similar resources and material to our adult education program so that they can get familiar with the content and increase their literacy skills.
Kars4Kids: What's next for Phillips County Family Education Services?
Allie Balog: We are always trying new things to keep our students engaged! This year, we are hosting a family fun night with a salsa contest, so that everyone can gather and have some fun! Learning should be fun, and we do our best to provide these opportunities for them! We also are beginning to implement GED and Citizenship preparation classes. We want to do our best to meet the needs of our entire community!