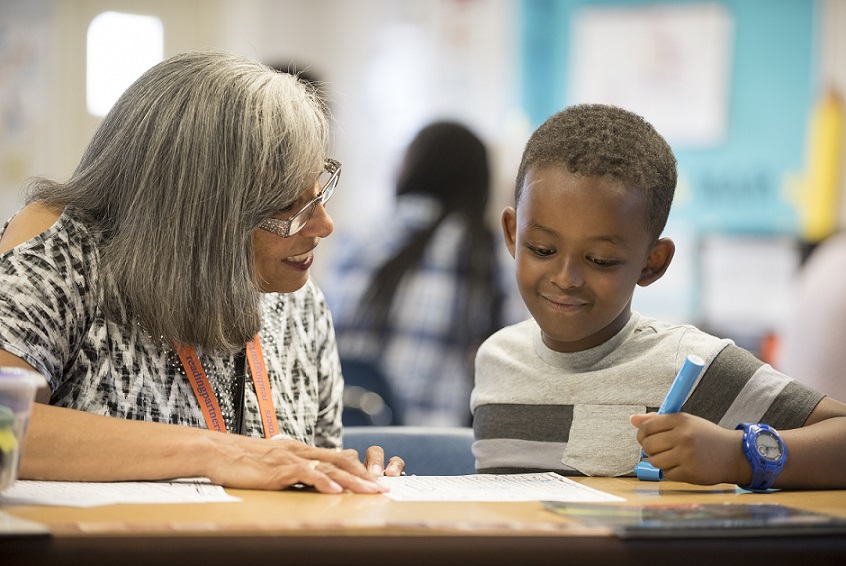 Reading Partners Baltimore is getting young students reading, which means giving them the best possible start to learning in school so they can go on to succeed in life. We know that reading is important. But not all parents have the financial wherewithal to provide books to their children. Some aren't even available to talk and read to children.
It could be that parents, for instance, work night shifts and are asleep during the day when children need verbal stimulation and attention. Or perhaps the parents never learned how to read very well, themselves. How are the inner-city kids raised in such conditions, supposed to get that jumpstart on reading other kids—surrounded by books, reading, and conversation—have in the home from birth?
The answer is anything that gets kids reading. Which is exactly what Reading Partners Baltimore is doing (and the reason we gave them one of our small grants). We spoke with Reading Partners Baltimore Executive Director Jeffrey Zwillenberg to learn more about the excellent work of this organization:
Kars4Kids: You have a very high rate of success for participants in your reading program, with 83 percent of all Reading Partners students having met or exceeded their primary end-of-year literacy growth goal, and 90 percent of K-2 students having mastered the key foundational reading skills needed to read at grade level. What are you doing that's different?
Jeffrey Zwillenberg: We are incredibly proud of the impact Reading Partners is having, not only on students in Baltimore city, but across the nation. Reading Partners is the only national literacy nonprofit organization that recruits volunteers to serve students one-on-one, using a research-validated curriculum. We mobilize communities, and partner with under-resourced schools to provide differentiated literacy instruction to students, supporting volunteers as they help students master the reading fundamentals they need to reach grade level. Three separate third-party evaluations, in fact, have found that our program has a statistically significant impact on student reading proficiency, is highly replicable, and can lead to social-emotional learning skills as well as literacy gains.
Kars4Kids: How many children were you serving in 2012, when Reading Partners Baltimore was founded? How many children are you serving today?
Jeffrey Zwillenberg: During our first year serving the Baltimore community, Reading Partners served 41 students. We're now entering our eighth program year in the city, and we hope to serve 600 students in 16 elementary schools with the help of community volunteers.
Kars4Kids: Wow! That's a lot. Why is it important for these children to have one-on-one reading sessions?
Jeffrey Zwillenberg: Research shows that students reading behind grade level need targeted, individualized support in order to master key reading skills. Our program offers students twice-weekly one-on-one sessions with a committed volunteer, ensuring each student receives targeted support and has their own reading champion. One-on-one tutoring sessions also give each student the opportunity to work at their own pace and reading level, and allows for tutors to pause, review and practice concepts as needed throughout lessons.
Kars4Kids: How many volunteers do you currently have on board?
Jeffrey Zwillenberg: Over 470 Reading Partners volunteers are currently tutoring students in schools across the city, and more are signing up every week. We still have students waiting for tutoring sessions, and there are many opportunities to get involved! With as little as one hour a week, volunteers give students the support they need to read and succeed.
Kars4Kids: Can you tell us about the training process for volunteers? How long does it take to learn your system and be up to scratch to get in there and work with the kids?
Jeffrey Zwillenberg: It's easy to begin volunteering with Reading Partners. Volunteers complete an online form, attend an orientation to learn more about our program, and complete a background check before being placed in a reading center and matched with a student.
Once tutors are in a reading center, they follow a proven, structured curriculum to help students learn specific reading skills. Each lesson comes with step-by-step instructions and materials, and requires no preparation outside of the reading center. A trained site coordinator is always available to answer questions or assist tutors in the reading center, and Reading Partners also provides ongoing training and events to support tutors.
Kars4Kids: What qualities make for the perfect volunteer reading partner?
Jeffrey Zwillenberg: Anyone interested in making an impact in a student's life can volunteer with Reading Partners. Our volunteer tutors vary widely in experience, ranging from high school students to stay-at-home parents to retirees. No prior teaching or tutoring experience is needed. We only require that our volunteers be at least 14 years old and commit to at least one hour a week for a full semester of tutoring sessions.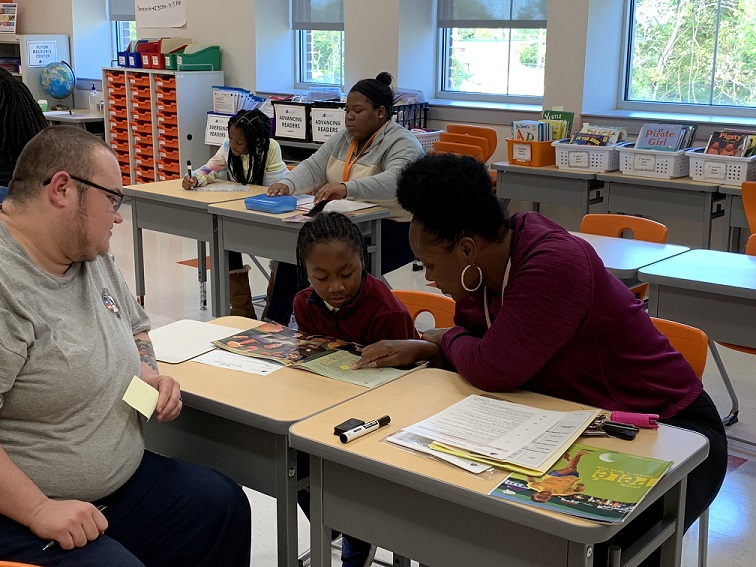 Kars4Kids: Reading Partners "transforms a classroom into a reading center, complete with a library and teaching tools managed by a full-time staff or AmeriCorps member." Why is it important that children bring books home with them from school?
Jeffrey Zwillenberg: Access to age-appropriate, engaging books is vital to growing the next generation of lifelong readers. Studies have shown that children with at-home libraries see greater school achievement than children without, yet many low-income families don't have access to books in their homes.
Reading Partners supplements in-school tutoring sessions with our Take Reading Home program, which provides free age- and skill-appropriate reading materials for students to take home after each session. This encourages students to read outside of the classroom and helps them build their own home libraries.
Kars4Kids: Do you ever have volunteers sense that a child might have a learning disability, such as dyslexia? What happens in this case? Is your program suitable to help children with learning difficulties?
Jeffrey Zwillenberg: The Reading Partners team works closely with teachers and principals to identify high needs students who would best benefit from our program. The majority of the students we serve are in kindergarten through fourth grade; are reading one month to 2.5 years behind grade level; and have at least conversational English language skills. Our program is not, however, designed to serve students with Individualized Education Plans (IEPs).
Kars4Kids: Do you have a process to match volunteers to the children they serve? Do you sometimes have to make adjustments to move partners to different students?
Jeffrey Zwillenberg: Reading Partners' goal is to enroll students and match them with volunteer tutors based on needs and schedules. We definitely want all volunteers to feel comfortable tutoring, and tutors can let us know if they prefer working with male or female students or younger or older grades. Site coordinators are also always available to answer questions and ensure tutors are well paired with students and feel confident as volunteers.
Kars4Kids: What's next for Reading Partners Baltimore?
Jeffrey Zwillenberg: We're excited to bring Reading Partners to another Baltimore school this year, and hope to serve and engage even more students and volunteers in the 2019-20 school year. We know that our program works, and we have proven results of student impact here in Baltimore. Looking ahead, we'll be deepening our focus on educational equity and strategically focusing on equity and impact across our city.