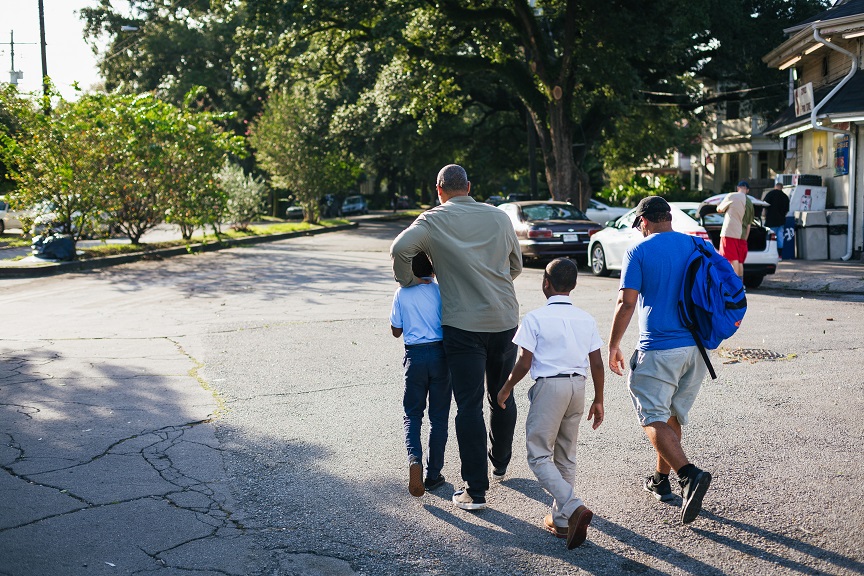 Son of a Saint is a mentoring program for boys without fathers. No organization can take the place of a father, but Son of a Saint is filling in the gaps of need as much as program possibly could. It's an impressive and comprehensive effort and it's making a difference.
When we received the small grant application from Son of a Saint, and took a look at their website, we were pretty much blown away. We love the idea of maximizing resources by taking on only a modest number of new mentees each year. Not many organizations would take this tack, and tend to overextend their resources to the point that they are no longer helpful to those they serve.
Son of a Saint is different. It stands out in the crowd of the hundreds of applicants seeking our assistance. We find this organization more than worthy of our admiration.
We talked to Son of a Saint Founder and CEO Bivian "Sonny" Lee III to learn more about this work:
Kars4Kids: Son of a Saint works with fatherless boys in New Orleans. Are many boys in New Orleans, fatherless? Why? What made you decide to work specifically with fatherless boys?
Sonny Lee: With nearly half of New Orleans' children growing up in single-mother households, there is a significant need for our program that cannot be ignored. The problem of fatherlessness certainly extends beyond just the Greater New Orleans area as well.
Fatherlessness is a generational cycle for many young men in our community due to systemic barriers (like overincarceration, under-resourced schools, and racial and socioeconomic inequity) that chronically deprive families of the economic, health, and educational resources they need to thrive.
I chose this work because it is part of my own experience and resonates on a personal level. My father passed away of a sudden heart attack when I was only three years old. I grew up without his presence in my life, and that informed so much of my adolescence. It shaped my view of the world and underscored the need for mentors and father figures to provide a strong example for young men in the world.
Kars4Kids: You bring boys aged 10-12 into your program each year, in addition to the boys you are already mentoring. How many boys do you take into the program in a typical year? How many boys are you working with altogether? Is there a waiting list?
Sonny Lee: In the fall of 2020, Son of a Saint launched a strategic growth plan with the goal of doubling the number of mentees in our program (from 100 to 200) by January of 2022. This growth plan was successfully completed, with Son of a Saint enrolling our final 2021 cohort of 28 mentees in December of 2021, bringing our current enrollment to 201– the largest enrollment in our organization's history.
In a typical year, we are intentional about enrolling young men into our program in thoughtfully staggered cohorts throughout the year. Through this pacing, we typically welcome between 25 and 50 new mentees each calendar year.
A stark reality is that there are more boys throughout our community than we can consistently reach who could use and benefit from the services and support Son of a Saint provides.
Kars4Kids: Are there any qualifications for joining your program?
Sonny Lee: Yes. Son of a Saint accepts young men who have reached age 10 – 12 during the timeframe of the application cycle or at the time of joining the organization. Our program accepts young men who have lost a father due to death; long-term incarceration of 15 years or more that can be verified; adoption by a single mother; or a young man whose father has been deported.
Due to limited resources, Son of a Saint is unable to accept all mentee applicants and selects new mentees according to a set of carefully constructed criteria that account for a mentee's need for our services. Our application and enrollment process does not discriminate on the basis of race, color, religion (creed), national origin (ancestry), disability, or socio-economic background, in any of its selection processes.
More information can be found on our website at www.sonofasaint.org/join
Kars4Kids: Son of a Saint continues to work with the boys until they are young men. Can you tell us about that? Do graduates of your program ever come back to work with your organization?
Sonny Lee: Yes, we invest in our young men for a long period of time, from when they enter the program between ages 10 and 12, until they graduate high school and into their collegiate years or their post-secondary career journeys. We have certainly had alumni come back to visit us and engage with our program. Not only do they volunteer and spend time with us during events, but they also engage with the younger mentees for extracurricular activities and community service projects. We even have a program graduate, Julio Bermudez, now on our full-time staff in the role of Logistics Coordinator.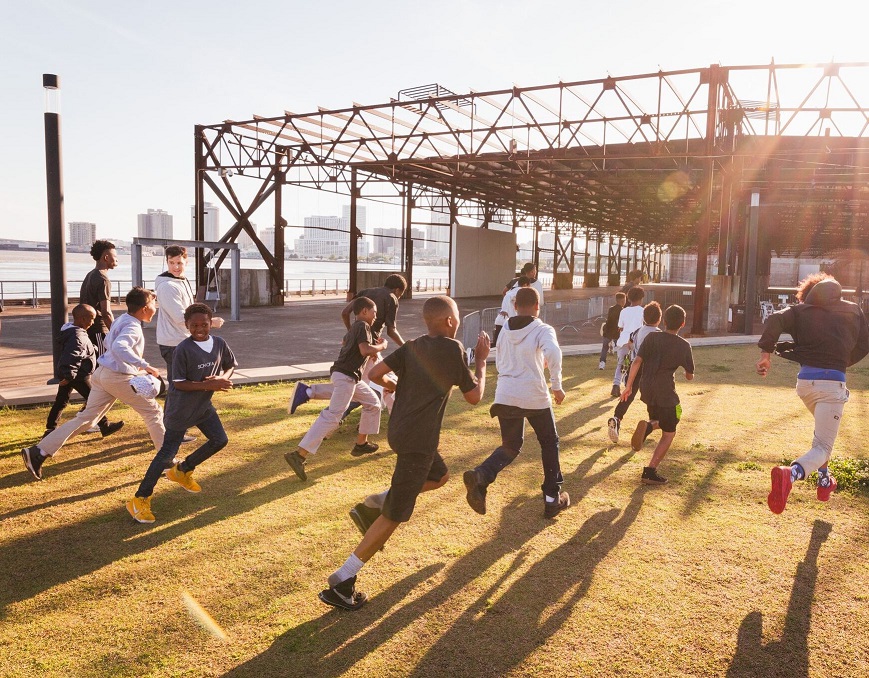 Kars4Kids: Can you give us an overview of the program itself?
Sonny Lee: Son of a Saint launched in 2011 to address the burgeoning problem of fatherless boys in the New Orleans area. We are a 501 c (3) organization, with a staff of 28 talented individuals, dedicated to our core mission of transforming the lives of young males through mentorship, emotional support, development of life skills, exposure to constructive experiences and formation of positive, lasting peer-to-peer relationships.
Son of a Saint utilizes an evidence-based approach that engages youth in a manner that is constructive, applies each youth's strengths, fosters positive relationships, and cultivates safe and trusting spaces. Son of a Saint's approach is:
Preventative: Statistics show the need to intervene and engage with young men during their formative years and create change when it is most critical.
Long-term: Son of a Saint is present in our mentees lives from age 10 – 18. Our philosophy is that this is the amount of time needed to make a deep, lasting impact.
Holistic: Life does not happen in silos; the many issues our boys face are all interconnected.
Son of a Saint's program includes mentorship, postsecondary preparation, mental health services, case management, career development, academic enrichment, nutrition education, and travel, among other core elements.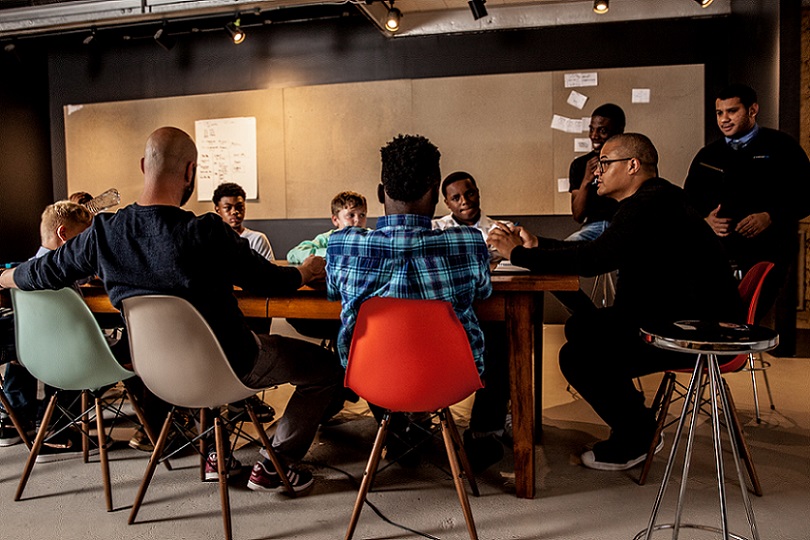 Kars4Kids: Tell us about the name of your organization. Presumably this relates to your father? Can you talk about that, please?
Sonny Lee: Yes, the name is in honor of my dad whose name is Bivian Lee Jr. He played cornerback for the New Orleans Saints from 1971-1975. So, the name Son of a Saint is a direct and constant tribute to his life and legacy.
Kars4Kids: You say that you save lives. Can you talk about that?
Sonny Lee: Our goal is to graduate self-sufficient, independent thinkers who are leaders and give back to their community. What we provide, above all else, is an example.
Through the Son of a Saint experience, we seek to equip boys with the tools they need to become productive men. We give them hope, vision and opportunity. We provide a secure and consistent environment for them. Son of a Saint employs a holistic approach, using a network of volunteers and partner agencies that enables us to address every boy's every need. But the Son of a Saint mentors' most important role is simply to be a good example.
Kars4Kids: Do you have a success story you can share?
Sonny Lee:  Jaedon has been a Son of a Saint mentee since 2015 and is currently a senior at St. Augustine High School. Jaedon maintains above a 3.9 GPA, actively participates in the school's STEM Club, and is a Drum Major of the St. Augustine "Marching 100" Marching Band. Within the Son of a Saint program, Jaedon is an exemplary leader and trusted support for his fellow mentees, earning him Son of a Saint's 2021 Mentee of the Year award in December.
I am thrilled to share that Jaedon has committed to study mechanical engineering at Florida A&M University this fall. Jaedon's interest in engineering was sparked during explorational STEM activities hosted by Son of a Saint, and was developed over the years through tutoring, rigorous ACT preparation, individualized education coaching, mentorship, and participation in (2) immersive pre-college engineering programs at LSU and the University of Denver.
To say we are incredibly proud of him is an understatement! Jaedon is just one example of the deep impact that can be achieved when we invest in our young people.
Kars4Kids: How did the pandemic affect your operations?
Sonny Lee: While COVID-19 may have temporarily slowed Son of a Saint's growth, it has not stopped its expansion and depth of impact. In particular, new supporters, partners, collaborators, donors, activists, organizers, business owners and individuals are becoming more aware, educated and illuminated about the near-decade-long work and core mission of Son of a Saint, forging new partnerships and bridging gaps that previously existed.
Due to the onset of COVID-19, the usual programming and funds required to support Son of a Saint's mentees with the proper wealth of resources and opportunities were immediately triaged and redirected to provide basic needs and services to the boys' single-guardian families.
As a result, Son of a Saint made several impactful developments since the start of pandemic, including:
Delivering more than 15,000 meals and counting to families struggling to keep food on the table during COVID-19
Facilitating more than 200 mental wellness therapy sessions and counting
Providing technology and smart device access to all mentees for continued online and remote learning
Providing direct financial assistance to our mentee's families for rent/mortgage payments, utilities, and groceries
Kars4Kids: What's next for Son of a Saint?
Sonny Lee: We are entering another year of transformative growth for the organization. We are set to move into our permanent headquarters in the heart of New Orleans' Mid-City neighborhood this summer, and we will be focused on refining and optimizing our programs for a growing number of mentees and alumni throughout 2022.