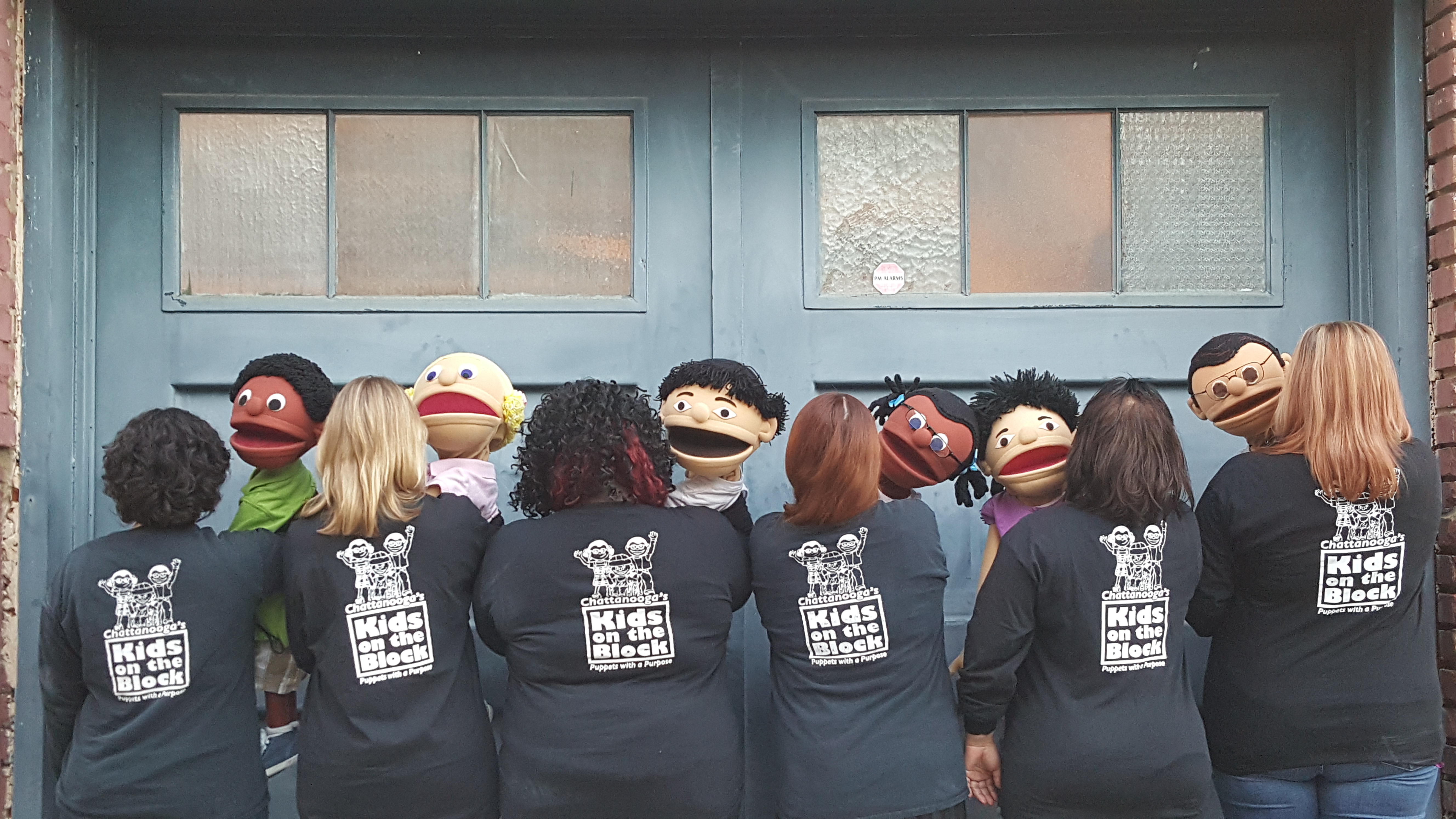 Chattanooga's Kids on the Block uses a special type of puppetry to teach children about difficult topics that are generally not part of the classroom curriculum. Things like child abuse, racism, and substance abuse. The amazing thing is that the puppet shows are interactive: kids get a chance to ask any question they like to the child-sized puppets. And they do!
Kids feel safe asking questions of these puppets in a way they never would with a teacher or other adult. Kars4Kids thinks this is a brilliant initiative deserving of all the help it can get and so we gave Chattanooga's Kids on the Block a small grant. We spoke with CKOB Executive Director Kelly Williams and Director of Education and Bunraku Puppet Artist Kasandra Helms, to learn more about the remarkable work of Chattanooga's Kids on the Block.
Kars4Kids: Chattanooga's Kids on the Block is a licensed child abuse prevention agency in the state of Tennessee and as such, is responsible to report cases of abuse that you become aware of during your work. How sure do you have to be to report a possible case of abuse?
Kasandra Helms: In Tennessee, as in a number of other states, everyone is a mandatory reporter whenever they even suspect child abuse or maltreatment. During our programs on abuse when children have the opportunity to interact directly with the puppets, there may be instances where a child says something that would alert us of possible abuse. Though they may not disclose the abuse specifically, we err on the side of caution and report the incident. We would rather a child or children be found safe than to continue with the possibility of being abused.  During the interactive portion of the educational program, the nonthreatening environment created by our puppets, allows children to open up as if the puppets were trusted friends.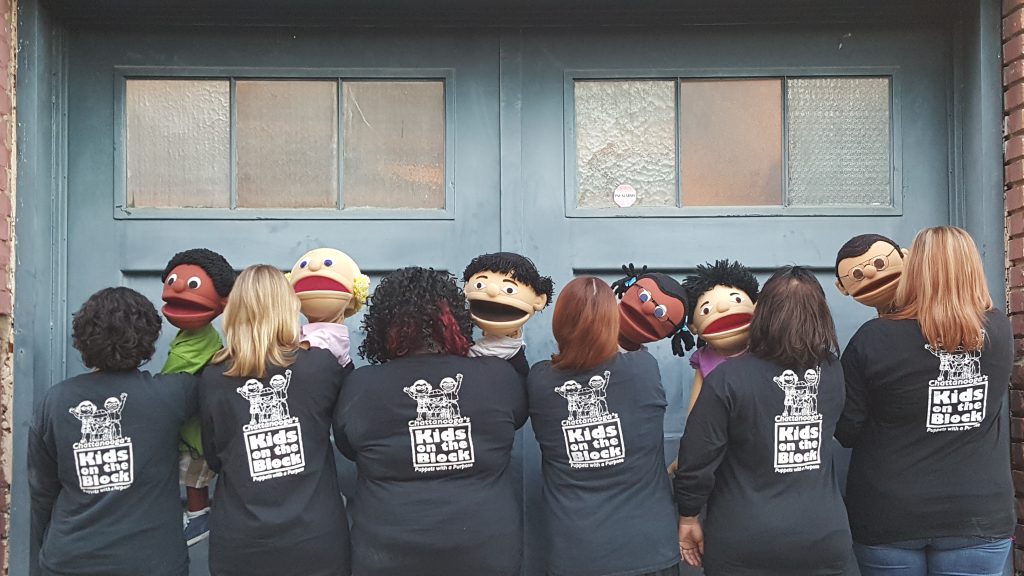 Kars4Kids: There's an issue of creating false memories of abuse for children, since they are so suggestible and imaginative. Is this something that you take into account when designing your performances and programs? How do you avoid such a situation?
Kasandra Helms:  I believe that those false memories could be attributed to a couple different things. First, inexperienced adults who may mean well when a child discloses a situation may start to ask leading questions, prompting children to make different conclusions. Or another reason for the false memories may be that children are confused as to the definition of abuse. In our programs, we show the lives of two child puppets who have had experience with abuse, but their experiences are stated in a language that children can understand.
Some children in our programs may ask about being disciplined/spanked and bullying. We are very clear, though, about what child abuse is and what it is not, so that children understand and are not confused. Through our programs and puppets, we always encourage children to talk with an adult they trust if they have any questions or that "uh oh" feeling. We also let the children ask questions to the puppets, instead of allowing for the possibility of leading the children.
Kars4Kids: You have 45 programs at present treating a long list of difficult topics, for instance racism, bullying, and disabilities. What would you say is the most popular program requested by schools?
Kasandra Helms:  Bullying is the most requested topic. Second would be child abuse and third would be accepting differences. Bullying has become such an issue with students in schools that more and more schools are requesting that specific program—from first grade through fourth grade.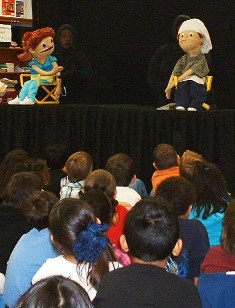 Initially, there was just the program on bullying, usually targeted to 4th graders. But a few years ago teachers were asking for a bullying program for younger grades and we were able to provide the program "Rescue and Report" to target a younger audience. This past year we piloted a cyberbullying program (primarily for 5th grade) which has been the most requested program available to 5th grade students.
Our evaluations and surveys indicate 86% of elementary school students reported that after seeing our educational program(s) on bullying they were more likely to stand up for a student who is being bullied and 75% said they were more likely to talk to a grown up if they were being bullied.
Kars4Kids: Your website states that your programs incorporate "the latest brain science to prevent and mitigate the impact of ACEs (Adverse Childhood Experiences) and incorporate the Tennessee ACEs initiative, 'Building Strong Brains.'" Can you explain what you mean by "brain science?"
Kelly Williams:  There are four core concepts involved in brain development:
Brain architecture is established early in life and supports lifelong learning, behavior and health
Stable, caring relationships and "serve and return" interaction are needed to shape brain architecture
Toxic stress in the early years of life must be avoided as it can derail healthy development
Resilience is built through "serve and return" relationships, improving self-regulation and executive functions
The message from science is clear: how children develop early in life matters later for them and for all of us. Healthy child development is the foundation for educational achievement, economic productivity, responsible citizenship and lifelong health.
Through our programs, we focus on prevention strategies for toxic stress and skills to develop healthy self-regulation and executive function skills, in addition to providing resources for both children and adults, parents, or caregivers.
Kars4Kids: What is the Building Strong Brains initiative?
Kelly Williams: The mission of the Tennessee's ACEs Initiative is to change the culture of Tennessee so that the state's overarching early childhood philosophy, policies, programs and practices utilize the latest brain science to prevent and mitigate the impact of adverse childhood experiences. This initiative is creating more partners who will work collaboratively to provide breakthrough approaches to help communities provide safe, stable, nurturing environments where children can develop the social, emotional and behavioral skills they need to secure long-term health, succeed in school and in live and contribute to our shared future.
Kars4Kids: Tell us about the training for your puppeteers. How long do they train? What kind of accreditation do they need? Do they come to Chattanooga's Kids on the Block already skilled in Bunraku or does the organization train them?
Kasandra Helms: Our puppeteers are certified Bunraku artists, but none of them started out knowing how to puppeteer. Like any art, it takes time and practice for their skills to full develop. Most puppeteers will need at least 3 months to really master the basics, and they continually train and critique one another to help grow their skills. Our puppeteers Bunraku artists/educators hold degrees in various disciplines, with extensive ongoing continuing education related to our program topics in the effort to maintain a high level of expertise.
The puppeteers dress completely in black and become the shadow behind the puppet. This illusion allows for a unique and effective form of education. As our puppets come to life, children identify with them and open up as if they were trusted friends.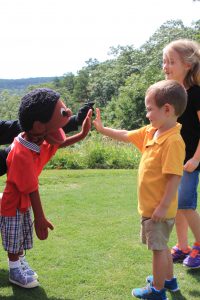 Kars4Kids: Do some schools have you come more than once? Is there ever a follow-up show?
Kasandra Helms: Typically, schools will have us come out and visit for a day, and on that day we will see every grade, each with their own unique programs for their specific grade levels. We have had, on occasion, some schools request that we come back. This is either to teach another lesson, or it may be because of size of the school (we may have to split grades in half) or scheduling (where we may not be able to see each grade in one day).
We try to keep student groups smaller (average 75-100 students). This helps with the interactive question and answer time as well as classroom management. We do follow up throughout the year to establish the longer term impact of our programs. Our surveys and evaluations indicate that 25% of students continued to show a positive change in knowledge and behavior after 60 days of seeing one or more of our programs.
Kars4Kids: You offer workshops to teachers that are not puppet programs. What is unique about these offerings for teachers? Are these subjects that are not covered in a teacher's basic education and training?
Kasandra Helms: We help complement a teacher's basic education and training. A teacher's education is not finished on graduation. Students change, the way a curriculum is taught changes, so it benefits teachers to constantly find methods that can help supplement their teaching.
Many of the topics on which we educate teachers have to do more with social concerns and differences—things that may not have been specifically taught or expanded on in the classroom, such as bullying, self-esteem, and child abuse. We help teachers learn some ways of dealing with situations in which students confront them with these issues. They'll have more tools in the toolbox to be more effective teachers, and in turn have healthier students.
Kars4Kids: What's next for Chatanooga's Kids on the Block?
Kelly Williams:  We've been around for over 38 years and expanded our service area to include counties in Georgia and Alabama, now serving 16 counties and over 50,000 children and adults annually! We are continually updating our scripts, educating ourselves on trends and issues, and expanding our reach. Each year we tend to increase the number of children and adults we see, and we need the help of organizations like Kars4Kids to be able to continue to offer these programs to area schools free of charge.
We sincerely appreciate your help in supporting our mission, and you are helping lots of students and adults learn more skills to succeed in school, become positive family and community members and future leaders.